OTC 2012: Subsea 7 to highlight construction advances
Subsea 7 will showcase a range of new developments at the upcoming OTC.
Apr 24th, 2012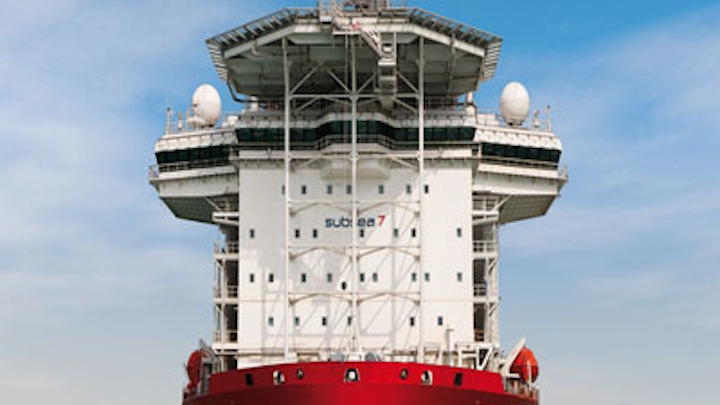 Offshore staff

HOUSTON – Subsea 7 will showcase a range of new developments at the upcoming OTC.

The company will exhibit at its booth (1641) its new flagship pipelay/heavy-lift vesselSeven Borealis; its Autonomous Inspection Vehicle (AIV); and its mechanically lined pipe technology.

Seven Borealis is due to start its first project later this year. The vessel provides combined S-lay and J-lay pipelay and 5,000-ton lift capabilities, and will be targeted at demanding ultra-deep and deepwater projects.

The AIV can recognize and respond to its surroundings, being able to correct its trajectory in real time, based on information compiled from its onboard sensors. It can operate directly from a host FPSO or platform, or from infield support vessels or mobile rigs, to support life-of-field projects. It can also provide low-risk inspection to aid field survey and integrity management and intervention programs.

Subsea 7 will also display its capabilities in riser technology, pipe-in-pipe, and pipeline welding. The company recently won the Pipeline Industries Guild Subsea Pipeline Technology Award for installation of mechanically lined Bubi pipe by the reel–lay method. The technology has been qualified by DNV, and will be deployed on Petrobras' pre-salt Guará-Lula NE project offshore Brazil.

The company will also present seven technical at OTC on the following subjects:
Accounting for Vortex Induced Vibration (VIV) in wake induced motion of risers in tandem at high reynolds number
A giant step and innovative subsea project – Pazflor
Innovation in ROV/AUV technology – Autonomous Inspection Vehicle: A new dimension in Life-of-Field operations
Design consideration and equipment details of the 5,000-ton mast crane of the deepwater pipelay and heavy-lift vesselSeven Borealis
Improved pile driving prediction in carbonate soil and rock
Mechanically Lined Bubi Pipe - installation by reel-lay
GIS support for field development project: A contractor experience and perspective.