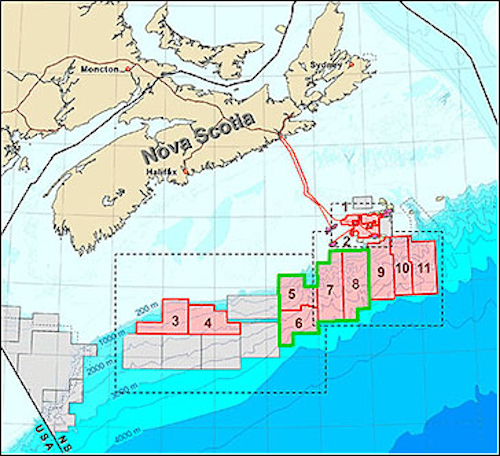 Offshore staff
CALGARY, Canada – BP has been successful in its bid for four deepwater exploration blocks offshore Nova Scotia.

TheCanada-Nova Scotia Offshore Petroleum Board (CNSOPB) awarded the company blocks five, six, seven, and eight in the Call for Bids NS12-1. Together these cover an area of almost 14,000 sq km (5,405 sq mi), southeast of Halifax and 300 km (186 mi) offshore, in water depths ranging from 100 to more than 3,000 m (328 to 9,842 ft).

Mike Daly, BP executive vice president of exploration, said: "This award gives us access to a significant piece of geology, one of the most promising new deepwater areas to be licensed in recent years….This entry to Nova Scotia's offshore plays to our strengths in the deepwater and subsalt."

Within 30 days BP must post a security with CNSOPB in the form of a work deposit. Award of the licenses would then be confirmed with an effective date of Jan 15, 2013. Thereafter, BP must submit an exploration plan to the board within 90 days.
11/19/2012