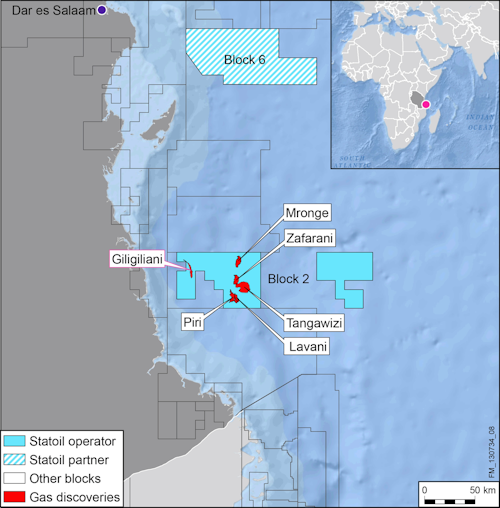 Offshore staff
STAVANGER, Norway– Statoil and co-venturer Exxon Mobil have reported that the Giligiliani-1 exploration well offshore Tanzania is a new natural gas discovery.
The discovery of an additional 1.2 tcf (3.4 bcm) of natural gas in place in the Giligiliani-1 well brings the total of in-place volumes up to 21 tcf (595 bcm) in block 2.
The Giligiliani-1 discovery is along the western side of block 2 at a 2,500-m (8,202-ft) water depth. The new gas discovery was made in Upper Cretaceous sandstones.
The rigDiscoverer Americas will now drill the Kungamanga prospect located in the central part of block 2.
The Giligiliani-1 discovery is the venture's seventh discovery in block 2. It is preceded by discoveries at Zafarani-1, Lavani-1, Tangawizi-1, Mronge-1 and Piri-1, and a discovery in Lavani-2.
Statoil operates the license on block 2 on behalf of Tanzania Petroleum Development Corp. (TPDC) and has a 65% working interest. ExxonMobil Exploration and Production Tanzania Ltd. holds the remaining 35%.
10/14/2014