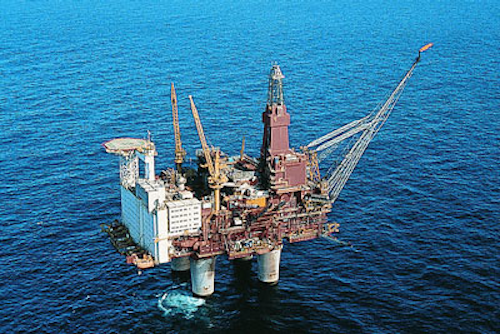 Offshore staff
OSLO, Norway – Petroleum Safety Authority (PSA) Norway has issued an order to Statoil following the investigation of a hydrocarbon leak at the Statfjord C platform in the North Sea.
The leak was linked to the transfer of stabilized oil from Statfjord A to Statfjord C. At the same time, a mud pump in the Statfjord C shaft was being readied for maintenance. An isolation valve for the pump leaked and the pump housing filled with oil, which drained into a sump tank at the bottom of the shaft via an open drain valve.
Once the level in the sump tank rose to 70%, the pump started to transfer the fluid in the sump tank to the oily water tank beneath the cellar deck. The valve for regulating the level in the oily water tank did not open and oil leaked through water locks on the cellar deck.
Statoil calculated that up to 42 cu m (264 bbl) of stabilized oil escaped in about 37 minutes, at a rate of 20.8 kg/s, with 40 cu m (1,412 cu ft) thought to have spilt to the sea. There were 270 people on the installation at the time; production had to be shut down for almost four days as a result of the incident.
In the event of ignition a spray fire or combustion of oil drops/flowing oil could have followed, PSA says, and the probability for similar leaks was high immediately after the incident.
PSA's investigations identified six nonconformities, related to:
The original design solution for the drainage system
The modified design solution for the drainage system
Consequence classification of the open drainage system
Preparations for maintenance
Management of simultaneous activities
Qualification and follow-up of contractor expertise.
It has come up with four improvement points, connected to Statoil's own investigation into classification of the leak, its potential consequences, and a failure to address the underlying causes of the incident adequately.
Statoil must comply with the order by Oct. 1, 2014.
09/02/2014