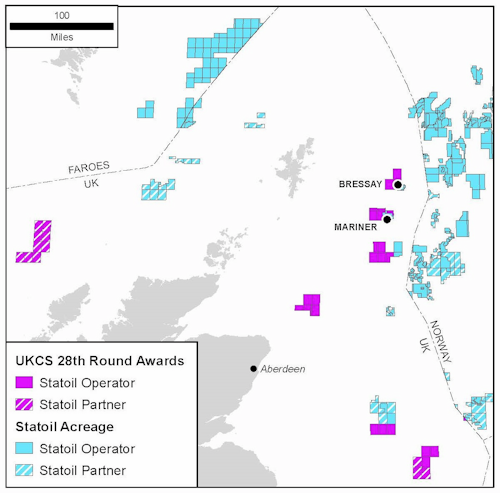 Offshore staff
LONDON –Britain's government has awarded 134 licenses covering 252 blocks and part-blocks under the 28th Seaward Licensing Round.
Oonagh Werngren, Oil & Gas UK's operations manager, said: "While the number of licenses is less than the record number of applications in the 27th licensing round, this news is a good sign that investors continue to show interest in the basin."
More than 60 companies submitted applications. "Perhaps what is most telling is the nature of the work programs that companies have committed to," Werngen said, "with only five firm wells and four contingent wells being included. Most licenses have been awarded on the basis of obtaining or reprocessing 2D and 3D seismic data.
"The disappointingly low number of wells highlights the need to stimulate new plays through detailed technical work which requires measures to encourage more investment in the UKCS [continental shelf]…"
"On a more positive note, it is encouraging to see companies beginning to look seriously at frontier areas, stepping away from the known basins and into deeper water. We also note licenses for 94 blocks in the licensing round are in, or close to, areas under special protection and conservation. We would encourage the government to carry out environmental assessments urgently so that these additional areas…can contribute to boosting activity in the basin."
Among the companies to comment on their awards so far, Statoil gained interests in 12 licenses, nine as operator. Eleven of the licenses are in the North Sea and the remaining one is west of Hebrides offshore northwest Scotland.
Additionally, the company has taken positions in the northern UK North Sea, near its heavy-oilMariner and Bressay projects, and in largely untested plays such as its new acreage on the northern margin of the Mid North Sea High (quadrants 37 and 38) and in the Halibut Horst area (quadrants 13 and 14).
Statoil plans two exploration wells next year on its 27th round acreage, and sees potential to mature several more drilling prospects on its new concessions.
Maersk Oil UK picked up five licenses, three as operator.
Two - 15/18b and 15/20d - include the Yeoman and Tap o'Noth discoveries in the Moray Firth off eastern Scotland, near Maersk's quad 15 core producing assets, while the Glengorm and Sween licenses comprise high-pressure/high- temperature (HP/HT) prospects and discoveries.
Details on the Maersk licenses are as follows:
Operated
Block 21/7b (Tarland prospect)
Block 15/18b (Yeoman)
Block 15/20d (Tap o' Noth)
Non-operated
West Central Graben blocks 22/21c, 22/22b & 22/26d (Glengorm), Nexen as operator
Viking Graben blocks 3/30, 4/26, 9, 5 & 10/1 part (Sween), Total as operator.
Atlantic Petroleum UK secured stakes in the following six concessions:
Licenses with existing discoveries
Block 20/3c & 20/4a (part).Polecat & Marten discoveries. Parkmead operator
Licenses with new prospects
Block 22/1 (part). Centrica operator
Block 16/22c (split). Parkmead operator
Extensions to currently held licenses
Block 48/4a. Centrica operator
Block 14/25a (part). DEO (Parkmead) operator. The location is immediately west of the undeveloped Perth field the western edge of which extends into the block. The work program comprises a drill-or-drop well commitment and prestack depth migration seismic processing.
Block 30/17e. Parkmead Group operator.
Atlantic also applied for five licenses in areas which remain under review.
CEO Ben Arabo said: "Some exciting prospects have been worked up in the licenses that have been offered and we look forward to progressing these to drilling. One license contains two discoveries and the joint venture will be evaluating development options."
Enegi Oil was awarded a production license for block 21/28b in the UK Central North Sea, containing the Crinan and Dandy discoveries. Both are adjacent to theFyne project area in water depths of around 89 m (292 ft).
Dandy has been appraised, confirming the presence of oil. Both discoveries share the Tay formation sandstone reservoir with Fyne field which Enegi is looking to develop via a self-installing floating tower concept.
Preliminary analysis suggests the two accumulations could add 6MMbbl of recoverable oil via a tie-in to Fyne. Enegi will operate the license under a 50/-50 partnership with Antrim Energy (UK).
Faroe Petroleum's two awards include blocks 15/11 & 15/16d in the central UK North Sea, 6 km (3.7 mi) from the Faroe-operatedLowlander field, both operated by Parkmead. The acreage includes the down-thrown Fynn prospect in Jurassic-aged Piper sandstones.
The work program includes a PSDM processing, which if successful could lead to drilling of a well.
11/7/2014