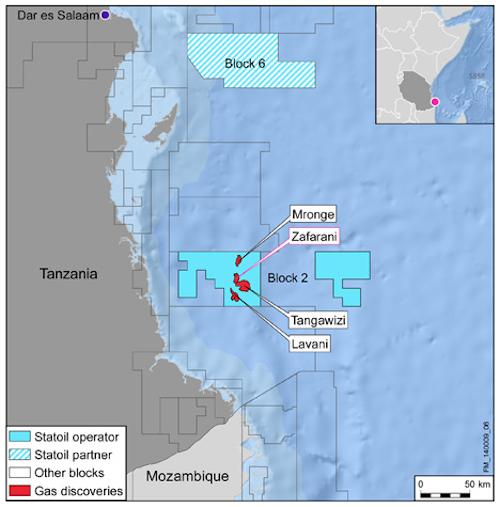 Offshore staff
STAVANGER, Norway– Statoil and co-venturer ExxonMobil have revealed the results of their first drillstem test in the Tanzania block 2 offshore discoveries in the Zafarani reservoir. The data will be instrumental in determining possible future Tanzania offshore and LNG development.
The Zafarani-2 tested two separate intervals and flowed at a maximum of 66 MMcf/d of gas, constrained by equipment, and confirmed good reservoir quality and connectivity.
The drillstem test was performed through a re-entry in the Zafarani-2 well, in 2,400 m (7,874 ft) water depth 80 km (50 mi) off the coast of southern Tanzania.
"The ongoing appraisal program is crucial to firm up the design and development basis for bringing gas to shore and a first-phase onshore LNG project in Tanzania," said Øystein Michelsen, Statoil's Tanzania country manager. "We are now working constructively with our co-venturer ExxonMobil; blocks 1, 3 and 4; and the Tanzanian authorities to progress the plans for a joint LNG plant development."
The production well rate potentials are estimated to be higher than the equipment-constrained rates obtained during the test. The Zafarani-2 operation will be followed by the appraisal well Zafarani-3, which concludes the planned appraisal in the Zafarani reservoir.
The Zafarani-2 well test follows a report of the Mronge-1 discovery made in December 2013, It was the fifth discovery in block 2 and brought the natural gas in place volumes up to 17-20 tcf. The Mronge-1 was preceded by three gas discoveries during the first drilling phase with Tangawizi-1, Zafarani-1, and Lavani-1, and a deeper discovery in a separate reservoir in Lavani-2.
Statoil operates the license on block 2 on behalf of Tanzania Petroleum Development Corp. and has a 65% working interest, with ExxonMobil Exploration and Production Tanzania Ltd. holding the remaining 35%.
03/03/2014