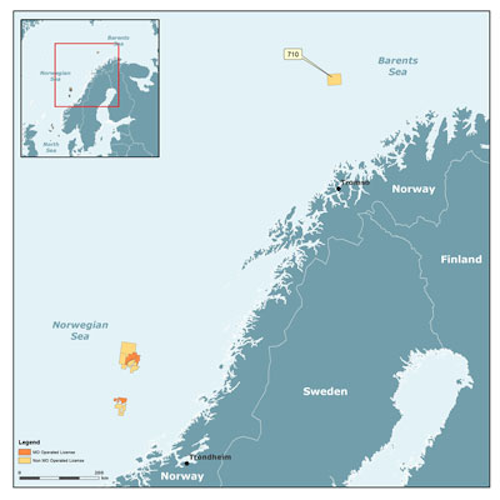 Offshore staff
OSLO, Norway – The Norwegian Petroleum and Energy Ministry has awarded 24 licenses under the country's 22nd licensing round.
These comprise 20 production licenses in theBarents Sea and four in the Norwegian Sea. Operatorships have been issued to 14 companies, and a total of 29 companies will have stakes in the various licenses.
Seismic contractor EMGS said that as a result of the awards, it expected to earn about $9 million from data-licensing agreements related to its multi-client library in the Barents Sea.
Among the oil companies to comment so far on their awards, Statoil gained interests in seven Barents Sea licenses, three as operator. It will operate in PL713 in the Bjørnøya basin, an area with potential to open a new geological play; PL714, adjacent to the Johan Castberg license and with potential for finding further reserves to supplement the planned oilfield developments in theJohan Castberg area development; and PL615B in the Hoop frontier area. Statoil plans to drill two exploratory wells next year in neighboring PL615.
The company's other awards included 20% in PL718 and PL720, covering unexplored acreage in the western part of the Barents Sea.
Det norske oljeselskap received four licenses in the Barents Seas – it will operate PL709 PL715.
Lundin Norway will operate PL708 in the southeastern Barents Sea, in partnership with Edison, North Energy, and LUKOIL.
GDF Suez will operate PL 722 in the Hoop area, covering blocks: 7322/6 and 7323/4.
Rocksource gained interests in three licenses. PL717 on the western part of the Loppa High in the Barents Sea covers blocks 7321/10 and 7321/11, on the same geological trend as theSkrugard and Havis discoveries. Eni is the operator.
Rocksource's third license is PL 535 B on the Bjarmeland Platform in the Barents Sea, covering part of block 7225/2 which includesTotal's Norvarg discovery, where an appraisal well is under way.
North Energy won interests in six new licenses in the Barents Sea. Among these, 535B, block 7225/2 (part) is an extension of PL 535 Norvarg; PL 707, blocks 7127/5, 6 and 7128/4, and PL 708, blocks 7130/4 (part) and 7 are both close to the coast on the Finnmark East platform.
PL 713, blocks 7219/2, 3 and 7319/11, 12 are in the Bjørnøya basin, approximately 60 km (37 mi) northwest of the Skrugard oil field, while PL 719, blocks 7321/8, 9 are 100 km (62 mi) north of Skrugard and Havis. Finally, PL 722, blocks 7322/6 and 7323/4, are in the Maud basin in the western part of the Bjarmeland platform.
Atlantic Petroleum Norge was awarded interests in two Norwegian Sea licenses with high potential prospects. A discovery could be tied in to theAasta Hansteen field infrastructure.
PL 705 covers blocks 6705/7 (part), 6705/8, 6705/9, and 6705/10 (part) on the northern part of the Gjallar Ridge in the Vøring basin, just north of the Asterix discovery and southwest of the Naglfar discovery. Repsol is the operator. The license spans an area of 1,039 sq km (401 sq mi). Several prospects have been mapped and de-risked using 3D seismic data. There are targets at multiple reservoir levels.
EON operates PL 704, block 6704/12 and 6705/10 (part), just south of PL 705, and west of Asterix. It covers an area of 646 sq km (249 sq mi). Prospectivity has been mapped on 2D and 3D seismic data within several geological play models.
Maersk Oil Norway will join operator Total, Tullow Oil and GDF Suez E&P Norge in license PL710 in the Barents Sea. The company says the arctic conditions of the Barents Sea have some similarities to conditions in Baffin Bay in West Greenland where Maersk operates offshoreblock 9 (Tooq). The company plans to work in an integrated way in the two areas to derive potential synergies.
6/12/2013