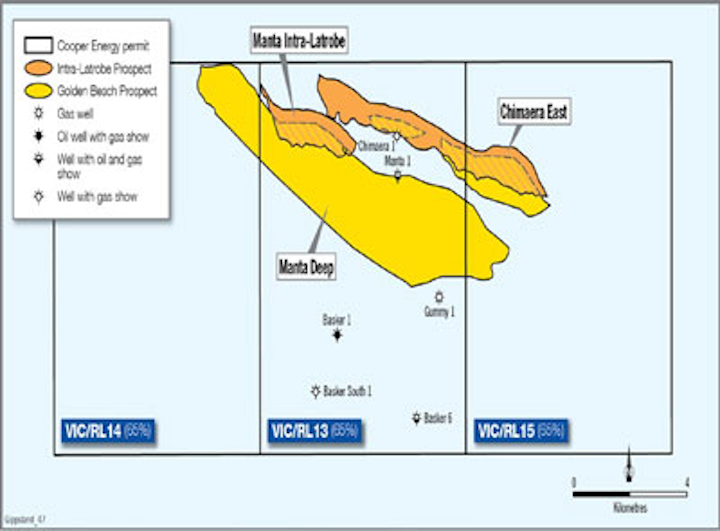 Offshore staff
ADELAIDE, Australia – Cooper Energy has completed a review of the Manta Deep and Chimaera East prospects in the VIC/RL13, VIC/RL14, and VIC/RL15 permits in the Gippsland basin offshore southeast Australia.
The revised best estimate prospective resource (net to Cooper) in the two prospects is now 97.5 MMboe, comprising 491 PJ of gas and 13.1 MMbbl of oil and gas liquid.
However, further exploration, appraisal, and evaluation will be needed to confirm the existence of a significant quantity of potentially moveable hydrocarbons.
Cooper based its assessment on new interpretation of reprocessed 3D seismic which has highlighted additional prospectivity in untested Intra-Latrobe and Golden Beach Subgroup reservoirs.
The prospects are in the same structures as proven oil and gas fields, at target levels both shallower and deeper than has been tested by existing wellbores.
Manta Deep is below theManta oil and gas field and can be evaluated by deepening the proposed Manta-3 appraisal well by an additional 1,000 m (3,281 ft). There is further potential in untested Intra-Latrobe reservoirs in a structure 3 km (1.8 mi) northwest of the Manta-1 discovery well, above the proven reservoir section.
Cooper proposes positioning Manta-3 to appraise the extent of the proven Golden Beach gas/condensate resource and prospective potential in the Intra-Latrobe and deeper Golden Beach targets.
The well could be drilled in 2018 as part of a campaign that includes drilling of theSole gas field development well. Development of Sole is currently at the front-end engineering and design phase, with a final investment decision recommendation possible this October.
Cooper has been working on a business case for developing Manta's gas to supply eastern Australian customers via the existing onshore Orbost gas plant. Water depth is around 130 m (426 ft).
05/04/2016
Share your news withOffshore at news@offshore-mag.com