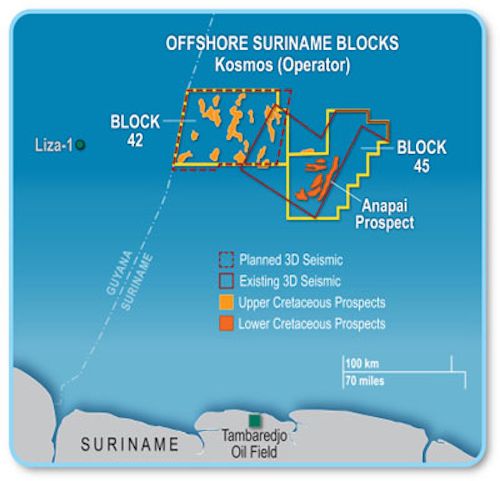 Offshore staff
DALLAS – Kosmos Energy has entered into a farm-out agreement with Hess Suriname Exploration Ltd., a wholly-owned subsidiary of the Hess Corp., covering the block 42 contract area offshore Suriname.
Under the terms of the agreement, Hess will acquire a 33% non-operated interest in the block from both Chevron Corp. and Kosmos. As part of the agreement, Hess will fully fund the cost of a 6,500-sq km (2,510-sq mi) 3D seismic survey, which is expected to begin in 3Q 2016.
Additionally, Hess will disproportionately fund a portion of the first exploration well in the block 42 area, contingent upon the partnership entering the next phase of the exploration period.
Andrew G. Inglis, Kosmos chairman and CEO, said: "Given recent industry success in the basin, Suriname is a top ranked opportunity in our exploration portfolio. This agreement with Hess, executed in an industry environment of capital constraints, validates the quality of our acreage position and the ongoing work to mature a number of significant prospects toward drilling."
Upon closing of the transaction, the interests in the block 42 contract area will be as follows:
Kosmos 33.33% (operator)
Chevron 33.33%
Hess 33.33%
05/04/2016