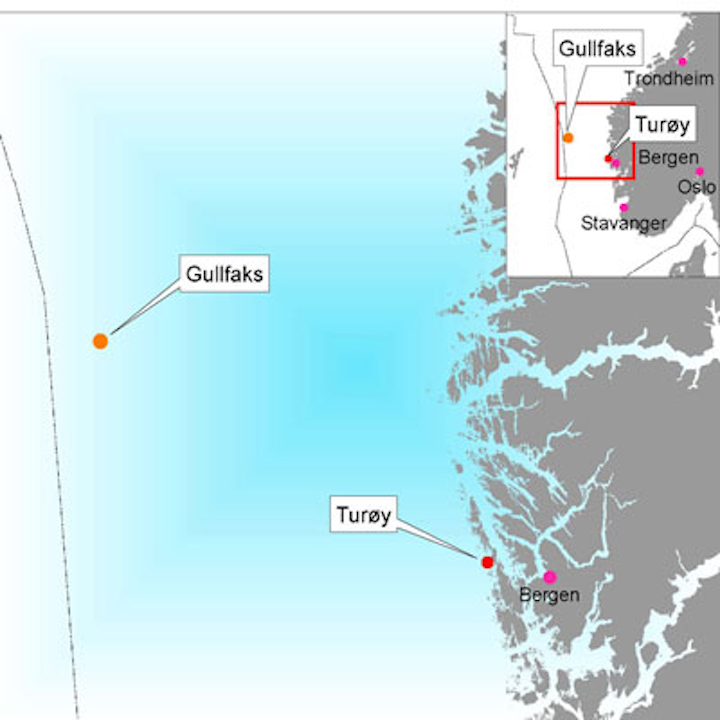 Offshore staff
BERGEN, Norway– A helicopter crash that occurred outside Turøy, Norway, has claimed the lives of all persons on board, according to the Norwegian Joint Rescue Coordination Centre via Twitter. Thirteen people, including 11 passengers and two pilots, were on board.
Statoil informed that it was notified of the accident, which occurred while the helicopter was en route from its Gullfaks B platform to Bergen, at 12:30 p.m. (local time). The operator temporarily grounded all equivalent traffic helicopters and mobilized its entire emergency response organization. It also contributed "additional resources" to the Joint Rescue Coordination Centre's efforts, alongside local police, and organized a next-of-kin base at the local airport that offered counseling services.
Of the 13 on board the helicopter, 11 bodies were recovered, with none found alive, the Centre said. Following the close of its formal rescue attempts, it said that all 13 persons on board (POB) were presumed dead, including 11 Norwegians, one Briton, and one Italian.
The Centre said that the EC 225 helicopter from CHC Helikopter Service was on assignment from Statoil. Parts of the hull were observed underwater about 20 m (66 ft) from shore, it noted.
"This is a deeply tragic day. Our thoughts first and foremost go to the family, friends, and colleagues that are affected by this accident at Turøy," Norsk Olje & Gass, the Norwegian Oil & Gas Association, said in a statement.
"Helicopter safety is absolutely vital for offshore operations. There has been made great efforts for increased safety regarding helicopter transport, and the numbers of incidents has been reduced greatly through the last years. It is deeply tragic that we now experience this accident," it continued.
The cause of the accident is still unclear, and the Norwegian Joint Rescue Coordination Centre said this would be looked into by the Accident Investigations Board of the Civil Aviation Authority – Norway. The CAA said it immediately banned these types of helicopters from flying at present.
Statoil has established a next-of-kin telephone line: 800-500-20. In addition, the company has established a center for next-of-kin at Scandic Bergen Airport Hotel, where a minister to seamen, psychologists, and other experienced personnel with experience from following up next of kin and others affected are available.
An Associated Press report in the New York Times said that King Harald of Norway and his wife Queen Sonja have canceled a trip to attend the King of Sweden's 70th birthday on Saturday as a result of the crash.
04/29/2016