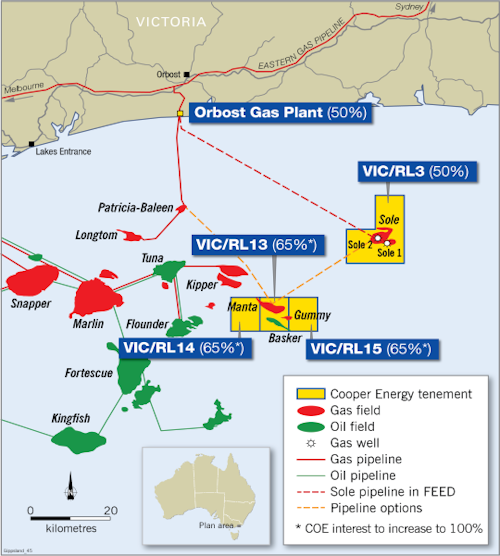 Offshore staff
ADELAIDE, Australia – Cooper Energy has signed a binding gas sales agreement with Alinta Energy for the supply of gas from the Sole field development in the Gippsland basin offshore Victoria.
The agreement covers the supply of up to 2 PJ per annum for a minimum of five years with provision for a three-year extension.
The agreement is conditional upon certain conditions precedent, including an affirmative final investment decision for Sole. Supply under the contract is planned to begin in 2019.
This is the third supply agreement for Sole in the past 14 months. The other two are withO-I Australia and AGL Energy.
Cooper Energy holds a 50% interest in the Sole gas field and the Orbost Gas Plant, from which the gas will be supplied to Alinta Energy. Santos Ltd. holds the other 50%. The Sole gas field is located in VIC/RL3 about 62 km (39 mi) from the Orbost Gas Plant.
Front-end engineering and design was completed in August. The Sole field is expected to consist of a horizontal development well and a 12-in. diameter subsea pipeline to the Orbost Gas Plant.
10/20/2016