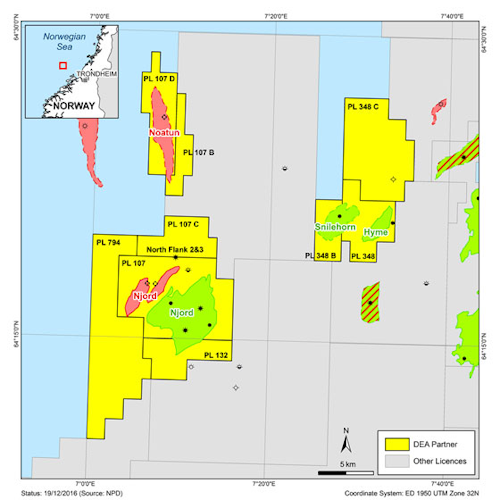 Offshore staff
STAVANGER, Norway – ENGIE E&P Norge has agreed to farm down interests in seven licenses in the Norwegian Sea to DEA Norge.
These comprise a 20% share in theNjord field (PL107 and PL132), 10% in the Hyme field (PL348), 10% in the Bauge (Snilehorn) discovery (PL348B), 15% in the Noatun discovery (PL107B and PL107D), and 20% in the North Flank discovery (PL107C).
Managing Director Cedric Osterrieth said: "We will still hold a solid position in all of these licenses, and will maintain our ambitions for the Njord-area. The divestment will reduceENGIE E&P's exposure in the area by 50% and give us a more balanced position."
The agreement should be effective from Jan. 1, 2017, subject to approval from the Norwegian authorities.
DEA Norge's managing director Hans-Hermann Andreae said: "All together the acquisition adds approximately 45 MMboe in reserves and contingent resources to DEA.
"This acquisition has attractive economics and establishes DEA as one of the major players in the area and confirms our commitment to growth in Norway."
12/23/2016