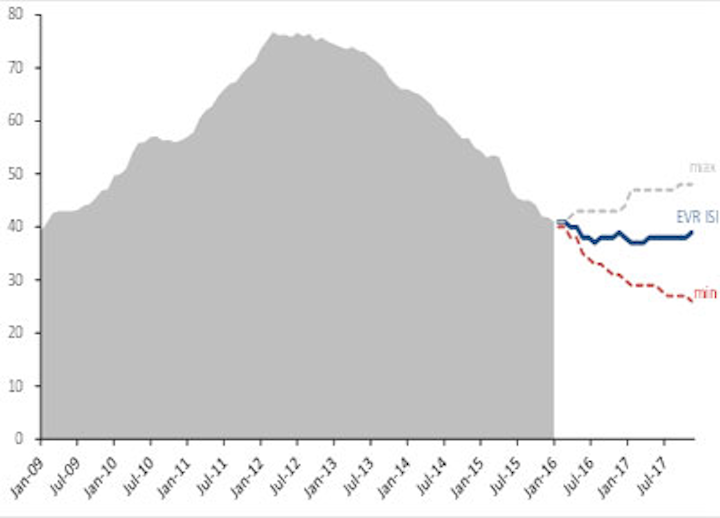 Offshore staff
NEW YORK–Evercore ISI's Oilfield Services, Equipment & Drilling group has released an update to its December report on global offshore activity that predicted more offshore rig cancellations.
According to the report,Ensco has confirmed that Petrobras is terminating the contract on DS-5ahead of its July 31 end date. Evercore ISI said it is lowering its estimates for Ensco and National Oilwell Varco. A total of 10 floaters are scheduled to roll off contract by year end, suggesting Brazil's floater count could fall to the low 30s in the near term - levels not seen since early 2008.
"We believe only a couple of newbuilds, at best, are likely to commence operations later this year, as more construction contracts are likely to be canceled," Evercore ISI said. "Brazil's greatly diminished deepwater rig count is naturally impacting supply boat and helicopter operators, and stricter cabotage laws and unfavorable FX are further dampening these companies' outlooks. We would not be surprised to see more write-downs of Brazil businesses in the near term, with the market in disarray as Petrobras cut its 2016 capex by 30% to $19 billion (from $27 billion)."
Evercore continued by noting thatPetrobras' Brazilian rig count recently slipped another unit to 40 with Transocean's Deepwater Navigatorrolling off contract at the start of the year. In exchange for a two-year extension on the Sedco 706 to September 2018, Petrobras terminated the Navigator and Transocean Driller contracts slightly ahead of their original March and July 2016 end dates. Excluding a non-Petrobras operated rig, nine floaters are scheduled to roll off contract with Petrobras in Brazil this year. Assuming none of these rigs are extended, Petrobras' contracted floater count could fall to 31 by year end - levels last seen in early 2008 and well below the 77 rig peak in March 2012.
According to the report, National Oilwell Varco recently disclosed that it canceled contracts for seven drillships associated with the Estaleiro Atlantico Sul shipyard. Four of these seven units had commenced construction, but NOV began curtailing activity associated with three shipyards at the start of 2015 due to payment issues, Evercore said.
While IHS Petrodata continues to list all 28 Sete newbuilds as contracted to Petrobras (excludes #29 Joatinga ordered on spec), Evercore believes only nine of the remaining 13 under construction are still viable (i.e. ones from BrasFEL and Estaleiro Jurong Aracruz). Of these nine units, six are scheduled for delivery in 2016, one in 2017, and two in 2018; however, the group said that it would not be surprised if only one or two are actually delivered this year as yards continue to slow down work and shift deliveries to the right.
A diminishing offshore floater count is not the only source of pain for offshore vessel owners. Stricter cabotage laws continue to dampen the opportunity set inBrazil, especially given Petrobras' growing preference for locally-flagged tonnage. According to IHS, Petrobras began to accelerate its fleet reduction efforts in September and October, and is reportedly aiming to further reduce its offshore vessel fleet by up to 10% (relative to 2014). A growing number of Brazilian-flagged vessels coupled with waning demand have dramatically reduced the opportunity set for foreign-flagged tonnage, the firm concluded.
01/07/2016


Evercore ISI Petrobras' Brazil floater count forecast