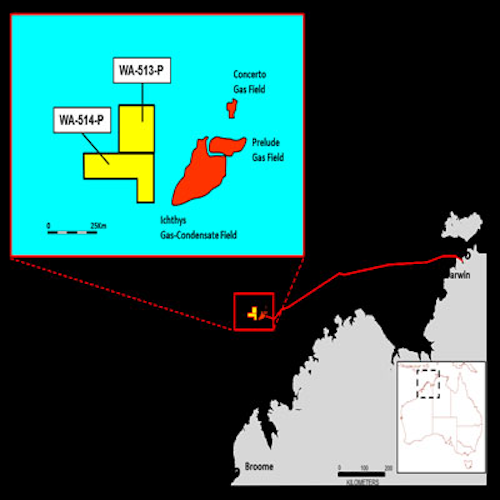 Offshore staff
TOKYO – INPEX Browse E&P is teaming up with Santos in two newly awarded exploration permits offshore northwest Australia.
Santos will operate Release Areas WA-513-P and WA-514-P, with INPEX holding the remaining 40%.
The two blocks, 500 km (310 mi) north-northeast of Broome, cover a total area of 750 sq km (289 sq mi) in water depths of 300-400 m (984-1,312 ft). They are close to large gas discoveries including INPEX'sIchthys gas/condensate field and Shell's Prelude and Concerto fields, and last August's Lasseter-1/ST1 discovery well in block WA-274-P, adjacent to WA-513-P.
INPEX now has interest in 13 exploration permits or retention leases nearIchthys and aims to prove more reserves as feedstock for the associated LNG project.
02/24/2015