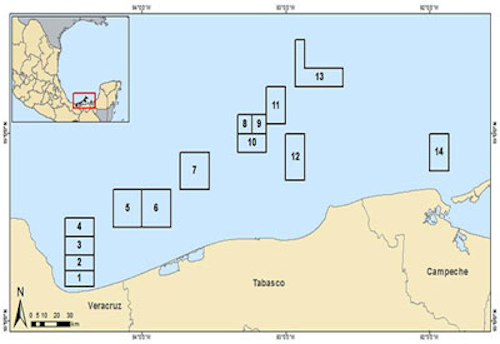 Robin Dupre*Sr. Technology Editor
HOUSTON – The Mexican National Hydrocarbons Commission recently published the bidding and contract terms for the first 14 oil and gas areas in shallow waters, kicking off the first phase of Mexico's bidding round for exploratory oil and gas blocks in the Gulf of Mexico.
However, with the recent plunge in oil prices, many are speculating whether major international oil companies will continue to show interest in the initial phase of the bidding round. Mexico took note and revised its initial offering by eliminating a few costly shale fields from its private oil tenders.
"In the past week, the government has admitted that it may need to further delay high-cost areas, such as unconventionals," stated Adrian Lara, GlobalData's senior upstream analyst for the Americas, in a released statement. "On top of this, the new schedule appears ambitious for a regulatory agency organizing its first-ever licensing round."
Despite these delays, the lower oil price should not affect the competitiveness of bidding on the shallow-water exploration blocks where production costs are less than $20/bbl, remarked Juan Carlos Zepeda, head of the National Hydrocarbons Commission. NHC is the regulatory overseeing Mexico's "Round One."
Several major companies, including ExxonMobil, Chevron Corp., Shell, Ecopetrol SA, and BG Group have paid a $350,000 fee (on top of a $18,600 registration fee) for access and authorization to the data room that houses seismic and geological data that has been the exclusive preserve of state oil company PEMEX for nearly eight decades.
Companies are slated to review the material which will open up to the bidding and contract terms for the first 14 oil and gas areas in shallow waters in the first phase of round one. According to Mayer Brown's report: "Mexico's E&P Round One Kicks Off: Bidding Terms for Shallow Water Areas Released," these exploratory areas, located off the coast of the states of Veracruz, Tabasco, and Campeche in southeast Mexico, hold prospective resources that are expected to contain light crude oil with low production costs. Each contract area is subject to different minimum investment obligations.
In the first round, the bidding process is divided into the following five different phases:
· Shallow waters
· Extra-heavy oil
· Chicontepec Basin and Unconventional Resources
· Onshore
· Deepwater.
PEMEX, like other companies, can bid on no more than five of the 14 areas on offer in the first tender. But with the depressed oil prices, authorities were "redefining what can be offered," stated Zepeda. The Eagle Ford shale has geological continuation of formations that cross into Mexico, but technical challenges, including lack of infrastructure and water and swift production times correlate to costs that are not attractive during a down cycle. The commission along with the Energy Ministry will decide by 2Q 2015 which areas will be trimmed.
The first deepwater Mexican prospects due to be auctioned later this year remain attractive even in the current environment because production is at least eight years away, meaning current prices are less relevant to exploration budgets for companies assessing their existing portfolios.
Moreover, in 2015, Mexico plans to award permits for companies to conduct seismic studies, including an assessment of presalt prospects. Two-dimensional and 3D studies conducted by outside parties will be a first for the country.
"I think what Mexico has accomplished recently is outstanding for two reasons: a) the number of years that the Mexican industry has been closed and b) the emblematic nature of oil in Mexico," stated Gabriel Salinas, associate, Mayer Brown, toOffshore. "In one year, a major reform occurred with new energy laws and regulations set in place. They've done their homework and I'm excited to see this process begin."