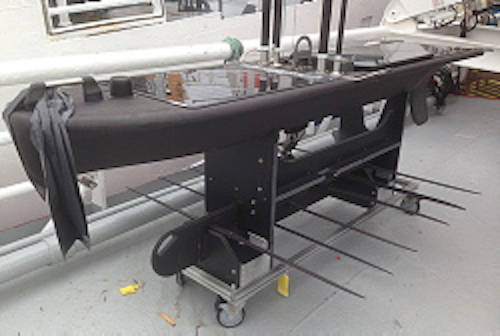 Offshore staff
TANANGER, Norway – ConocoPhillips Norge has begun deployment of six autonomous, self-propelled robotic craft in the eastern part of the Norwegian Barents Sea.
They will collect ocean meteorological and natural resources data, following preconfigured routes at a speed of around 1 knot. Their data gathering mission is expected to finish in early September.
Information compiled will include wave height, current speed and direction, temperature, wind speed and direction. Onboard sensors will also investigate certain areas to determine whether hydrocarbons are emanating from natural seeps, as identified from satellite images.

The "Wave Glider" craft has a surfboard-like shape with dimensions of 1 x 3 m (3.3 x 9.8 ft). They use ocean waves and solar energy for propulsion and navigation.
All are equipped with an AIS transponder that will autonomously adapt to marine traffic in the area, and all are monitored from onshore. Data is sent wirelessly to the shore via onboard communication equipment.
ConocoPhillips has commissioned this program to evaluate collection of data on the natural environment. If the pilot is successful, data collection may continue for the next three to five years and may be opened to industry participation.

"Each craft collects a wide range of information that is valuable for an offshore exploration and production environment," said Roy Leadholm, manager, new exploration ventures.

Previously the company has conducted similar assignments in the Gulf of Mexico, the Chukchi Sea (Alaska) and Baffin Bay offshore Greenland.

The company has five licenses in the Barents Sea, one as operator, and was one of the first to commit to participate in a recent industry seismic survey of the east Barents Sea involving 34 companies.
Currently the exploration department is evaluating seismic data from this survey to assess a possible application inNorway's 23rd licensing round.
07/08/2015