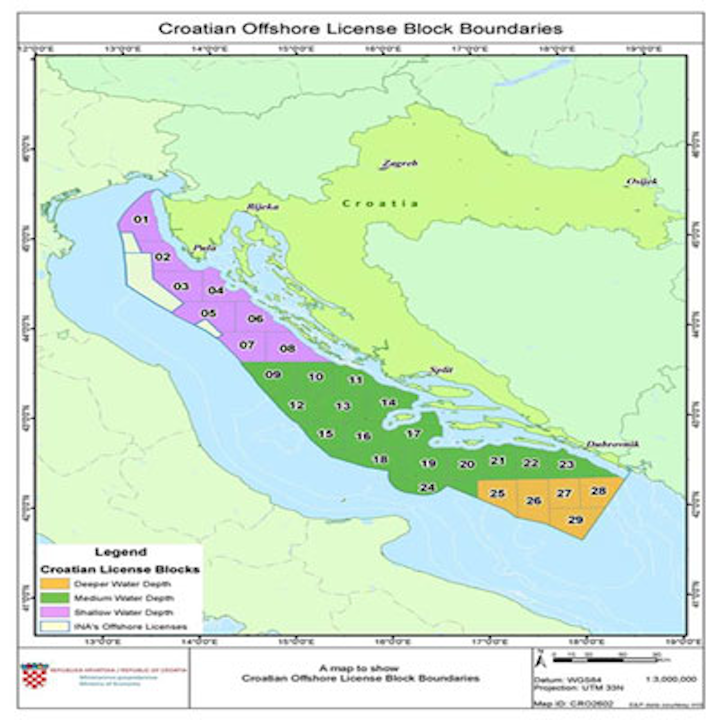 Offshore staff
ZAGREB, Croatia – Croatia's government has awarded 10 licenses for exploration and exploitation of hydrocarbons in the Adriatic Sea, under the country's first licensing round.
Six companies submitted bids for a total of 15 exploration areas.
Marathon Oil, in partnership with OMV, secured a license for seven exploration blocks, namely North Adriatic 8, Central Adriatic 10, Central Adriatic 11, Central Adriatic 22, Central Adriatic 23, South Adriatic 27, and South Adriatic 28.
ENI and Rockhopper subsidiary Medoilgas, which already work together offshore eastern Italy, gained license Central Adriatic 9 block in relatively shallow water in the prolific Northern Adriatic gas province. The concession includes the discovered Ksenija accumulation and the Klaudija prospect.
According to Rockhopper, the work program will likely comprise seismic acquisition, processing, and re-processing during the first three-year exploration phase, followed by drilling of a well in the second phase (if the partners elects to proceed).
Croatian company INA-Industrija nafte d.d. was awarded a license for blocks South Adriatic 25 and South Adriatic 26.
The government estimates the value of the cumulative investment plans at $621 million, adding that $15.5 million will be paid directly to the state budget after production-sharing contracts have been signed following negotiations. Final deadline for signing the agreement is April 2, 2015.
01/05/2015