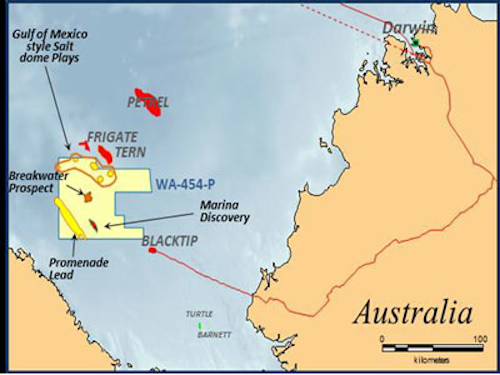 Offshore staff
MELBOURNE, Australia – MEO Australia (ASX: MEO) says the partners in the WA-454-P permit off Western Australia plan to submit two applications to vary their work program to the Titles Administrator.
The first application will seek to extend Permit Year 4 (currently ending on June 8) by six months to provide further time for seismic reprocessing. The second application will seek to move the current well commitment from Permit Year 5 (due to star on June 9) to Permit Year 6 (scheduled to start on June 9, 2016).
If approvals come through, the proposedBreakwater-1 exploration well would need to be drilled prior to the revised permit expiry date of Dec. 8, 2017.
The variations are being sought to help optimize the location of this well, MEO added.
Normally the company would not announce this news, but felt obliged to do so in light of Mosman Oil and Gas' current takeover bid.
03/12/2015