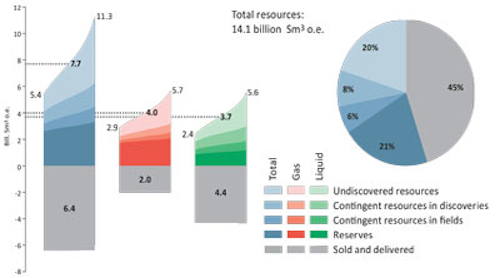 Offshore staff
OSLO, Norway –The Norwegian Petroleum Directorate's resource accounts estimate the total recoverable petroleum resources to be 14.1 Bcmoe. This is a slight decline from 2013. The decline is because 12 of the discoveries in the previous accounts have been reassessed and are now considered to have a low likelihood of development.
This year's reserve growth totaled 13 MMcmoe, compared with 102 MMcmoe in 2013. This growth can primarily be explained by the submission of one plan for development and operation (PDO) in 2014, for the 34/10-53 S Rutil discovery in Gullfaks Sør.
The reserve growth for oil was 40 MMcmoe and the gas reserves were reduced by 17 MMcmoe. There was also a decline in the associated liquid products. The Troll, Grane, and Ivar Aasen fields contributed the most to the oil reserve growth. The cause of the reduction in gas reserves was, among other things, greater uncertainty surrounding the implementation of subsea compression on Ormen Lange, so this project was therefore removed from the reserves.
The total estimate for undiscovered resources is 2.8 Bcmoe. The estimate in this year's accounts was reduced by 105 MMcmoe, which corresponds to the volumes proven in new discoveries in 2014. The NPD will prepare a new evaluation of undiscovered resources in 2015.
03/04/2015