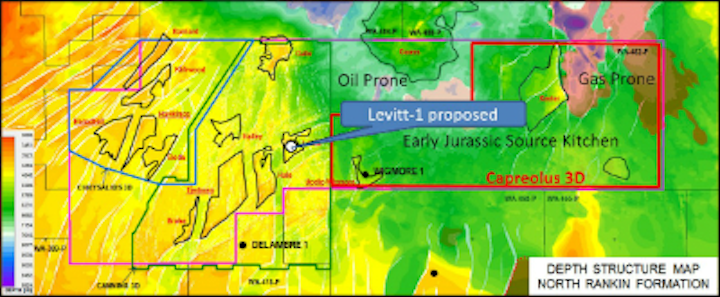 Offshore staff
MELBOURNE, Australia – Apache Northwest Pty Ltd. has contracted Diamond Offshore's  semisubmersible drilling rig Ocean America to drill exploration well Levitt-1, located in the northern Carnarvon basin exploration permit WA-482-P off Western Australia.
Apache's joint venture partner on the permit,Karoon Gas Australia Ltd., said Levitt-1 is expected to spud during May 2015. It is the first exploration well planned by the duo on the permit, which sprawls across 13,539 sq km (5,227 sq mi). The WA-482-P permit is located around 280 km (8,412 mi) north of Karratha, north Western Australia, in water depths ranging between 400 to 2,000 m (1,312 to 6,561 ft). Exploration in the permit will evaluate new plays in the northern part of the Carnarvon basin.
As assessed by DeGolyer and MacNaughton, the permit contains a multi-billion barrel prospective oil resource in six prospects identified in the Canning 3D seismic survey area which covers one-third of the permit area. Additional prospectivity over the permit area is expected to be identified through the interpretation of existing 2D and 3D seismic data and the 5,256 sq km (1,361 sq mi). The Capreolus 3D seismic survey program is under way.
The Levitt-1 exploration well is targeting an unrisked gross prospective resource best estimate of 220 MMbbl in the Legendre and North Rankin formations. The well is positioned to receive migrating hydrocarbons from the oil mature Early Jurassic source kitchen located in the central and eastern side of the permit.
Subsequent to the farm-out of a 50% equity interest in the permit to Apache during May 2014, Apache will be responsible for 90% of the cost of the Levitt-1 exploration well up to a total well cost of $70 million. The net to Karoon dry hole cost is estimated to be approximately $5 million.
03/25/2015