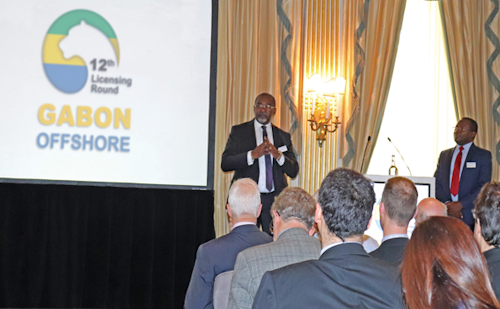 New data highlights pre/post-salt oil potential
Jeremy Beckman, Editor, Europe
Gabon hasopened its 12th Offshore Licensing Round, tabling 35 blocks for exploration and production in relatively shallow to ultra-deepwater. All were covered by recent 3D and 2D seismic surveys acquired by four geophysical contractors and processed using modern techniques. These have delivered a clearer picture of the long-suspected potential across the country's multiple sub-salt and post-salt plays.
Officials from Gabon's Direction Génerale des Hydrocarbures (DGH) and representatives of the four contractors outlined the new fiscal terms and exploration opportunities at a presentation in London earlier this year organized by Spectrum. This was one of eight roadshows to promote the round following its initial announcement in Cape Town last year. Others will be staged over the coming months at exhibitions and conferences in Beijing, Equatorial Guinea, Moscow, Calgary, and Brazil. Following requests from the industry, the ministry has extended the deadline for license applications to Sept. 30, 2019.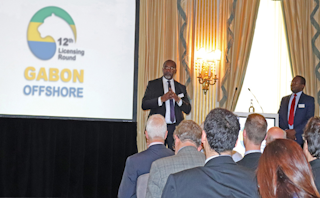 DGH officials at the presentation in London. (Courtesy Spectrum Geo)
Edgard Mbina-Kombila, Deputy General Manager at the DGH, said Gabon's government had validated a new Hydrocarbons Code and that ratification was now in progress: "Gabon has over 60 years history of oil production. Now it's declining, but we think we can improve the production profile because there are still non-explored areas, especially over the deep offshore." New discoveries should be relatively straightforward to develop, he suggested, with a long-established network of refineries and terminals in place, along with an extensive offshore and onshore pipeline system, "so there is no need for companies to put in new infrastructure."
The 2D and 3D datasets acquired by CGG, ION Geophysical, PGS, and Spectrum under partnership arrangements with the DGH are all available under the new round. The more data companies license ahead of submitting a bid the stronger their work program will be rated, Mbina-Kombila said, with consequent reductions in future seismic commitments if the bid is successful.
Herve Bertrand N'nang Engue, Senior Economist at the DGH, said the new Hydrocarbons Code was based on input from the Gabonese Tax and Customs and Environment departments, the country's upstream and downstream unions, OPEC, the University of Houston, and the African producers' association APPA. The code is adapted to take into account oil price fluctuations, with flexibility applied to different plays and field sizes. Other positive changes include the removal of corporate income tax, a lower royalty rate on deep/ultra-deepwater production, and higher cost recovery rates of up to 70% for conventional oil, and in deep/ultra-deepwater, 80% for oil and 90% for gas. As for license durations, the initial exploration phase has been extended from six to eight years with the oil production phase extended from 20 to a maximum of 30 years, 35 years in the case of gas.
Emerging plays
All of Gabon's current offshore production comes from relatively near-shore fields, but there has been patchy exploration in recent years of the lesser known presalt plays. This has delivered deepwater successes such as Total's Diaman-1B gas-condensate discovery in the Diaba block in 2013 and Shell's Leopard (gas) the following year in the BCD license, 145 km (90 mi) offshore and in 2,110 m (6,922 ft) water depth. Two other consortia achieved deepwater oil successes last year with the Ivela-1 and Boudji-1 wells.
According to a report drawn up by Spectrum for the ministry for the 12th Round, exploration to date off the north of Gabon has focused on shallow oil post-salt plays in shallow water. The resulting oil discoveries prove the presence of a post-salt hydrocarbon system. In the presalt, there have been a few nearshore gas discoveries but the presalt oil plays have been ignored due in part to imaging restrictions. That situation has changed with advances in imaging and drilling technologies: recent assessments suggest that the deeper presalt synrift close to the shore contains structural plays with quality reservoirs above oil-prone source kitchens. And farther to the west the post-salt is so thick the likelihood is that source rocks here will also be oil-generative.
Offshore central Gabon, the new license blocks offered are over the outer part of the Ogooue Delta, where water depths were beyond the capabilities of earlier exploration. There appear to be various undrilled structures in the post-salt close to the oil-prolific shallow-water area. New technologies are allowing stratigraphic targets to be imaged over potential sandstone channel, slope and fan plays over underlying salt diapirs. And analysis of post-salt carbonates indicates that the syn-rift is potentially generating billions of barrels of oil, or where it is really thick, gas-condensate, said Spectrum's Neil Hodgson. Sub-salt plays in the Ogooue Delta have been virtually unexplored.
Off southern Gabon, in addition to the proven Gamba sandstone post-rift, presalt plays, modern imaging is for the first time revealing large, syn-rift anticlines, and the few wells drilled to test this play have been successful.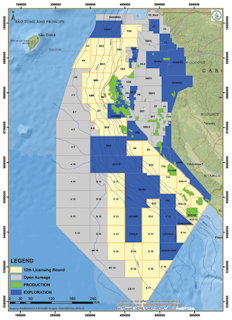 Blocks on offer under the 12th licensing round. (Courtesy DGH)
Data reviews
CGG's focus has been on Gabon's South basin. Working with the Ministère du Pétrole, Gaz et des Hydrocarbures, the company acquired over 25,000 sq km (9,652 sq mi) of 3D seismic over an area that includes some of the 12th Round blocks, using its BroadSeis broadband technique, full-waveform inversion and tomographic velocity modeling to image prospective structures at base salt level. The survey area is also close to and downdip of pre-Aptian salt discoveries such as Ruche and Tortue in the Dussafu block (now under development by BW Offshore) and Diaman, and both Ivela and Boudji were identified based on this data-set, CGG claims.
Over 2,500 sq km (965 sq mi) were overshot by perpendicular 14-km (8.7-mi) long-offset data in order to provide dual-azimuth coverage, with over 3,800 sq km (1,467 sq mi) acquired applying similar offsets for improved imaging of deeper diving waves. According to the company, the main prospective targets are in deep sub-salt Barremian to Aptian sandstones; supra-salt Albian Madiela carbonate turtlebacks; and Cretaceous-Tertiary turbidite sands that have proven to be fertile hunting ground to the south offshore Congo and Angola.
Results from the BroadSeis data-set are also incorporated in volume 2 of the CCG/Robertson JumpStart integrated geological study of the South basin.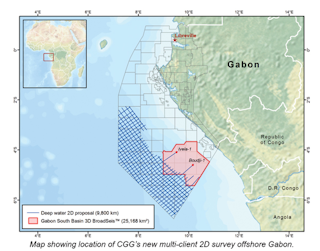 Area covered by CGG's latest Gabon South basin deepwater 2D multi-client survey. (Courtesy CGG)
More recently CGG has been acquiring 9,800 km (6,089 mi) of long-offset, broadband 2D data to help define the full extent of existing and newly identified plays in the basin and to assist understanding of the thickness variations in the sediment overburden for source rock and maturity analysis. Broadband processing should improve characterization of the turbidite systems that represent potential exploration targets, while the low frequencies should provide sufficient penetration to enhance understanding of the nature of the deep crust, the company says.
ION, working with the ministry and the DGH, has acquired five 2D surveys over the past few years across Gabon's entire offshore area, with all the data re-processed, re-imaged and integrated last year into the new 2D BasinSPAN data-set. This covers 4,760 km (2,958 mi) off northern Gabon and 6,000 km (3,728 mi) off the south of the country. ION's Ken McDermott, speaking at the London event, said the new seismic lines over the north show good reflectivity from the salt down to the base of the crust, revealing what appear to be sediments curling around salt diapirs.
The SPAN data is said to support development of a full crustal deformation model for the offshore area and provides input to assist source rock maturation modeling. Line orientations have been designed to improve understanding of the initial and subsequent break-up and transform margin phases that impacted the area during the opening of the South Atlantic. ION claims the program has helped resolve issues related to hydrocarbon expulsion and timing and the thickness of Cretaceous units critical to the development of new hydrocarbon concepts.
PGS' Gabon MegaSurvey, another initiative developed with the DGH over the past 10 years, provides over 35,000 sq km (13,513 sq mi) of merged 3D/2D data and regional interpretation over mature and frontier offshore areas, with key horizons calibrated to released well data allowing users to focus on detailed prospect-level interpretation.
Spectrum's most recent efforts offshore Gabon have involved reprocessing in 2016 of a 2D data-set acquired in 2009, followed in 2017 by acquisition of 11,000 sq km (4,247 sq mi) of 3D data over the south (including the currently offered blocks) and subsequently 5,500 sq km (2,123 sq mi) of 3D seismic over the north. The company has finished processing the southern data and expected to finish work on the north this month. In addition, it has been cooperating with the DGH on reprocessing existing 3D data using modern broadband techniques, said Neil Hodgson. He pointed out that although around 18 exploratory wells had been drilled in the south on the Dentale Gamba play, only one had found oil. The poor returns appear to be down to problems with seismic definition clarity: Spectrum has applied de-ghosting during processing which will hopefully improve imaging in this region. •