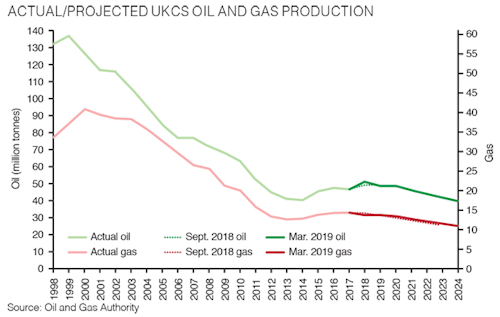 UK's long-term future looking brighter
Production offshore the UK rose by over 4% last year to average 1.7 MMboe/d, according to a report by the Oil and Gas Authority (OGA). Total oil production was the highest since 2011, mainly as a result of 30 new fields coming onstream since 2015. Other factors were improved asset integrity and wider implementation of enhanced oil recovery projects. These developments, supported by positive recent exploration results, suggest total output across the sector between 2016 and 2050 will be 3.9 Bboe higher than projected four years ago when oil prices were in freefall.
Due to the higher activity opex across the sector rose by 6.4% in 2018, while capex declined for the fourth straight year, although a 4% rebound seems likely this year, based on operators' plans. Total decommissioning spend on UK offshore facilities was 9% higher at $1.89 billion, with more fields nearing cessation of production. But efficiency measures suggest that decommissioning costs between 2019 and 2023 will be 18% lower than the OGA's previous estimate.
INEOS, one of the growing band of companies acquiring mature UK fields and associated infrastructure, plans a $665-million overhaul of the 500-km (310-mi) Forties Pipeline System in the central North Sea, formerly managed by BP. The focus of the investment will be on measures such as improved reliability and modernized environmental procedures. The system, which started operating in 1975, is designed to transport up to 600,000 b/d of oil from numerous fields in the area to a refining complex in eastern Scotland, and handles 40% of the UK's oil and gas production. Mile Tholen, upstream policy director at Oil & Gas UK, said the program would be reassuring to the various field operators considering future investments in their assets.
RockRose Energy, which recently boosted its mature North Sea field portfolio by acquiring Dyas' interests in the Dutch North Sea, has taken a leap forward by agreeing to acquire Marathon Oil's UK interests for around $140 million. Assuming approvals, the deal would give RockRose its first major production complex, as operator of the Greater Brae Area in the UK central North Sea, along with interests in three central North Sea pipeline systems and stakes in BP's Foinaven and Foinaven East oil fields west of Shetland. On completion, the company should inherit 35 MMboe of 2P reserves and production of around 13,000 boe/d.
Sverdrup construction nears completion
Allseas' Pioneering Spirit was due to collect the 18,000-metric ton (19,842-ton) topsides for the Johan Sverdrup Phase 1 utility and living quarter (ULQ) platform from a location outside Kvaerner's yard in Stord, western Norway, for installation at the field center in the North Sea. Earlier the vessel was scheduled to set down the 26,000-metric ton process topsides on the pre-installed jacket, having temporarily broken off from pipelay duties in the Baltic Sea. Once the final two bridges for the four-platform complex have been eased into place (both built by Rosenberg WorleyParsons in Stavanger) and the flare tower connected to the process deck, the main Phase 1 construction phase will have finished.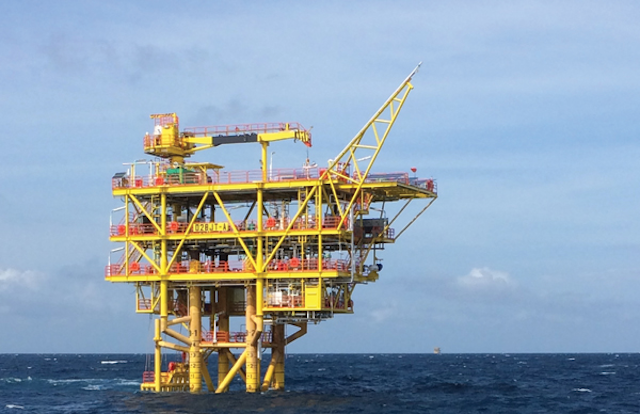 The D28 platform offshore Sarawak. (Courtesy 2H Offshore)
Sverdrup operator Equinor awarded the Kvaerner/KBR joint venture the NOK6.7-billion ($786-million) contract for the ULQ topsides in mid-2015, with Leirvik responsible for the 560-bed quarters module. The topsides was mechanically complete last October, and throughout the winter all systems underwent testing in readiness for sail-away.

Rig rates set for further rise
High-spec drilling semis offshore Norway are commanding some of the steepest day rates worldwide, according to consultant Westwood. This is largely due to intensive exploration/appraisal activity as companies follow up on their license round commitments, and to contractors removing older rigs from their fleet. However, although much of the capacity has already been secured for campaigns offshore northwest Europe, various operators still have drilling plans but no rig lined up.
The Johan Sverdrup ULQ topsides at Stord. (Courtesy Kvaerner)
Rig availability seems likely to continue contracting in northwest Europe, forcing some operators to commit to drilling programs during the harsher winter months. Day rates look set to go higher still, with Westwood predicting more than $300,000 for semis offshore Norway and $200,000-plus for deepwater floaters in the UK sector, compared with the recent range of $120,000-$160,000.