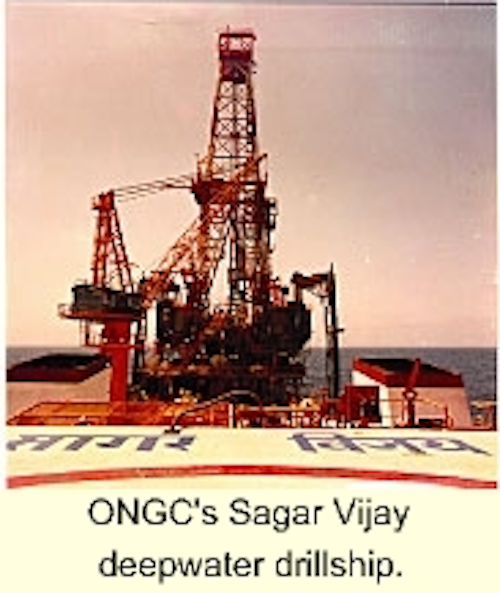 In a major thrust toward achieving self-sufficiency in crude oil and petroleum products, the government of India recently finalized award of licenses for as many as 25 oil exploration blocks under the country's new exploration licensing policy (NELP).
A joint venture of Reliance Industries Limited (RIL), the giant Indian industrial group, and Niko Resources Limited (NRL) of Canada, turned out to be the star performer in the first round of bidding under NELP. The combination led 20 other companies including 10 foreign companies, five state run companies, and five other Indian private companies that participated in the bidding by bagging 12 of the 25 exploration blocks awarded.
RIL petroleum division, Reliance Petroleum Ltd. (RPL), has achieved stunning market capitalization and is a major partner in the combine, with a 90% stake. Oil and Natural Gas Corporation Ltd. (ONGC), the state controlled exploration and production major of India, bagged five blocks on its own, and two more in combination with India's only Fortune 500 downstream sector company, Indian Oil Corporation (IOC).
This marks the first foray of the refining and marketing oil major in the upstream sector. ONGC, in combination with GAIL (Gas Author ity of India Ltd.) was awarded one block. Others selected include Oil India Ltd. - one block; GAIL/ Gazprom - one block; Mosbacher Energy/ Energy Equity/Hindustan Oil Company Ltd. - one block; Geoenpro India Ltd./Geopetrol Inter national/Enpro India Ltd. - one block; and Cairn Energy India Pty. Ltd. - one block.
The government of India had invited offers for 48 blocks, including 26 offshore shelf, 10 onshore, and 12 deepwater blocks. This was the first time deepwater blocks were put up for bidding. In all, 45 bids were received for 27 of the 48 blocks. Twenty-five of the 27 blocks bid on were awarded, while bids for two blocks were rejected, as incomplete. The awarded blocks include two onshore blocks, seven deepwater blocks, and 16 offshore blocks. The government will soon sign the production sharing contracts with the bid awardees.
In the six previous rounds of bidding (since 1991), the government of India had awarded only 35 blocks, averaging only six blocks per bidding round. Therein lies the significance of NELP, which features such terms as:
No mandatory state participation or carried state interest
Income tax holiday for seven years
Cost recovery up to 100%
No custom duty on imports for petroleum operations
Freedom for contractors to market oil and gas in the domestic market
Reduced royalties for discoveries in deep water for seven years.
Dr. Avinash Chandra, Director General, Directorate General of Hydrocarbons says NELP has in fact proved very successful, compared to earlier rounds when only 7-14 blocks were bid on. "There is also qualitative improvement" said Dr. Chandra. He feels that the bids received this time were very progressive as far as work program survey and drilling is concerned.
To begin with, "the committed work program" in Phase I which is a three-year phase in these blocks is for work equivalent to $250 million. The remaining two phases are for two years each. The total plan is seven years for all phases and would involve an investment of $1.17 billion.
"The extracted geology is very good," says another senior official of Ministry of Petroleum. Countering the charge that some top multi nationals like Chevron, Shell, BPAmoco, ExxonMobil, Unocal, and others have not participated in the bidding, the Director General said that when the bids were opened it was the first half of August 1999, when the oil prices were at their 10-year low. But, large companies are now trying to "farm in," as the prices have moved up.
The Indian government has demonstrated a clear intention of involving foreign as well as private investments in this industry by approving the bids in a record time of four and half months. Negotiations, are at the moment, are continuing for the signing of the production sharing contracts (PSCs) between the government and the bid awardees.
A spokesperson of the government said the PSCs should be signed by March 31, 2000. In a related development, the government of India is also renegotiating PSCs for 10 discovered fields in Gujarat, which have been pending since long after a report by the Comptroller and Auditor General (CAG) found loopholes in the earlier contracts.
Deepwater opportunities
The seven blocks in deepwater signify a shift in emphasis in the exploration and production (E&P) sector. To date, E&P was focused on the shallow water and onshore basins in India. But with the easy-to-find oil already discovered, the E&P sector has been forced into high risk - high return deepwater.
ONGC's star drillship Sagar Vijay, which was recently upgraded and modified to undertake drilling in water depths up to 900 meters, has begun work on the frontier areas by drilling three wells in the Krishna Godavari and Cauvery deepwater basins. Also, RIL announced an investment of Rs.200 crore/year for the next three years for oil exploration activities, this within a fortnight of being awarded 12 blocks.
ONGC, which has about 200 blocks pre-NELP, has interesting developments in six of their 17 deepwater blocks. The firm is in the process of negotiating NELP terms for these blocks with the government. It is also negotiating with a few foreign companies for a technological tie-up for development of these fields, so as to enable it to have the most cost effective development option.
India's oil refining capacity has increased from 40 million metric tons to 110 million metric tons this year. The main capacity addition has come from RPL's Jamnagar refinery, which has an output of 27 million metric tons, and Mangalore Refinery and Petroleum Ltd's (MRPL) Mangalore refinery.
To date, the country's oil import bill consists of a 50:50 ratio of crude oil to petroleum products. With the now installed capacity in refining, import of petroleum products is likely to come down substantially. However, to meet the refineries improved throughput, more crude oil is likely to be needed. As the production of crude oil from India's mature fields is stagnating, demand will need to be fulfilled by either imports or new discoveries, or enhanced production from existing fields.
Bombay High overview
ONGC's Mumbai Region comprises fields in the western offshore. ONGC started its offshore operations in the early 1970s and Bombay High was discovered in May 1974, with production two years later. Thereafter, major fields such as Heera South Basin gas field, Neelam, Panna, Mukta, Tapti, and a host of smaller fields in the west coast have been discovered.
Today, about 20 rigs are operating offshore. The region operates 29 process platforms, more than 120 unmanned platforms, and over 3,300 km of pipeline network, which includes two main oil lines (26-in.), and gas lines (30-in.) from Bombay High to Uran located on the coast in Raigad District of Maharashtra.
In addition, there are two gas pipelines (30-in. and 42-in.) from South Bassein field in offshore to Hazira in Gujarat. The gas produced at the Tapti field is also transported to Hazira through this 30-in. pipeline.
Flow to shore
The oil produced offshore is sent to Uran for processing and then sent to refineries for further processing into various petroleum products. The gas from the Bombay High fields and the surrounding area is sent to Uran through gas pipelines, which is handed over to Gas Authority of India Ltd. at Uran for distribution to various consumers.
The natural gas produced at South Bassein is sent to Hazira, where sour gas is processed and sweet gas is supplied to Gas Authority of India Ltd. at Hazira for further distribution to various consumers. Apart from crude oil and natural gas, the region also produces value-added products such as LPG, ethane propane, NGL, ARN, kerosene, and heavy cut.
Bombay High field, located 160 km north-northwest of Bombay city, was discovered in 1974 in a water depth of 80 meters in the Arabian sea. The field was put on commercial production in 1976. The field is the largest oil/gas field discovered so far in India. It is also considered one of major oil fields in the world.
The field reached a peak production level of 400,000 b/d of oil during 1984-85 and maintained the rate till about 1989-1990. Subsequently, there was a declining trend in oil production and an increase in the flow of unwanted gas and water. During this phase, several actions taken by ONGC: putting the oil wells on artificial lift; undertaking gas and water shut off jobs; control the reservoir energy and oil decline rate. These measures have had a positive impact on the field performance.
In the last two years, major emphasis was on the improvement of reservoir health. Also undertaken was raising and re-distributing water injection capacity, production logging surveys to understand reservoir behavior, innovative drilling technologies such as extended reach drilling, sidetracking of wells, drilling through clamp-on wells, scale removal jobs, dual gas lift, and other. Some infill wells also were drilled in strategic parts of the field to augment oil production. All these measures helped greatly in arresting the field decline rate to a significant extent.
3D seismic data has also been acquired in a record period of 18 months and covers the whole field. Understanding the geological and geophysical aspects of the field is a prerequisite for further development of the field in the next millennium.
Bombay High field performance has been similar to that of North Sea fields such as Forties, Brent, Statfjord, and Gullfaks which went into production around the same period as of Bombay High. There, operators made massive investments during the declining phase of oil production to arrest steep decline rates and increase ultimate oil recovery. Bombay High is no exception.
To improve current production levels and achieve higher ultimate recovery, major investments are warranted in the beginning of next millennium. Prerequisites for such major investments are better understanding of Bombay High reservoirs through detailed scientific and engineering studies, and scouting of innovative and cost effective technologies being tried elsewhere in the world.
To achieve these objectives, ONGC has engaged the services of Gaffney Cline & Associates (GCA) of UK for a period of two years beginning from May 1998. The consultants will work with ONGC and act as catalysts in introducing multi-disciplinary work approaches and innovative technologies to improve oil and gas production from the field in the coming decade. Consultants estimate there will be a need to drill 400-450 infill production/injection wells to tap the bypassed oil. This should increase recovery 35-40%, compared with a current recovery level of 28-30%. The report on the re-development of BombayHigh is expected to be ready by mid-2000.
Neelam Pilot Project
The Neelam Pilot Project was started as part of Organization Transformation Project (OTP) in January 1998. During this period, the project introduced a multi-disciplinary system of working, and signed service level agreements with service groups such as well services, drying, cementing, logging, logistics, and mud services. The agreements were between service providers and users, providing a specified quantity of service at an agreed level of quality and cost and to agreed schedules and conditions. The agreement between Neelam Project and Service providers is functioning smoothly and promoting team work and self governance where both asset and the service provider assume responsibility for their actions.
After the experiment of Neelam, the entire OTP is now being implemented. The multi-disciplinary concept of working defines responsibilities clearly for each individual and this has helped the project to make faster decisions. After the commencement of OTP, the decline rate in the Neelam field was reduced from 26%, when the project began, to a present level of 11%. The Neelam Project also introduced Gel Technology for gas/water shut-off and Kinley Perforation in workover operations.
Introduction of these new technologies and other concepts has helped to revise production targets upward to 1.7 million tons of oil in 1998-99. The project is poised to produce an additional 1.5 million tons in the year 1999-2000.
New projects
A new field, B-173-A, was put on early production in August 1998. Today, that field is contributing around 6,000 b/d of oil. A new process complex, HRC, was installed as part of Heera Phase III development program. The platform was hooked to the Heera Process complex in July 1998, enhancing oil processing and gas compression.
Recognizing the need for enhanced oil production from existing oil reservoirs, the Institute of Oil and Gas Production Technology (IOGPT) of ONGC organized an international conference on Well Stimulation Technology (Stim-Tech-2000) in January 2000. The purpose of the conference, attended by international experts, was to deliberate on methods and technologies to enhance oil production by using the best well stimulation technologies available. B. C. Bora, Managing Director of ONGC Ltd. said the challenges facing the Indian oil industry were great, and that the easy-to-find oil has already been found. He said the challenges must be met with a three pronged strategy:
Exploration in frontier areas such as deep water
Development of marginal fields
Enhancing production of existing reservoirs.
Other topics debated during the conference with an impact on India's oil and gas fields include the following:
Stimulation for tight and high temperature reservoirs
Stimulation of coalbed meth ane reservoirs
Selective stimulation of multi-layered reservoirs
Horizontal and multilateral drilling.
Deepwater challenges
That oil exists in substantial quantities in India's deepwater has been known for some time. However, over the last two decades, the focus has been on shallow water due to cost of deepwater drilling and easy availability. The major problem in deepwater drilling is the weight/cost ratio. As depths increase, the size and weight of larger risers and longer drill strings have a cumulative effect on the cost of the rigs and materials.
A second major problem is the hydrostatic pressure buildup in the water column and lift to the surface. To convert conventional offshore rigs would require substantial investment. Some ideas now being discussed in India include slim risers, subsea BOPs and arrays, and even a submersible platform. With the constant refinement of emerging technologies to combat the problems faced in deepwater, India's industry is keeping its options open.
The exploration process is already underway. ONGC has upgraded one of its drillships, Sagar Vijay, for deepwater drilling. Although initial attempts to drill in the deepwater Krishna Godavari Basin was thwarted by excessive currents, it has to date drilled two wells there and one in the Cauvery basin. Another well is underway in the Kerala Konkan basin.
One of the wells in Krishna Godavari, the G-1AA, has shown commercial prospects with 3,500 b/d. The well at Kerala Konkan has already shown traces of gas, though the targeted geological prospect has yet to be reached. With oil prices firming and ONGC getting partial parity with international rates, the firm has committed to expanding deepwater opportunities.
Effects of oil price hike
High crude oil prices have resulted in an increased burden on India's foreign exchange earnings - another $3 billion - in addition to last year's $10 billion. The steep hike in crude oil prices would have generated an oil import bill of about $15 billion but for the improvement of India's oil refining capacity, which shot up to 110 million metric tons this past year. This increase in refining capacity has offset about $2 billion for the country in imported petroleum products.
NELP has generated sufficient interest in the private sector, but can the government sustain that interest? This is the question being debated among oil experts. The NELP awards have been processed in a record time of 4-1/2 months. The government needs to have PSCs signed as soon as possible so as to get the exploration underway.
Once exploration begins, the oil majors who are now watching from the sidelines may want to participate. Unlike government oil companies, the private companies will find means and ways to develop any discoveries they make.
Hydrocarbon Vision 2025
The Indian Prime Minister Atal Bihari Vajpayee recently met with representatives of the petroleum industry and officials of MOP&NG to get views on reformed policies of the government and its intentions are quite apparent. Hydro carbon Vision 2025 (a government document), which had been announced earlier, is in its final stages. The various subcommittees will soon submit their reports for the final report by the Ministry of Petroleum & Natural Gas.
Demand for petroleum products, which constitute 38% of the energy consumption in India, has been steadily rising at 6.5% annually to around 90 million metric tons. At the same time, the production of crude oil has remained almost stagnant over the last few years at around 33 million metric tons annually. This, in spite of having a prognosticated reserve of 29 billion metric tons. Of the 29 billion, 5.5 billion metric tons have already been established, forming the established geological reserve. Of the 5.5 billion tons, 1.1 billion metric tons forms the balance of recoverable reserves. The result of meager production, compared to the reserves available, is that India is forced to part with 30% of its foreign exchange earnings just to meet domestic demands for petroleum.
Per capita petroleum product consumption in India is very low, at about 87 kg annually, compared to world average of 900 kg. With the help of private companies, spurred by liberal government policies, domestic production may reach a level such that India can become a net oil exporter.