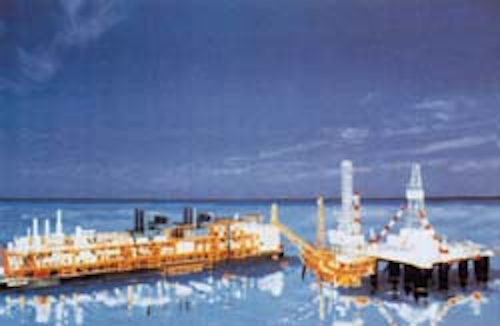 Transactions reduce debt and burden of investment in Congo's biggest ever project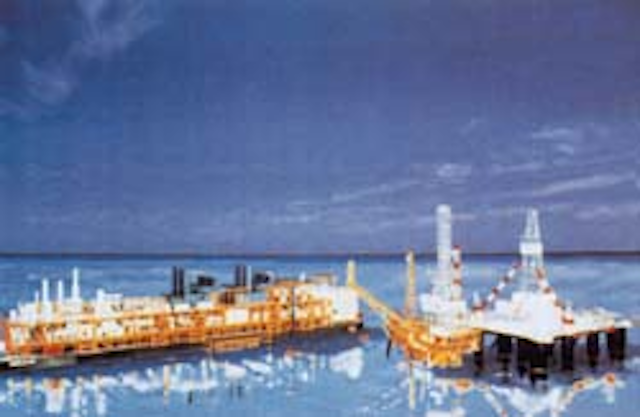 How the N'Kossa development might look once the concrete barge is in place.
West Africa and the West of Shetlands look set to dominate Elf's upstream planning into the next century. The company has been shuffling field interests in both arenas recently, to control costs in its main power base (Africa), and to lay the base for power in the North Atlantic.
As a newly privatized group, Elf is under pressure to reduce its debts. This winter, it signed away a further 11.5% of one of its biggest upstream assets, Congo's N'Kossa Field, to Chevron and Engen. This followed a 22.5% farm-out to Chevron last year, the latter having been enticed following a favorable renegotiation of the field's fiscal regime.
Up to $350 million may have been raised by these sales. At the time of the first deal, the field was expected to eat up a further $900 million in investment costs (overall development is put at $1.6 billion bu UK analysts Wood Mackenzie). However, Elf then laid out $50 million to buy the remaining interest held in Elf Congo by the government.
N'Kossa remains Congo's largest offshore discovery, with oil reserves of 440 MM bbl and 60 MM bbl of gas/liquids. A southern extension of the field, not yet in the development plan, could add up to 100 MM bbl of oil. First output is due next spring.
Appraisal of a much smaller Elf Congo discovery was successfully completed this February. The Tilapia Marine-2 well was drilled near to shore, targeting the pre-salt Albion Chela Sandstone. A previous well on this structure, completed three months earlier, flow-tested at over 2,000b/d from two horizons. If developed, the oil would probably head by pipeline to Pointe Indienne.
Elf Congo also struck lucky this winter with an appraisal well on the eastern extension of Tchiboulea in the Sendji Formation. The northern extension of this field came onstream last November via a wellhead platform tied back to the host facilities, bringing total daily output from Tchiboulea up to 50,000bbl. The eastern section could add a further 10,000b/d.
Elsewhere off West Africa, the only other potentially commercial find by Elf so far this year is Kambi Marin-1 in the Azile Formation off Cap Lopez, Gabon. The well, in 36 meters of water, tested at 2,060b/d. Elf has also performed a 550sq km 3D seismic survey over the Kambi and Assala prospects.
Shetlands drilling
In the UK, Elf is in the thick of the stampede to the West of Shetlands (WoS), becoming an operator for the first time in this arena through buying 50% of Enterprise's stake in block 205/17a, east of the Scheihallion Field. A tight hole well was completed here this May.
Elf also swapped its 23.3% share of block 15/24 for 17.5% of Lasmo's stake in the 11 WoS Tranche 6 blocks. This makes Elf the majority shareholder in these blocks, following its earlier farm-in deal with operator Mobil.
The French company also picked up interests in WoS blocks 208/16 and 17, operated by Amoco, under the UK's most recent Licence Round awards. It already held 10% of BP's nearby heavy oilfield Clair, which looks to be close at last to a development announcement.
Elf's prize asset in UK waters remains the Elgin and Franklin gas condensate fields, which straddle adjoining blocks in the central North Sea. They are thought to contain 2.375tcf and 480 MM bbl of liquids: again, a development announcement is likely soon. Progress has been slow partly for complex technical reasons - high pressure and temperature, whether to tie the fields into Shell's Puffin and Shearwater prospects - and partly due to uncertainty over the best market for the gas.
The most likely scheme currently is a processing platform on Elgin with a minimum facilities installation on Franklin. Up to 18 development wells could be drilled on the planned complex, with pre-drilling kicking off perhaps in September next year. Elf currently owns nearly 49% of the two fields.
Copyright 1995 Offshore. All Rights Reserved.