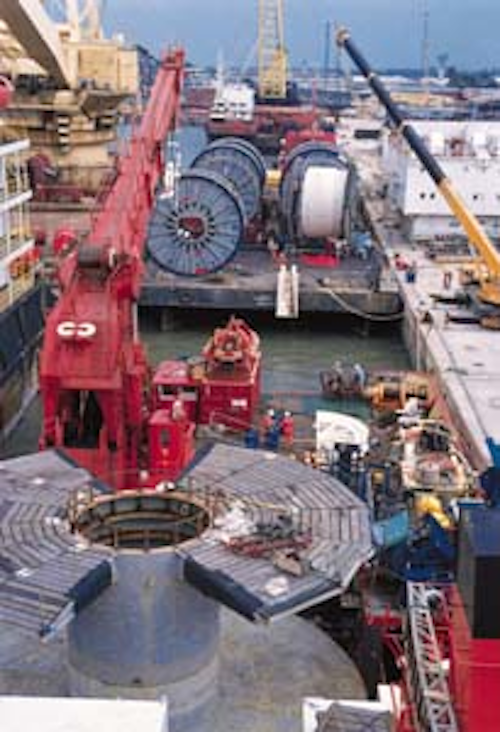 International interest escalating as discoveries indicate sizeable reserves
Dev George
Managing Editor - International
Contest for the South China Sea. Vietnam and China are still at loggerheads over suzerainty in the highly prospective South China Sea. Although negotiations have been on-again, off-again for some time, the temperature appears to have risen, with each country sending in exploration teams to do seismic or drill or both. Other countries with claims on the region are settling their differences either by establishing new frontiers or setting up Joint Development Zones, as is the case with Malaysia, Indonesia, and Thailand. Vietnam is, in addition, negotiating with Thailand and the Philippines.
---
The East-West Center's Charles Johnson has estimated that the Vietnamese continental shelf contains 1.5-3.0 billion bbl of oil and at least 10 tcf of gas. Furthermore, he maintains, in only 25 years, the country may become one of the major industrialized nations of the region, based on its projected oil export revenues and its mineral and human resources.
Of course, the government of Vietnamese Premier Vo Van Kiet is pursuing that goal. It has established favorable terms for foreign oil companies' participation in every aspect of the petroleum industry in Vietnam, and has not only spread the welcome mat, but has toured the world's petroleum capitals with seminars and presentations promoting the Vietnamese venue.
Needless to say, they have come. Every major oil company in the world has poured over the blocks on offer and what seismic and drilling data there is from the past two decades, and chosen the concessions it wanted. Others have farmed in where the prospects look particularly fruitful. And it's now paying off both for the international oil companies and for Vietnam - although about 13 nearshore blocks are still unallocated (122-130 overlapping contested waters off central Vietnam, and 25-41 skirting the Quan Long Peninsula into the Gulf of Thailand).
Although Vietnam was sorely underexplored before foreign companies entered the play, serious 2D and 3D seismic acquisition programs have now been completed or are underway throughout the concession areas, and exploratory drilling is proving the analysts right - there is tremendous prospectivity here, particularly in the Nam Con Son and Vung Tau Basins off the south coast.
Vietsovpetro
Mobil Oil made the first discoveries offshore Vietnam in 1975, Bach Ho (White Tiger) and what became Dai Hung (Big Bear). With its withdrawal from the country, however, these fields passed to the Vietnamese-Soviet joint venture Vietsovpetro, which was granted exclusive rights to a large irregular exploration block that encompassed all of what is today Blocks 04 and 05, 09-11, 15, and 16. Ironically, following PetroVietnam's reallocation of Vietsovpetro's holdings, all of the new discoveries except those by British Petroleum in Block 06 have been in ex-Vietsovpetro aquatory.
Vietsovpetro, however, continues to be a major player despite its financial and technical problems. Following disintegration of the Soviet Union, its Soviet ownership was transferred to the Russian Petroleum Import & Export League, and a more major role in its operation and management has been turned over to the Vietnamese. Until last year, Vietsovpetro's Bach Ho Field was the only source of Vietnamese oil, producing an average of 136,700 b/d oil. Dai Hung, however, was brought onstream by operator BHP Petroleum in October 1994, with initial oil flow at 25,000-35,000 b/d, and Vietsovpetro's own Rong (Dragon) Field, also in Block 16, came onstream at the end of 1994 with an oil output of 24,000 b/d.
PetroVietnam predicts that it will produce at least 220,000 b/d oil and 144 million cf/d gas by the end of 1995, and over 400,000 b/d oil and 288 million cf/d gas within five years.
Discoveries
The level of exploration in the Nam Con Son Basin has reached a frenzy, due primarily to the number of discoveries being made there. At least nine major fields were found in the area only last year, and an equal number are anticipated in 1995. They are:
Ruby Field, in Block 01, discovered by Petronas in early 1994, with undisclosed reserves that have tested 1,750 b/d oil, 7.2 million cf/d gas.
Flying Horse Field, in Block 04-2, discovered by Lasmo, with estimated reserves of 1.2 tcf gas, that has tested 2 million cf/d gas.
Red Orchid(Lan Do) & West Orchid (Lan Tay) Fields, in Block 06, discovered by BP, with reserves of 2 tcf of gas, that have tested at 80 million cf/d. (In disputed waters abutting Chinese Wan'ai Bei 21 concession, which was granted to Crestone Energy.)
Sunflower North & South Fields, in Block 06, discovered by BP, with undisclosed reserves and untested, although said to have had significant showings of both oil and gas.
Unnamed Field, in Block 11-1, by Total. Said to be very large, by first indications.
Unnamed Field, in Block 11-2, discovered by Shell/Pedco, with reserves of 70 million bbl oil, that have tested 3,419 b/d oil, 22 million cf/d gas.
Aurora (Rang Dong) Field, in Block 15-2, discovered by Japan Vietnam Petroleum, with reserves of 400-600 million bbl oil, that tested 10,346 b/d & 4,043 b/d from two levels.
Foremost among these is most likely the Aurora Field, a phenomenal, multilevel find relatively near shore, which will facilitate its development considerably. Operator Japan Vietnam Petroleum, a joint venture of Mitsubishi (51%) and Japan National Oil Corp. (49%), plans two more wells this year for further delineation.
Lasmo's Flying Horse Field could also prove to be not only a prime source of gas in Vietnam's future gas production, but a major source of export oil as well, if the field's 2 tcf gas is shown to be accompanied by the a predicted 700 million bbl oil reserve. The joint venture of Cieco Con Son, Union Texas Petroleum, and operator Lasmo will be drilling further appraisal wells this year.
The BP Orchid Fields in Block 06 are also of major significance, particularly to Vietnam's potential gas production. The fields lie, however, a difficult 370 km from land, a factor that will definitely affect not only their development but its cost of over $1 billion. BP and its partners Statoil and ONGC have proposed three possible alternatives for the gas: export via pipeline to Thailand, LNG shipments to Japan, or, most likely, supply via pipeline to the domestic market.
Transpooling flexible pipe for BHP's Dai Hung FPS.
Major Explorations
Beyond its Block 06 operation, BP is the largest net acreage holder of any foreign contractor, Vietsovpetro excepted, and leads in exploratory drilling, as well, with ten wells to date as operator on three PSCs, two wells as a non-operator. In addition, BP has acquired more new seismic data than any other foreign oil company. Thus, it should be no surprise that BP made the first major discovery outside the Vietsovpetro-defined aquatory of the Con Son and Mekong Basins, with its Lan Do and Lan Tay gasfields.
BP and Statoil plan to drill two additional exploratory wells on their Block 05-2 this year. In addition to their activity off the southern coast of Vietnam, however, BP/Statoil will also be drilling again this year in their Danang Blocks 117, 118-1, and 119-1, now that they have solved the problem of carbon dioxide prediction.
Almost all the 1994 discovery fields will see additional drillings of at least two wells during this year. Furthermore most of their operators will be acquiring additional 2D and 3D seismic on their prospects both to appraise their finds and determine the extent of the petrolithic structures beneath them.
Thanh Long (Blue Dragon) Field, operated by Mobil on Block 05-1B, finally saw some action in 1994, with the spudding of an appraisal well. (China National Offshore Oil Corp. is also believed to have acquired extensive 3D data on the prospect during the year.) Further drilling can be expected in 1995 if the sovereignty issue doesn't flare up once again. To bide its time, Mobil has acquired a less contentious interest in nearby Block 05-3, with Japan's AOC Energy Development as partner.
Also nearby, Block 04-1, operated by British Gas and Arco, had its first wildcat in 1994 and will see further drilling this year. Although no results have yet been announced, optimism is high. On Block 04-3, however, drilling got serious in 1994, as operators Occidental Petroleum and APN Petroleum investigated the Ung Trang structure. Canadian Oxy signed a PSC for Block 12 West, where it expects to carry out seismic and drilling to investigate the block's potential. Kerr-McGee/Cairn/Secab was to have completed a wildcat in their Block 22 by yearend 1994, but nothing more has been revealed of the project.
Unocal, however, is entering Vietnamese explorations with one objective in mind: gas. It is taking over the ex-Fina Block B in the Vietnamese sector of the Gulf of Thailand, where it will not only be able to utilize its extensive expertise in Thai waters, but be able to tie into its massive Bongkot gasfield pipeline network. The company is also negotiating for aquatory in the Gulf of Tonkin.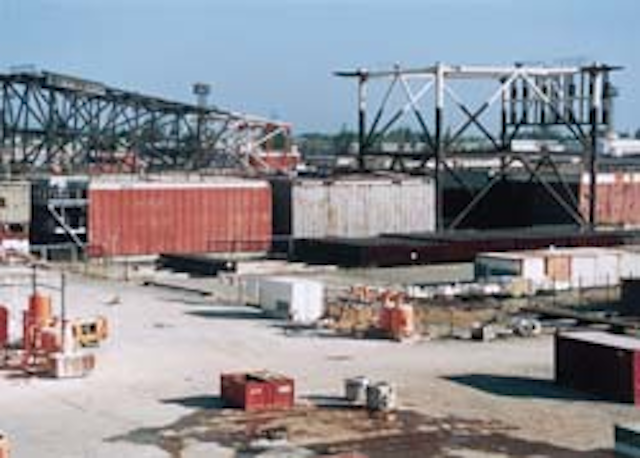 Construction of jacket and modules at the Vietsovpetro Yard at Vung Tau.
Gas Development
Unocal is not the only organization with an eye on Vietnamese gas. BP's proposed pipeline to deliver gas from the Lan Do and Lan Tay gasfields to the mainland would also provide a convenient conduit for the gas from Nam Con Son's other major gas producers, including Dai Hung, Bach Ho, and Flying Horse, and could easily be accessed by tangential pipelines from other fields.
Because of the continuing discovery of giant gas reserves along its continental shelf, Hanoi is committing itself to the development of a natural gas industry in Vietnam and is now studying the direction the development should go as well as potential markets. Thailand has expressed interest in receiving Vietnamese gas via pipeline, and, of course, Japan would welcome the input of Vietnamese LNG.
The Vietnamese government has determined that it must prove reserves of at least 19 tcf if it is to undertake such an industrial development. The East-West Center estimates Vietnam's potential gas reserves at between 12 and 35 tcf.
Extended Vietnam coverage
Subscribers to Offshore Magazine's International Edition will find more extensive coverage of the burgeoning Vietnamese play in further articles listed on the contents page. For more information about subscribing to the International Edition, please contact the subscription office nearest you.
Copyright 1995 Offshore. All Rights Reserved.