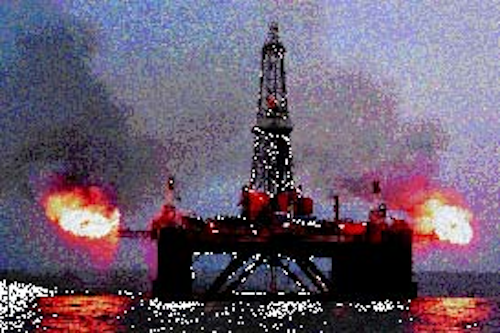 1995-96's significant increases in Gulf of Guinea operations
prompted by new awards and existing drilling requirements
Dev George
Managing Editor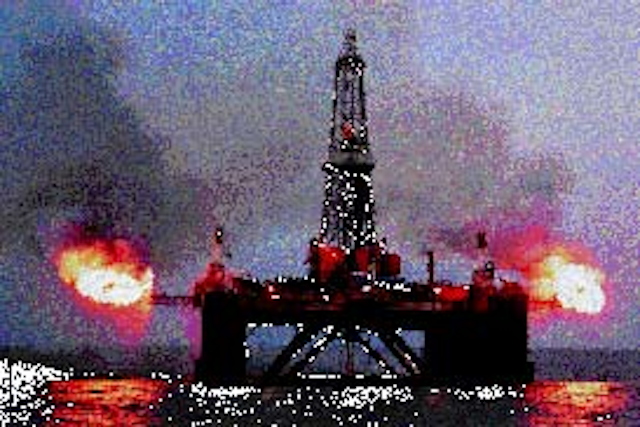 Flaring on Mobil-UMC's Zafiro Field, Equatorial Guinea.
One of the most exciting regions for offshore exploration next year may very well be West Africa, which is waking up with a roar. Twenty-three commercial discoveries were made last year and a comparable number are expected to be chalked up by the end of this year, making the region one of the hottest for reasons other than its steaming tropical location.
Labor strikes and civil wars seem to have been settled, at least for the time being, and despots appear to have been persuaded to ease up on their tightly held reigns - thereby strengthening the attractiveness of the region.
As a consequence, the majors have been returning to the Gulf of Guinea and South Atlantic in droves, as have the drillers - primarily from the Gulf of Mexico and North Sea - who've found demand for their rigs and services at a premium.
Most of that new migration has been to Nigeria, Gabon, Congo, and Angola, drawn by new deepwater and frontier concessions and terms that have been improved considerably in an effort to attract renewed activity. But these aren't the only aquatories offering deepwater and frontier areas among the mix of offshore concessions that are seeing a flurry of exploration and development. Smaller countries are inducing smaller companies (and some of the majors) to test their waters as well, and they're finding big reserves - witness Cte d'Ivoire's and Equatorial Guinea's recent discoveries.
Angola
Once again, the civil war has come to a halt, this time under the auspices of a United Nations-negotiated cease fire and peace accord. If it holds, and it has for more than six months, Angola will enjoy a resurgence of exploration and production to make up for lost time during the 1993-94 suspension of activities due to hostilities.
Deepwater definitely is the allure of Angola these days. Last year's Shell discovery of the Bengo Field in the deepwater Lower Congo Basin, Block 16, was the first to prove the prospectivity of the deepwater zone, having found some 300 million bbl recoverable oil. The company drilled a second wildcat on Block 16 this year and expects to drill two more wildcats and an appraisal well over the next year and a half.
Sonangol, the state oil company, is making a concerted effort to license the country's deepwater acreage via direct negotiations. This year it has granted several more Lower Congo Basin deepwater concessions: the extention of offshore Cabinda Block C, Block 14, to Chevron; Block 15 to Esso; Block 16 to Shell; Block 17 to Elf; and Block 18 to Amoco; and Block 20 to Mobil. Block C of the Cabinda enclave has been granted to Fina.
Sonangol expects drilling activity this year to be double 1994's 36 wells. Scheduled Angolan deepwater activity for the year include further drilling by Elf following its small Margarida 1 oil and gas discovery in 3,280 ft water depth of Block 17, at least one more wildcat by Esso on its Block 15, and a 2,000 ft water depth well by Mobil in Block 20.
Chevron achieved its first deepwater production late last year with the startup of its Kokongo Field. (During 1994, the company discovered five of the seven offshore discoveries off Cabinda, four with reserves of 300 million bbl.) This year, it will tie in its Cabinda Block B Nemba Field with the FPSO-produced Elf field, Pambi. The company is now conducting 3D seismic over its new Block 14 concession and plans its first well on the block in the third quarter of 1996.
Angola's offshore production will be approximately 700,000 b/d oil this year, its offshore reserves, over 2 billion bbl.
Nigeria
Like Angola, Nigeria has also been engulfed in civil unrest, strikes, and sabotage over the past two years. The end is not yet in sight, not because of civil war, but because the arbitrary government of General Sabi Abacha is rent by graft and corruption. Thus, with onshore operations simply not safe, offshore exploration and production will continue to characterize the country for the foreseeable future.
Although Nigeria has let 14 deepwater licenses so far, only six wildcats have been drilled in those blocks - by Statoil, Shell, Agip, and Mobil. No details of results announced by the quartet of majors to date. Statoil and partner BP did, however, undertake a large 3D seismic survey of their Block 210 and is now drilling the country's first deepwater well, Oyo 1. They plan another well in Block 213, with two additional wells to be based on the new seismic data.
Despite the horrific conditions onshore, some 11 new offshore fields were discovered in Niger Delta waters during 1994, and some 27 exploratory wells were spudded. Most notable were wells in Abacan Resources' NGO Field, which tested 8,000-23,000 b/d oil, with associated gas and condensate. A fifth well, currently being drilled is thought to be West Africa's deepest horizontal well. Production is to begin in May 1996 at 50,000 b/d. Other notables are Ashland's discovery Okwori South 1 in OPL90, which tested 6,184 b/d. Mobil also struck big oil with its Kpono West 1.
NNPC, the state oil company, has been making a somewhat successful effort to reduce its billion-dollar debt to foreign oil company joint venture partners, and has been effectively removed from the licensing circle, leaving E&P contracts now as simple production-sharing agreements.
Nigeria's offshore production will be approximately 1,860,000 b/d oil this year, its offshore reserves, down from last year to 17.21 billion bbl.
Gabon
Although Gabon's economy continues to stagger and the country remains in a constant state of labor unrest, the political situation appears to be settling down. Exploration and production appear to be on the rise. Despite this, rumor has it that the country will withdraw from OPEC membership by early 1996, due to the excessive cost of participation.
Deepwater prospects are on the horizon, but activity remains sluggish. Occidental Petroleum operates five of the 12 deepwater blocks, but has yet to drill. The company has drilled two new wildcats, one on its 1.2 million acre Chaillu Block and one on its 3.3 million acre Meboun Block, and it has recently acquired the adjacent 1.1 million acre M'Pola Block, for a total of 5.6 million acres in offshore Gabon holdings.
Elf, on the other hand, found oil last year on its Apari Marine license at a 300 ft water depth just off Cap Lopez. The well tested 1,604 b/d. It has scheduled startup of its Anguille and torpille platforms for early next year. A total of six wells are expected to be drilled by the end of 1995.
Gabon's offshore production is approaching 360,000 b/d oil and more than 252 million cf/d gas this year, with offshore reserves now at 550 million bbl oil and condensate and 400 bcf gas.
Congo
Like Gabon, the Congo is plagued by labor unrest, and in particular, by production disruptions caused by oil worker strikes. As a consequence, the country's output continues to drop despite encouraging actions on the part of the government and considerable activity by operators.
To avoid sharing in the cost of development, the government has relinquished its requirement for joint venture participations and is now signing production sharing contracts with all comers. Most recently, it signed two separate agreements with Elf for the N'Kossa Field, one with Elf for its Haute Mer permit surrounding that field, one with Agip for its Kitina Field, and another with Agip for the Marine VI and VII acreage surrounding the Kitina Field.
Although deepwater ventures in Congolese aquatory isn't at the pace it is in some of the other West African plays, it is growing. Elf is spudding its deepwater Moho 1 well at 4,265 ft water depth on the Marine X Block, and Esso (Exxon) has been granted exploration rights for the Mer Profonde I area and is negotiating for a percentage of Shell's Marine IX permit.
At this time, however, the Congo's luminaries are Elf's N'Kossa, Agip's Kitina, and Nomeco's (ex-Amoco's) Yombo Fields. First oil is expected from N'Kossa in June of next year, with production at about 85,000 b/d, rising to 115,000 b/d by 1998. Kitina, also expected online by midyear 1996, should start up with an output of 30,000 b/d. Yombo, already in production, has an output of 9,300 b/d.
Elf plans further delineation and developmental drilling on N'Kossa, while Agip expects to drill six more development wells on Kitina. Yombo's new owners, Walter International and Nuevo Corp. plan six more wells this year.
The Congo's offshore oil production dropped appreciably over the past year, now at about 180,000 b/d. Offshore reserves are a little over 900 million bbl of oil and 3.2 tcf of gas.
Cote d'Ivoire
Ivoirian offshore production has leaped from 1994's mere 500 b/d oil to about 23,500 b/d oil and 50 MMcf/d gas this year. Reserves have been upped from 50 million bbl oil to more than 140 million bbl oil and 65 bcf gas. All this thanks to a large degree to UMC Petroleum's series of discoveries on its CI-11 Block concession, which have elevated the company's Lion and Panthere Fields to the ranks of major West African producers.
To date, UMC has drilled seven wells on the block, extending the area of the Lion Field both to the south and west of the discovery well. Another development well, Lion B-3, will be drilled in November at another southern extension. The discovery well, B-1, which tested 23,696 b/d oil and 65 million cf/d gas, is already bringing forth some 10,000 b/d, while B-2 will begin production this month. The associated Panthere Field, primarily a gas producer, has also been extended by further drilling, with the C-2 well located a mile west of the Panthere discovery well C-1, and also begins production this month.
Apache has been granted the CI-27 Block, with its Foxtrot gasfield. Plans are to do seismic studies of the block, then drill a deep well on the field to test for oil before proceeding with gas production.
The Ivorian state oil company Petroci, is actively seeking other companies to undertake exploration of the country's other blocks. In addition, it hopes to attract joint venture partners for the Belier-Outpost and North Espoir Fields and Blocks CI-1 and CI-2, surrounding the 10 million-plus bbl Belier Field. The company drilled an appraisal well on the Belier Outpost at the end of 1994, confirming the oil. Nearby Espoir Field holds almost 65 million bbl oil.
Ghana, Benin
Although neither Ghana nor Benin have commercial levels of offshore hydrocarbon production at this time, each does have reserves and each is undertaking programs for their development and exploitation.
Ghana, has estimated reserves of about 136 million bbl oil in its North and South Tano Field complex near the Cte d'Ivoire boundary. They were discovered in 1978 by Phillips, but relinquished in 1982. Ghana National Petroleum Company, the state enterprise, plans to drill an appraisal well on the South Tano Field before the end of the year. The company, which is participating in their development plan, projects Tano production to be 12,000 b/d oil and 30 MMcf/d gas once they are developed and on stream, probably via an FPSO. At this time, however, Ghana has only one producing field, Salt Pond, with an output of 1,900 b/d oil. Ghana is negotiating with major international operators for exploration of its five offshore basins.
Benin has three offshore blocks on offer and is negotiating with a group headed by an Argentine company seeking to operate the country's sole source of oil production, the Seme Field. The field currently produces approximately 3,000 b/d oil, but is believed capable of considerably more, with estimated recoverable reserves of 148 million bbl.
Cameroon
Cameroon's offshore production has been dropping annually, due to exhaustion of the country's Rio del Rey fields, now at just 95,000 b/d, and its offshore reserves have also plummeted to only 250 million bbl oil and 4 tcf gas.
To remedy this steady decline, the country has improved its licensing terms and conditions, including a 26% share of profit and considerable deepwater and marginal field incentives. Furthermore, last year's Phillips-Petrofina oil and gas discovery, Moulongo Marine Field, now suspended for evaluation, provides added impetus.
Some ten wells have been drilled in Cameroon aquatory this year, half by Shell Pecten, the others by Elf, Phillips, Petrofina, Kelt and Mobil.
Equatorial Guinea
Until this year, Equatorial Guinea was only a footnote in world petroleum production, having only its Alba gasfield to show. In March, United Meridian Corporation (UMC) and Mobil discovered oil on the Zafiro prospect. The Zafiro-1 discovery wildcat tested at 10,500 b/d oil and 3.4 MMcf/d gas. It lies on Block B, a 547,000-acre tract just 18 miles from Mobil's Qua Iboe production in Nigeria's aquatory.
A second Zafiro well, drilled this summer, Zafiro-3, tested 10,237 b/d oil and extended the field a half mile southwest of the discovery. The new Opalo-1 well, drilled two miles northeast of the discovery well, tested 7,818 b/d from two intervals. Zafiro-2 was cased for future production but not tested. It encountered a new, deeper oil reservoir. Mobil and UMC plan a 3D seismic survey and further deliniation during the remainder of 1995.
Equatorial Guinea's offshore production is currently only 800 Mcf/d gas, but is expected to rise to more than 18,000 b/d oil by 1997. Offshore reserves are currently listed as 16 bcf gas, but are predicted to be 70 million bbl oil and 130 bcf gas.
Namibia
The first West African country to offer deepwater concessions, Namibia granted five tracts out of 18 offered to partnerships headed by Shell, Ranger Oil, Norsk Hydro, Chevron, and Sasol in 1992, but only one wildcat was drilled in 1994 and six this year. Canada's Talisman, Norsk Hydro, Statoil, and Saga drilled a well in Block 1911, and Ranger plugged its wildcat 6-1 in Block 2213. Chevron, planning to drill next year, did seismic over its Block 2815, and the Sasol-Lasmo well, scheduled for Block 2012, is yet to be drilled. Norsk Hydro will probably complete its four wells by yearend. Shell, however, will not conduct its delineation drilling on its 400 bcf Kudu gasfield, Block 2814A, until next year.
To speed things up, Namcor, the state oil company, issued another call for bids in a second licensing round that ends in November of this year. At this time, Namibia has no offshore production. Its offshore reserves are estimated at 5 tcf gas.
Copyright 1995 Offshore. All Rights Reserved.