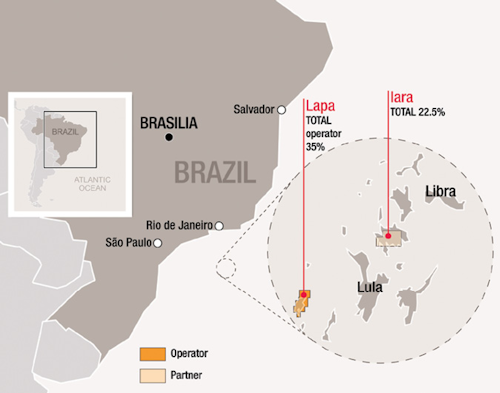 | | | |
| --- | --- | --- |
| | | Jeremy Beckman London |
The Canada-Newfoundland and Labrador Offshore Petroleum Board (C-NLOPB) has allowed Husky Energy to resume operations on theSeaRose FPSO, stationed at the White Rose field, 217 mi (350 km) southeast of Newfoundland. This follows an order to shut down the facility because of an iceberg incident last March, when 84 personnel and around 340,000 bbl of crude were onboard. Husky said it would comply with C-NLOPB's directives to put in place new ice management measures before restoring the vessel to full operation.
South America
ExxonMobil has added a sixth substantial oil discovery to its stockpile in the deepwater Stabroek block off Guyana. The Ranger-1 well, drilled from the drillshipStena Carron, encountered 230 ft (70 m) of oil-bearing carbonate reservoir in a water depth of 8,973 ft (6,450 m), also proving a new play concept for the block, ExxonMobil claimed. The rig was next due to spud a well on the Pacora prospect, 4 mi (6.4 km) from the Payara discovery.
•••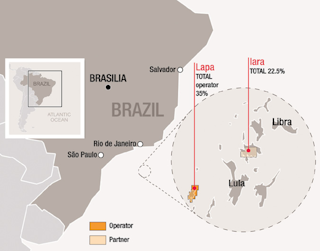 The Lapa/Iara area fields offshore Brazil. (Map courtesy Total)
Petrobras has signed a memorandum of understanding with ExxonMobil to jointly assess potential business opportunities. This would involve pooling their expertise across the entire oil and gas value chain, including exploration and production, both in Brazil and elsewhere.
Petrobras has completed certain conditions of another strategic alliance signed last March, transferring a 35% operating stake to Total in the producing Lapa field in block BM-S-9A in the presalt Santos basin; and ceding a 22.5% interest in the Iara area fields in block BM-S-11A, again to Total. The transaction is valued at around $1.95 billion. Lapa came onstream in late 2016 via the 100,000 b/d FPSOCidade de Caraguatatuba, while the Berbigao-Sururu fields in the Iara area should start producing later this year through the 150,000 b/d P-68 FPSO.
•••
Total is also with Petrobras in a consortium developing the deepwater Libra field, 112 mi (180 km) from the coast of Rio de Janeiro in the presalt Santos basin. Here the partners have committed to the first large-scale development phase on the northwest part of the block, based around the newbuild FPSOMero 1 with 17 wells producing 150,000 b/d of oil. After this facility comes onstream in 2021, the partners plan to commission at least three further floaters to boost output from Libra to around 600,000 b/d.
Statoil is set to triple its Brazilian production after agreeing to acquire a 25% interest from Petrobras in the Roncador oil and gas field in the northern Campos basin for an initial payment of $2.35 billion. Roncador, which has been developed with four production units, has an estimated 1 Bboe-plus still to be extracted, and Statoil will look to apply its experience with IOR projects offshore Norway to improve recovery further.
•••
Tullow Oil has agreed to terms for six blocks offshore Peru spanning a total area of 10,811 sq mi (28,000 sq km). Following negotiations with Perupetro, the company is set to take a 100% interest in blocks Z-64 to Z-68 and to farm into 35% of Z-38 from Karoon Gas Australia. A well could follow next year on the Marina prospect in Z-38.
West Africa
Eni has taken a 75% operated stake in Morocco's Tarfaya Offshore Shallow exploration permits I-XII. These cover 9,228 sq mi (23,900 sq km) in the Atlantic Ocean in water depths from 0-3,281 ft (0-1,000 m). Eni views the acreage as prospective for liquid hydrocarbons.
•••
Total, BP, and Kosmos Energy have farmed into 85% of Tullow Oil's interest in block C-18 offshore Mauritania. As the new operator, Total has already commissioned a 3,475-sq mi (9,000-sq km) 3D seismic survey, due to be completed in the current quarter.
•••
The deepwater drillshipMaersk Venturer should have started a four-year development drilling contract for Tullow offshore Ghana. The assignment is to complete drilling on the TEN fields, which had been suspended pending a ruling on Ghana's maritime boundary with Côte d'Ivoire, and to drill the Jubilee full field development wells. Tullow and its partners may opt to bring in a second rig to speed up the campaign.
•••
ExxonMobil has reportedly discovered oil in the Avestruz prospect in block EG-06 off Equatorial Guinea. The location is close the company's Zafiro field and around 99 mi (160 km) from the capital Malabo.
•••
CIME Services is assisting Tower Resources with preparation of an environmental and social impact assessment for drilling of multiple wells on Cameroon's offshore Thali license. Tower aims to start drilling later this year.
•••
Spectrum and China Oilfield Services have started the next phase of a shallow-water 3D multi-client seismic campaign over little-explored blocks offshore Gabon. The country's Direction Generale des Hydrocarbures, which is a partner in the survey, aims to make the blocks available in future shallow-water licensing rounds. The program includes up to 2,124 sq mi (5,500 sq km) of long-offset broadband data.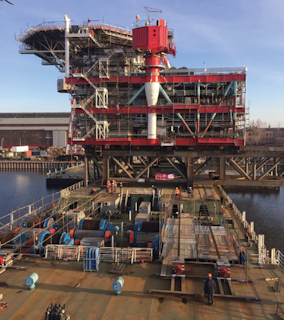 Lukoil's new Y.Korchagin platform in Astrakhan. (Photo courtesy ALE)
Black Sea/Caspian Sea
ALE has loaded out the 3,200-ton topsides for a new satellite platform for Lukoil's Y.Korchagin oilfield in the Russian sector of the Caspian Sea. The structure was first jacked to a height of 4.9 ft (1.5 m) at the yard in Astrakhan with skid beams then inserted between the topsides and deck-support frame. It was then loaded onto a transport barge using strand and break-out jacks, to be followed by offshore skidding of the topsides on the platform's substructure during float-over operations to the field location.
•••
Saipem's semisubScarabeo 9 has been drilling Russia's first ever deepwater well in the Black Sea, for the Rosneft/Eni partnership. Prior studies had indicated geological traps could be present in water depths beyond 6,562 ft (2,000 m). The well was targeting oil from the Maria prospect, with a designed depth of 20,098 ft (6,126 m). To safeguard against environmental incidents, the rig's subsea capping system had been fitted with seven BOPs.
•••
The BP-led Azerbaijan International Oil Co. (AIOC) has contracted the KBR/Socar joint venture to perform front-end engineering design (FEED) for a new production, drilling and quarters platform for the Azeri Central East (ACE) development in the Caspian Sea. The JV will also provide FEED services for associated brownfield tie-ins and subsea facilities.
•••
Kazakhstan's Ministry of Energy and KazMunia Gas have granted Eni a 50% interest in the Isatay block in the Kazakh sector of the Caspian. Eni said the combination of the block's relatively straightforward geology and potentially significant hydrocarbon resources should ease development of any commercial discoveries.
Mediterranean Sea
BMT and Metocean Services International are deploying an environmental monitoring system and developing metocean criteria to assist design of the floating storage and regasification unitAlexandroupolis for Gastrade. This will form part of the Alexandroupolis Independent Natural Gas System, and will be moored in 132 ft (40 m) of water in the northern Aegean Sea offshore Greece. It will be connected to the shore via a 15-mi (24-km) subsea pipeline.
•••
Energean has secured five new exploration licenses under the first Israeli Offshore Bid Round. Blocks 12, 21, 22, 23, and 31 are all close to the company's Karish and Tanin gas fields development: any resultant discoveries could be tied back to the fields' FPSO.
Middle East
Schlumberger and TGS-NOPEC have been jointly acquiring 6,214 mi (10,000 km) of 2D long-offset broadband seismic in the Egyptian sector of the Red Sea. They claim to be applying new acquisition and imaging techniques to improve definition of the region's complex sub-salt structures. The multi-client campaign is part of an agreement with South Valley Egyptian Petroleum Holding Co. (GANOPE), under which the duo has exclusive rights over a 27,027-sq mi (70,000-sq km) offshore open area.
•••
ADNOC has awarded two FEED contracts for an ultra-sour gas project offshore northwest Abu Dhabi. Bechtel is responsible for the program related to the Hail and Ghasha fields and TechnipFMC (UAE) for the Dalma field. The project is designed to satisfy 20% of the UAE's gas needs by the late 2020s. In addition, ADNOC planned to award technology licensor contracts covering gas treatment, sulfur recovery, NGLs, condensates recovery and hydrogen generation.
•••
Basra Oil Co. (ex-South Oil Co.) has extended Petrofac's operations and maintenance service contract for the Iraq Crude Oil Export Expansion Project by two years, under a deal valued at $160 million. The facilities, 37 mi (60 km) offshore southern Iraq, handle most of the country's oil exports, and include a central metering and manifold platform. In addition, Petrofac is responsible for close to 186 mi (300 km) of subsea pipelines and 14 marine vessels.
•••
Pars Oil and Gas Co. should have started gas production from the Phase 14 development of the South Pars field in the Persian Gulf, with an estimated cost of $6 billon. The phase 14a platform had earlier been installed at the offshore location. Development included drilling of 22 wells and installation of 143 mi (230 km) of subsea pipelines.
East Africa
Eni and its partners have secured more than $4.675 billion of covered loans for their Coral South floating LNG project in Area 4 offshore Mozambique. Keppel Shipyard may have started fabrication for SOFEC of the turret mooring system of the newbuild vessel. Earlier, ExxonMobil completed acquisition of a 25% indirect interest in the Area 4 block from Eni, and will assume responsibility for construction and operation of all future gas liquefaction and related facilities.
Australia
Eni has become operator of the NT/RL7 lease in the Bonaparte basin offshore northern Australia, after acquiring a 35% interest in the Evans Shoal gas field from Shell. The field is 186 mi northwest of the Darwin LNG plant: Eni estimates its in-place raw gas resources at 8 tcf.
•••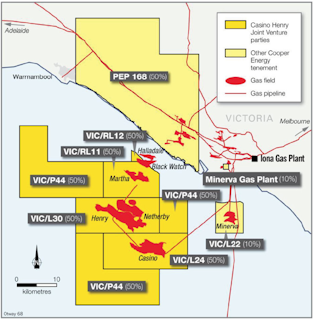 The Casino Henry gas fields in the Otway basin. (Map courtesy Cooper Energy)
The Cooper Energy-led Casino Henry joint venture has signed a new gas sales agreement with Origin Energy, to run between March 1 and Dec. 31, 2018. This replaces an existing 12-year agreement with Energy Australia, due to expire at the end of this month. The JV produces gas from the Casino, Henry, and Netherby gas fields in two licenses in the Otway basin offshore Victoria.
•••
Total and Santos have taken up an option to farm into 80% of the WA-488-P permit offshore Western Australia, formerly 100% owned by Melbana Energy. The two companies have also agreed to fund a 3D seismic survey over the potentially multi-billion barrel Beehive prospect, likely to be shot in mid-year, and all subsequent activities until completion of the first exploratory well on the permit.
•••
Woodside has contracted Wood to perform engineering and rig modification services for the Julimar Phase 2 project off Western Australia. The program includes a concept definition study for the subsea flowline and umbilical system linked to the Julimar and Brunello fields.