Brazil laying foundations for exploration revival
ANP opening frontier and conventional offshore basins.
Jul 1st, 2018
Jeremy Beckman
Editor, Europe
ANP opening frontier and conventional offshore basins
Major and mid-size investors are flocking to Brazil as the government continues its reforms of the country's energy sector and offshore licensing system. Various speakers confirmed a general mood of optimism at the recent Invest in Brazil conference in London.
According to outgoing Petrobras CEO Pedro Parente, 2017 was a very good year for the company and for oil and gas in Brazil. After several years of financial problems and the fall-out from the Car Wash issue, the company was heading in the right direction, reducing its overall costs and its huge debt ($100 billion in 2015), as well as improving its safety performance.
For the fourth year in a row the company achieved its production target in 2017, Parente said. Output will probably remain at the same level this year, but steep growth is on the way in 2019 as eight new production systems ramp up on various offshore fields. "We also continue to optimize our capex without any bad impact on our production curve," he said.
Petrobras' partnering and divestment and partnering programs continue, netting the company $6.4 billion during 2017. Earlier this year the company also entered a strategic co-operation with BP, building on existing collaborations with CNPC, Equinor (formerly Statoil), ExxonMobil, and Total.
"Our strategic plan remains on track, with very efficient execution," Parente claimed, adding that the company had targeted $21 billion in divestments by the end of this year, bringing the overall debt down to $77 billion.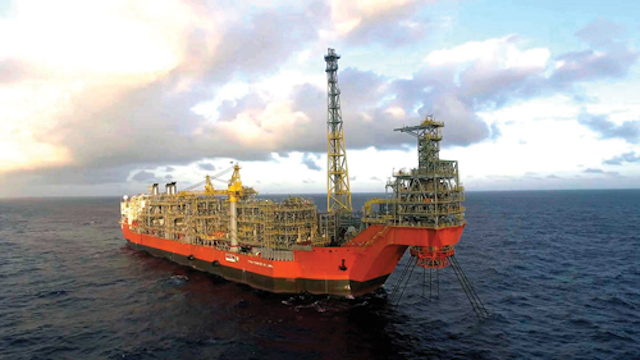 FPSOPioneiro de Libraon the Mero field in the presalt Santos basin Libra block. (Courtesy Odebrecht Oil and Gas)
Unfulfilled potential
Décio Oddone, Director of the Brazilian Agency of Petroleum, Natural Gas and Biofuels (ANP), said business conditions had improved for the industry as a whole in Brazil. "A year ago there were lingering political uncertainties, and ANP had a wish list of things to do, with various bid rounds ahead. These have been successful, we have delivered what we set out to achieve, and there has been an end to the process of change in Brazil. We are now at the situation of doing business as normal, without the need to focus on reforms."
The oil and gas sector accounts for 10-15% of the country's GDP, Oddone said, with Brazil now the world's tenth largest oil producer. "But the potential is still not fully utilized, and that is our goal: to increase our production and as quickly as possible." The potential is spread across three main exploration areas, he continued – the presalt, the Amazon basin, and the conventional offshore basins. Half the country's present production of 3.3 MMboe/d comes from the prolific pre-salt Santos and Campos basin plays where there are currently 80 live wells, each delivering on average 20,000 boe/d, while the extended well test on Mero field in the northwestern part of the Libra block in the Santos basin has been producing 45,000 boe/d. Across Brazil's entire continental shelf, 600 offshore wells are active, he added, delivering on average 1,000 b/d.
Now the ANP is seeking to develop a more diversified oil and gas sector. "We have been successful in attracting foreign companies to the pre-salt," Oddone said, "but it is still a challenge to attract more to other basins…In the past few years there has been a drastic reduction in activity offshore Brazil and that has led to lower production." Two of the main factors had been the slow pace of liberalization of the country's energy industry and delays in opening up the presalt fields to outsiders, compounded by the oil price crash of 2014. At the same time, recent exploration has been disappointing, he suggested, with only 20 wells drilled off Brazil last year and no discoveries. Development drilling too has suffered, with a 70% reduction over the past three years, a situation which has led to production from the Campos basin falling by 30%.
While there have been steep increases from the presalt fields such as Lula and Sapinhóa in the Santos basin, both were awarded 18 years ago under the country's 2nd bid round. "The process takes too long, so we must shorten it. And we must also produce our big fields as soon as we can." He pointed out that the pre-salt accounts for 60% of the world's deepwater oil discoveries in recent years. "The pre-salt is very competitive in terms of costs. When we started development in this area, the breakeven price was $55/bbl. Last year, when Petrobras started production from the Libra block, the company announced at OTC that it expected breakeven for the project of $35/bbl…our latest information is $29/bbl, so the costs are still going down."
ANP also wants to attract new companies to Brazil's conventional offshore basins and associated fields. "But we must work on our recovery factor," he stressed, "which at 24% in the Campos basin is very low. However, there are opportunities to apply cost-reducing technologies to improve the returns. To do this, we need to create a regulatory environment that attracts the right companies. Only the super-majors can afford or have the time to explore the presalt play – but we also need companies that can extract more oil from our mature offshore fields, and at the same time, we want to create more diversified E&P plays. These are more difficult challenges and changes won't happen very quickly, but in the long run, this could be a transformational process."
Based on current investment plans, the ANP expects 39 new platforms to be installed on the presalt fields by 2027, lifting production to 5 MMboe/d by 2027, with associated investment costs of BRL850 billion ($226 billion). Long-term prospects look brighter generally, with 22 offshore blocks across various basins offered to 12 different companies in the country's 15th bid round last March; three blocks awarded to consortia led by Petrobras under the country's 4th presalt bid round in June; and a 5th presalt bid round to follow potentially in September, with reserves of up to 16.5 Bbbl on offer.
In the future, the ANP plans to implement a different bidding system, Oddone said, with large areas of open acreage, including relinquished blocks, always kept available to stimulate interest from new E&P companies.
Easing local content
Luiz Aboim, Counsel for White & Case LLP, said positive moves were under way to reform and ease Brazil's onerous local content requirements for oil and gas investors, with – as he put it – "clearly a mismatch between what Brazilian companies could actually do." One of the changes should lead to much clearer definitions of the minimum local content required and a process that is generally much easier for investors to understand. "Clients don't want to have to go through hundreds of pages for each bit of equipment to ensure local content compliance," he said.
The government has also introduced various regulatory incentives, which include:
• Petrobras no longer the mandatory operator in every presalt project
• Different types of contracts
• Extensions of exploitation phases for fields awarded under Rounds 11 and 12, including production from mature fields.
Oddone, however, criticized Brazil's environmental licensing process for being too slow "as this impacts the way we develop our resources." With Total's stalled bid to start deepwater drilling offshore the Amazon basin in mind, he argued: "If you sign a contract with investors, you must then authorize them to proceed. If the companies are in compliance with the regulations, there is no reason for them not to proceed in frontier regions like Foz do Amazonas – assuming you believe there is no reason for the licenses not to have been awarded [in the first place]."
However, following Brazil's forthcoming elections, the Congress will likely comprise a coalition of parties, and this would probably mean less scope for radical measures to help investors, Oddone warned. "Nevertheless, I hope we do keep up the pace of reforms and maximize the benefits to the oil and gas sector."
Solange da Silva Guedes, Petrobras' Chief Exploration and Production Executive Officer, said the company had proven 9.75 Bboe of deepwater reserves offshore Brazil over the last few years and was now actively collaborating with several partners on deepwater developments. Two of the major presalt projects to date have been Lula and Cernambi in the Santos basin, she said, with seven production systems in operation connected to 44 wells. The next major investment in this region will be in the Búzios field, where production started this March through the FPSOP-74, with a further four platforms to be added over the next four years, and two more FPSOs set to come onstream on the Mero field in the Libra block after 2020. A further four new production systems will be needed to develop the Tartaruga Verde field in the deepwater Campos basin, she added. At the same time, Petrobras is increasingly focused on enhancing recovery from its existing fields, partly through partnerships with companies with a strong IOR/EOR track record, such as Equinor on the Roncador oilfield in the Campos basin.
By 2022, Petrobras expects its current investments to increase its production by 30%, from 2.7 to 3.5 MMboe/d, Guedes said, mainly as a result of the presalt projects, with by that point over 50 wells each producing over 20,000 b/d. Currently Petrobras has four decommissioning projects in the Campos basin, one on a field that has been in production since the 1970s.
In April, BP signed a memorandum of understanding to co-operate with Petrobras in areas of mutual interest, including upstream and technology transfer. This followed joint applications by the two companies in Brazil's most recent bid rounds.
Bernard Looney, BP's Chief Executive, Upstream said the potential on offer off Brazil now was similar to when the US government opened the deepwater Gulf of Mexico. "In the presalt the fields are hard to find," he said, but there is a lot of quality…and there are also a lot of large fields that have seen little or no activity." The basins are similar to those offshore Angola, he added, where BP is an established deepwater producer.
BP now has interests in 20 Brazil blocks, many in partnership with Petrobras, Looney said. There has been a renaissance of Brazil's energy industry over the last 18 months, he continued, as the government has sought to liberalize the sector and attract fresh investment. "The regulatory changes have been absolutely a step in the right direction, and BP is fully supportive of the changes that have been made." •
---
Three bid rounds in 2018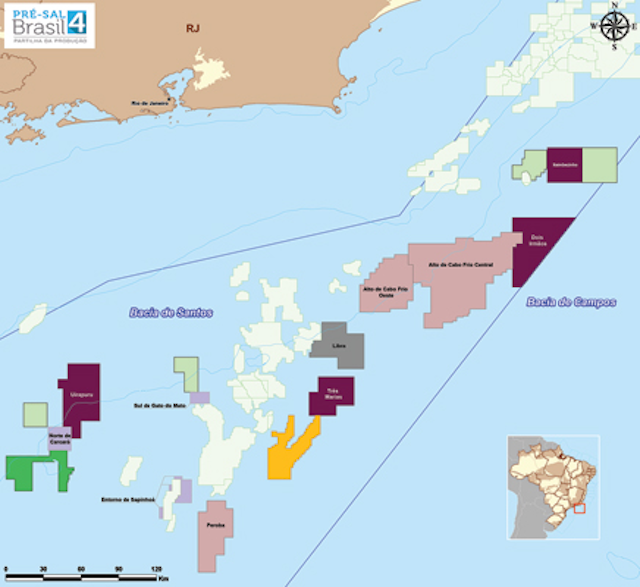 Blocks awarded under Brazil's 4th (pre-salt) production-sharing bid round. (Courtesy ANP)
Brazil has staged two offshore bid rounds so far this year. Under the 15th round last March, the ANP awarded 22 blocks in five offshore basins. According to analyst Wood Mackenzie, the combination of rising oil prices and the government's recent regulatory reforms helped attract a range of IOC regulars, NOCs and mid-sized E&P companies. Petrobras and ExxonMobil secured operatorship of half the blocks in the Campos, Santos, Potiguar and Ceara basins. Other operatorships went to BP, Chevron, Repsol, Shell and Wintershall.
In June's 4th production sharing (pre-salt) bid round, there were takers for three of the four blocks on offer, with Petrobras the operator in each case. These were Tres Marias and Uirapuru in the Santos basin (respective partners being Chevron/Shell and ExxonMobil/Equinor/Petrogal) and Dois Armãos in the Campos basin (with BP/Equinor). A 5th production sharing pre-salt bid round could follow in September, the areas to be offered comprising Pau-Brasil, Saturno, Sudoeste de Tartaruga Verde, and Tita in the Campos and Santos basins.