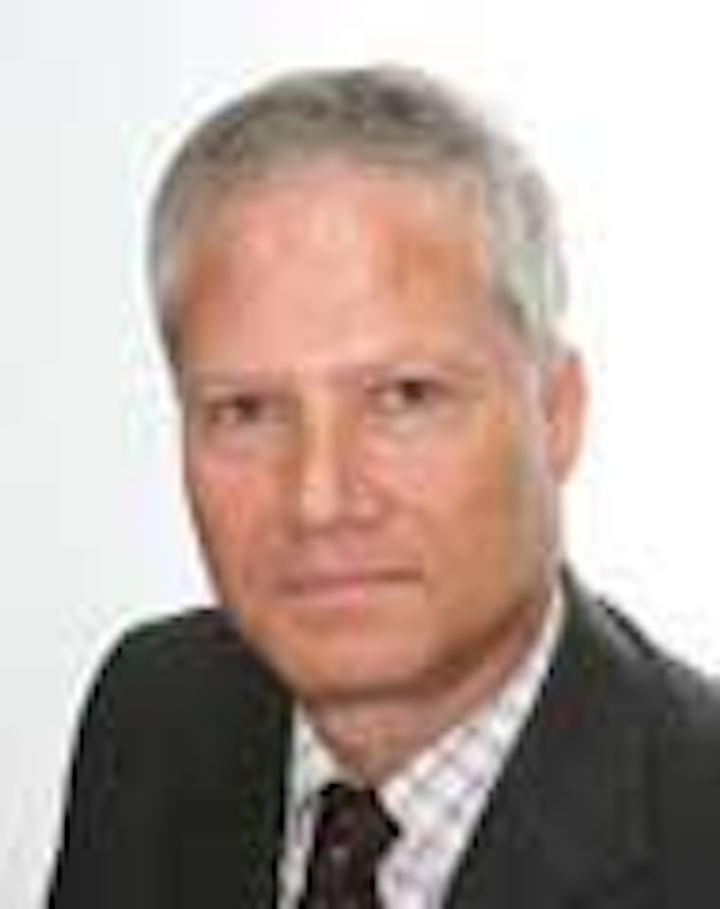 | | | |
| --- | --- | --- |
| | | Jeremy Beckman • London |
Total investments in deepwater drilling could surge from $43 billion last year to $114 billion in 2022, according to a new study by Wood Mackenzie. Global drilling activity returned to pre-Macondo highs in 2012, the analysts claim, and the deepwater drilling sector is set for annual growth of 9% over the next decade. Majors are driving much of the activity, and that trend should continue with a 39% increase last year in deepwater and Arctic acreage licensed by the 20 leading deepwater players.
To meet the forecast exploration, appraisal, and development well numbers - set to rise from 500 to 1,250 wells per year - another 95 deepwater rigs will need to be built during 2016-22, WoodMac says. This will represent the longest period of deepwater rig construction to date. Tightness in the market has been driven by accelerated demand for newbuilds following Macondo, which has heightened the operators' focus on risk mitigation.
In another new market report, energy analysts Infield forecasts an 18% hike in expenditure on floating production systems (FPS) in the period to 2017, with a 95% increase in installations that year compared with 2008. Growth in both cases is being driven mainly by new gas field developments in remote locations, and the focus on optimizing production from ultra-deepwater projects. Around 59% of total FPS capex over the next five years should come from deep/ultra-deepwater developments off Africa and Latin America and from mostly shallow-water gas developments offshore Australia. Toward the end of the five-year period, new areas to FPS activity will emerge off East Africa and the Falkland Islands.
Eastern Canada
Statoil has found more oil in the Flemish Pass basin offshore Newfoundland and Labrador. The semisubWest Aquarius drilled the Harpoon discovery well in 1,100 m (3,609 ft) of water on the EL 112 concession, 10 km (6.2 mi) southeast of Statoil's 100-200-MMbbl Mizzen find and 500 km (310 mi) northeast of St John's. The company has since spudded a well on the Federation prospect in the Jeanne d'Arc basin, to be followed by another on the Bay du Nord structure, southwest of the two discoveries.
South America
RWE Dea is to farm into 40% of block 52 offshore Suriname, operated by Petronas. The concession covers 4,743 sq km (1,828 sq mi) in the Guyana-Suriname basin, 120 km (74 mi) offshore, in water depths ranging from 100-1,000 m (328-3,281 ft). Strongest potential could be in Upper Cretaceous strata. The work program includes a 3D seismic survey and one exploration well during the next three years.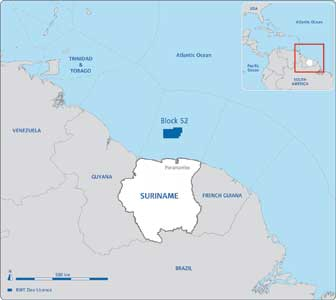 Block 52 offshore Suriname.
Off neighboring Guyana, Tullow has agreed to farm into 30% of the newly defined Kanuku block, operated by Repsol. The original Georgetown license expired last year following the partners' decision to terminate the Jaguar 1 exploration well. Terms for the new license include acquisition of 3D seismic.
West Africa
Kosmos Energy has contracted the new deepwater drillshipAtwood Achiever for exploration drilling offshore Morocco. The rig is under construction at the DSME shipyard in South Korea and should be delivered in June 2014. It will work for Kosmos for a firm three years at a day rate of around $595,000/day.
•••
CNR International has secured a 60% operating interest in block CI-12 offshore Cote d'Ivoire. The concession contains two undeveloped oil discoveries from the 1980s, with potential Turonian fan channels not drilled previously. It is west of CNR's producing Baobab field where a third development phase has started, comprising five new production wells and one injector. First oil is due in 2Q 2015.
Also close to Baobab is block CI-504 where Lukoil Overseas has become operator, in partnership with Nigerian independent Taleveras Energy and state-owned Petroci. Here water depths run from 800-2,100 m (2,624-6,890 ft). Focus of the first exploration period will be on interpreting historic seismic and acquiring new 3D data by next January.
•••
Total has started development of the deepwater Egina field, 200 km (124 mi) offshore Port Harcourt, Nigeria, and 20 km (12.4 mi) southwest of the company's producing Akpo field. Water depth is 1,600 m (5,249 ft). Development calls for 44 wells connected to a 330-m (1,082-ft) long FPSO with 2.3-MMbbl oil storage capacity and facilities to accommodate future tie-ins. Contracts let to date include subsea production systems to FMC Technologies ($1.2 billion); 76 km (47 mi) of steel tube umbilicals to DUCO; and a $3-billion EPCI contract to Saipem for installation of flowlines, pipelines, and mooring/offloading systems, with much of the equipment fabricated at the company's Rumoulumeni yard in Port Harcourt. Total expects first oil at end-2017, building to a peak of 200,000 b/d.
•••
Optimum could have a substantial oil discovery off Nigeria, according to partner Afren. The Ogo-1 well confirmed an extension of the same Cretaceous sandstones that delivered other finds farther west along the West African Transform Margin. It encountered a 524-ft (160-m) gross hydrocarbon section. The well was due to be deepened to target further high-potential zones, followed by a side track testing a new play.
•••
Production has started from the $10-billion Angola LNG project, designed to harness associated gas from producing oilfields in various blocks offshore Angola. Gas is transferred through a network of subsea pipelines to a liquefaction plant on the coast near the Congo River. According to operator Chevron, the facilities will be able to deliver 5.2 MM metric tons/yr (5.7 MM tons/yr) of LNG, 63,000 b/d of NGLs for export, and 125 MMcf/d for Angola's domestic needs. Other partners are BP, Eni, Sonangol, and Total.
•••
Technip subsidiary Genesis Oil and Gas Consultants is performing a front-end engineering design study for subsea facilities for Tullow Oil's Kudu gas-to-power project. Shell originally discovered the Kudu gas field in 170 m (558 ft) of water offshore Namibia, but until now, successive studies have failed to find a commercial solution for the stranded reserves. Tullow plans three subsea wells tied back to a floating production system, with processed gas sent to a power station onshore at Uubvlei via a 170-km (105-mi) pipeline.
Black Sea
OMV Petrom has completed acquisition of a 3D seismic survey over the Neptun Deep block offshore Romania. The 6,000-sq km-plus (2,316-sq mi) program was the largest anywhere in the Black Sea, the company said. OMV Petrom and partner ExxonMobil have additionally contracted the semisubOcean Endeavor to resume exploration drilling on the deepwater part of the block late this year or early next, one aim being to assess last year's Domino gas discovery.
Russia
Around the turn of the year, Gazprom expects to complete an updated development plan for the Shtokman gas and condensate field in the Barents Sea. Current focus is on design and survey operations for the offshore infrastructure and the marine port with LNG storage facilities. Design work continues on related onshore facilities.
Rosneft and ExxonMobil have signed final agreements concerning establishment of an Arctic Research Center in Russia. This will provide a wide range of R&D to support the two companies' joint offshore activities, including sea ice management and design of development concepts.
Mediterranean Sea
OLT's floating storage re-gasification unitToscana has sailed from Drydocks World in Dubai to western Italy. As a floating LNG reception terminal it will be moored permanently 19.3 km (12 mi) off Livorno and connected to shore via a gas export pipeline. The steel monohull vessel, a conversion of the former LNG carrier Golar Frost, has storage capacity of 137,100 cu m (4.84 MMcf) of gas, and is designed to remain at the location for 20 years. Saipem is the main contractor for the project.
•••
First fasttrack datasets are available from PGS' newly acquired 2D multi-client seismic surveys offshore western and southern Greece. The company compiled 12,500 km (7,767 mi) of new data using its GeoStreamer technology to remove receiver and resource ghosts. The full results, and reprocessed vintage 2D data, will be available to bidders for Greece's next planned licensing round in mid-2014.
Caspian Sea
The BP-led Shah Deniz consortium has chosen the Trans Adriatic Pipeline to transport gas from the Shah Deniz II offshore development in the Azeri sector. This latest phase, still to be sanctioned, will produce up to 16 bcm/yr, in addition to the 9 bcm/y already delivered by Shah Deniz field's first phase. The gas will head west across Turkey through the new TANAP onshore pipeline, transferring to the start of the 20 bcm/yr TAP line at Kipoi on the Greek border. TAP will continue northwest through the Balkan countries of southeast Europe, and from Croatia a 115-km (71-mi) section will traverse the Adriatic Sea, making final landfall on the Italian east coast.
•••
North Caspian Operating Co. (NCOC) has completed the facilities for initial oil production from the Kashagan field in the Kazakh sector, 80 km (49.7 mi) southeast of Atyrau. Because of the ultra-shallow and ice-prone waters, and the high reservoir pressure of 770 bar (11,168 psi), start-up will involve a carefully staged sequence of steps leading to first production. First oil and gas will flow from eight wells drilled on the man-made A island to a subsurface depth of 4,200 m (13,779 ft) below the North Caspian Sea. Production will ramp up, with 20 wells eventually delivering 180,000 b/d under the first-phase program. Second-phase gas re-injection will more than double production to 370,000 b/d.
Asia/Pacific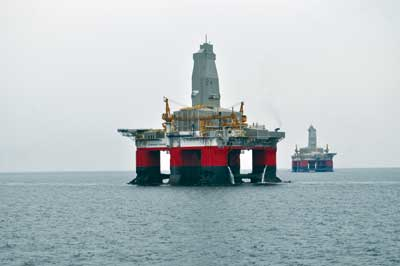 Polyarnaya Sveda mobilizing for development drilling on Kirinsky.
Two semisubs built at the Vyborg Shipbuilding Plant in northern Russia were due to drill wells this summer for Gazprom on the Kirinsky block on the Sakhalin shelf.Polyarnaya Zvezda is resuming production drilling on the Kirinskoye gas/condensate field 17 mi (27 km) offshore Sakhalin Island in 90 m (295 ft) of water. This will be Russia's first subsea development and is due to enter production later this year. Severnoye Siyaniye will drill a further exploratory well on the larger Yuzhno-Kirinskoye field, discovered in the same block in 2010. There will be further exploration drilling on the Vostochno-Odoptinksy block as part of the Sakhalin II project, Gazprom said.
•••
CNOOC has started oil production from the Wenchang 8-3E field in the western Pearl River Mouth basin in the South China Sea. Four producer wells have been drilled in water depths of 110-120 m (361-393 ft). In slightly shallower waters in the same region, the company has signed a production-sharing contract for block 28/03 with PetroBroad Copower; the latter will acquire 3D seismic data and drill wells during the exploration period.
•••
The Malaysian partnership of contractor MISC and fabricator MMHE have delivered the semisubmersible platform for Sabah Shell's Gumusut-Kakap project offshore Sabah. This is Malaysia's second deepwater development after the Murphy-operated Kikeh. Partner Petronas Carigali says the semi is the largest such facility ever fully built and integrated on land, and will be the largest offshore operating system anywhere in Asia. It arrived at its offshore location in June. SSPC will install the platform in around 1,200 m (3,937 ft) of water.
Australasia
INPEX Browse has been awarded a new exploration concession offshore Western Australia. The WA-494-P permit, around 400 km (248 mi) northeast of Broome, extends over 305 sq km (118 sq mi) in water depths ranging from 190-250 m (623-820 ft). Discoveries could be tied into the company's nearby Ichthys gas/condensate field development, and Shell's emerging Prelude/Concerto FLNG infrastructure is also close.
•••
OMV expects to drill the Matuku exploration well next month offshore Taranaki, New Zealand. The semisubKan Tan IV will drill the well in license PEP 51906, with an estimated duration to TD of 40 days. Matuku has estimated recoverable resources of 65 MMbbl, according to partner New Zealand Oil and Gas.