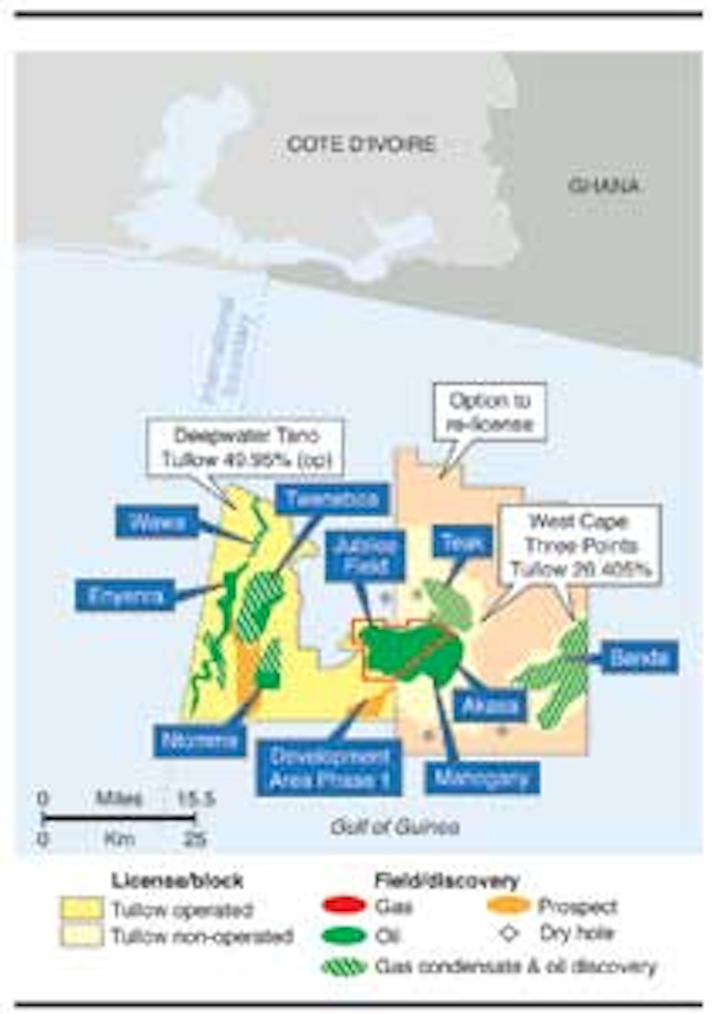 Jessica Tippee
Assistant Editor
As East Africa rapidly emerges as a frontier province with major gas discoveries offshore Mozambique and Tanzania, West Africa continues to advance plans for new and existing exploration and production projects.
A recent Infield Systems Ltd. report estimated that more than 220 fields are expected to start production in the next five years. According to the energy analyst, the largest proportionate growth in reserve additions will occur offshore Cameroon, Congo (Brazzaville), Equatorial Guinea, and Ghana.
Total is expected to remain the dominant major operator, but Infield Systems also expects continued strong development from Chevron, ExxonMobil, and Shell. However, independents such as Tullow Oil, Hess Corp., Afren, and Noble Energy are finding success in the region.
The following is an overview of activity offshore West Africa.
Ghana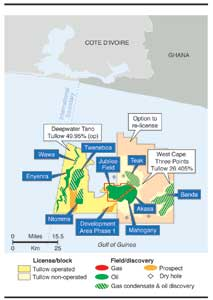 Production from the Jubilee field offshore Ghana is more than 90,000 b/d. (Image courtesy Tullow Oil).
Deepwater Ghana continues to deliver for operators. Tullow Oil and its partners have submitted a plan of development for the Tweneboa, Enyenra, and Ntomme (TEN) fields to Ghana's Ministry of Energy. The development is designed to allow reserves from these fields and other nearby discoveries to be tied back to an FPSO.
The Deepwater Tano block is operated by Tullow Oil (49.95% working interest) along with Anadarko (18% working interest), Kosmos Energy (18% working interest), Sabre Oil & Gas Holdings Ltd. (4.05% working interest), and the Ghana National Petroleum Corp. (10% carried interest).
Tullow Oil's latest exploration well in the license reached its planned depth with mixed results. Okure-1 encountered non-reservoir quality formations at the main target levels below the TEN cluster fields. The well also encountered a gross 17-m (56-ft) interval of low net-to-gross oil-bearing Turonian-age sandstones within an overlying secondary target. Light oil (40° API) was recovered from this interval. Analysis of wireline logs and pressure data indicates the structure is not connected to other discoveries in the license area.
The company has started to drill the Sapele-1 exploratory well adjacent to the Jubilee field.
Following the start-up of two Jubilee field Phase 1A wells and successful acid stimulations, oil production is about 110,000 b/d. Total well production deliverability is now more than 120,000 b/d. Three more Phase 1A producer wells are expected to be completed before mid-2013. The $1.1-billion Phase 1A development involves adding five new production wells and three water injectors, and expanding the subsea facilities network. TheSedco Energy semisubmersible is performing additional acid stimulation work on two Jubilee Phase 1 wells to further enhance output.
Located on two licenses, Deepwater Tano and West Cape Three Points, Jubilee is situated in water depths of 3,609 ft (1,100 m) and is operated by Tullow (49.95%), with partners Kosmos Energy (18%), Anadarko Petroleum (18%), Sabre Oil & Gas Holdings Ltd. (4.05%), and the Ghana National Petroleum Corp. (10%).
Hess Corp. has discovered oil at the Pecan-1 exploration well in the Deepwater Tano/Cape Three Points license. The well found 245 net ft (75 m) of pay in two Turonian intervals. The well was drilled to TD of 15,420 ft (4,700 m) in 8,245 ft (2,513 m) water depth. The well was side tracked to get bypass cores and is being suspended.
Pecan-1 is the company's fifth discovery on the block and follows the previously announced discoveries at Almond, Beech, Hickory North, and Paradise. The company next plans to drill the Cob prospect, located approximately 15 mi (24 km) northeast of the Pecan-1 discovery. Hess holds 90% interest and the Ghana National Petroleum Corp. holds 10% interest.
Angola
Developments are ramping up off Angola. Chevron will go ahead with the development of Lianzi field between the Republic of Congo and the Republic of Angola. Located 65 mi (105 km) offshore in approximately 3,000 ft (900 m) of water, Lianzi will be developed via a tieback to the Benguela-Belize Lobito-Tomboco platform in Angola block 14.
The $2-billion development will include a subsea production system and a 27-mi (43-km) electrically heated flowline, the first of its kind at this water depth. First oil is expected in 2015. Once completed, the project is expected to produce a maximum of 46,000 boe/d.
Subsea 7 has received two contracts for the Chevron Overseas Congo Ltd.-operated project. The more recent is a $150-million engineering, procurement, construction, and installation (EPCI) topside contract awarded in December 2012 that includes provision of a 200-metric ton (220-ton) module housing a high-voltage generating system for the new subsea direct electrically heated pipeline cable; an 80-metric ton (88-ton) flow meter deck extension; and various upgrades on the platform.
Fabrication will be performed in both Republic of Congo and Angola by Subsea 7's Angolan joint venture. All flowlines will be spooled to the rigid reel-lay ship theSeven Oceans at the company's Luanda base in Angola. Offshore work including installation, hookup, and commissioning is scheduled for 2Q 2014.
The second is a reported $600-million EPCI contract for a subsea umbilical, riser, and flowline that includes a 12-in. wet insulated production flowline with direct electrical heating.
GE Oil & Gas received a $165-million contract to supply subsea production equipment to the project. The company will supply seven trees, nine subsea control modules, topside and subsea controls distribution equipment, and vertical connection systems. Completion of the first tree is scheduled for 4Q 2013.
Chevron has a 31.25% interest in the Lianzi field along with Total (36.75%), Eni (10%), Sonangol (10%), SNPC (the Republic of Congo National Oil Co., 7.5%), and Galp (4.5%).
Cabinda Gulf Oil Co. (CABGOC) has contracted WorleyParsons Angola and INTECSEA for front-end engineering and design of subsea facilities for the Lucapa field in Angola's block 14. The scheme calls for water injection wells and production wells with artificial lift tied back to an FPSO.
Lucapa is on the north rim of the Congo River Canyon in 3,000-6,000 ft (910-1,830 m) of water. The Lucapa development is a joint venture between Chevron, Sonangol, ENI, Total, and Galp. Discovered in 2007, the Lucapa-1 well was drilled in 1,201 m (3,940 ft) of water to a TVD of 3,340 m (10,958 ft) and encountered more than 85 m (279 ft) of oil in Miocene sands. The well tested 24° API oil from a highly permeable sand.
CABGOC awarded Saipem an EPCI contract for the Congo River Crossing Pipeline project, to be developed offshore Angola and the Democratic Republic of Congo. The scope includes three subsea pipelines, 20 and 22 in. (51 and 56 cm) in diameter, with a total length of 110 km (68 mi), in water depths up to 117 m (384 ft). Additionally, the company will install subsea spools, and perform trenching and crossing works. The pipelay vesselCastoro 7 will undertake the marine activities between 4Q 2012 and 4Q 2013.
Total E&P Angola has awarded Saipem an EPCI contract for the GirRI (Girassol Resources Initiatives) project offshore Angola. The company will be responsible for topside modifications for multi-phase pump systems on the Girassol and Dalia FPSOs.
Nigeria
ConocoPhillips has agreed to sell its Nigerian business unit for $1.79 billion plus customary adjustments. The transaction is anticipated to close by mid-2013. The sale to Oando PLC includes two offshore properties consisting of 95% operated interest in OML 131 (Chota field) and 20% non-operated interest in OPL 214 (Uge field).
Total has sold its 20% contractor interest in Nigeria's Usan field on OML 138 offshore block to China Petrochemical Corp. for $2.5 billion. The Nigerian National Petroleum Corp. is the OML 138 concession holder. Other partners include Chevron Petroleum Nigeria Ltd. (30%), Esso E&P Nigeria (Offshore East) Ltd. (30%), and Nexen Petroleum Nigeria Ltd. (20%).
First production from Usan began in February 2012. The development consists of 42 development wells (23 producing and 19 water and gas injectors) connected by subsea flowlines to the FPSO Usan, one of the largest in the world.
Afren has relocated the jackupAdriatic IX to the Ebok field to drill of a development well to establish early production from the recent Ebok north fault block (Ebok NFB) discovery via existing facilities. The results are expected to provide production and reservoir data for a full-field development solution. The partners plan to install a new 12-slot wellhead support structure and mobile offshore production unit that will be tied back to the existing Ebok FSO. Oil in place at Ebok NFB could be more than 100 MMbbl.
Processing has been completed of a 348-sq km (134-sq mi) ocean-bottom cable 3D seismic survey acquired in 2011 over the entire Ebok/Okwok/OML 115 area. The new data is assisting an exploration and appraisal program to test upside potential and submission of a field development plan to the Nigerian authorities. The most likely scenario for Okwok is a dedicated production processing platform tied back to, and sharing, the Ebok FSO, 13 km (8 mi) to the west.
Gabon
Harvest Natural Resources Inc. has encountered oil in the wildcat well Dussafu Tortue Marin-1 (DTM-1) drilled in the Dussafu Marin PSC offshore Gabon.
Drilled with the SaipemScarabeo 3 semisubmersible drilling rig in 380 ft (116 m) of water, the DTM-1 well has reached a vertical depth of 11,260 ft (3,432 m) within the Dentale formation. Log and pressure data indicate approximately 42 ft (12 m) of pay in a 72-ft (22-m) oil column within the Gamba formation and 123 ft (37 m) of pay in stacked reservoirs within the Dentale formation. The company plans additional evaluation including fluid sampling and a side track to appraise Dentale sands and the lateral extent of the Gamba reservoir.
Harvest operates the Dussafu PSC with a 66.667% interest and Panoro Energy holds the remainder.
Cameroon
Petrofac and Bowleven plan a strategic alliance for the proposed development of the Etinde permit offshore Cameroon. Bowleven has submitted the formal Etinde Exploitation Authorization Application (EEAA) to the Cameroon authorities. The joint venture is targeting a final investment decision during the second half of 2013.
Equatorial Guinea
The Alen field development in block I offshore Equatorial Guinea is on track for first production during the second half of 2013, according to partner PA Resources.
The Noble Energy-operated Alen, formerly known as Belinda, is a liquid-rich gas/condensate discovery in the Douala basin. Initial development will include three production wells and three subsea gas injectors tied to a processing platform. Produced condensate will be separated and piped to theAseng FPSO on block I, 15 mi (24 km) to the south. Alen's produced gas will be re-injected into the reservoir to maintain pressure and maximize liquids recovery.
Plan to attend Offshore West Africa
Offshore West Africa, the region's premier technical forum for the offshore oil and gas industry, will return to Accra, Ghana, March 19-21.
Under the theme "Deepwater Discoveries, Emerging Opportunities," the 17th annual edition will deliver the latest technological advancements, solutions, and lessons learned from leading industry professionals for the West African offshore oil and gas market through a comprehensive two-track technical program and three‐day exhibition.
Conference presentation topics include subsea technology, well construction and drilling operations, field development, floating production systems, flowlines and pipelines, geosciences, asset integrity, safety and environmental concerns, and local content.
Ghana's Honorable Minister of Energy Dr. Joe Oteng-Adjei has confirmed patronage for the event and has been invited to deliver the keynote address at the opening plenary at the International Conference Center.