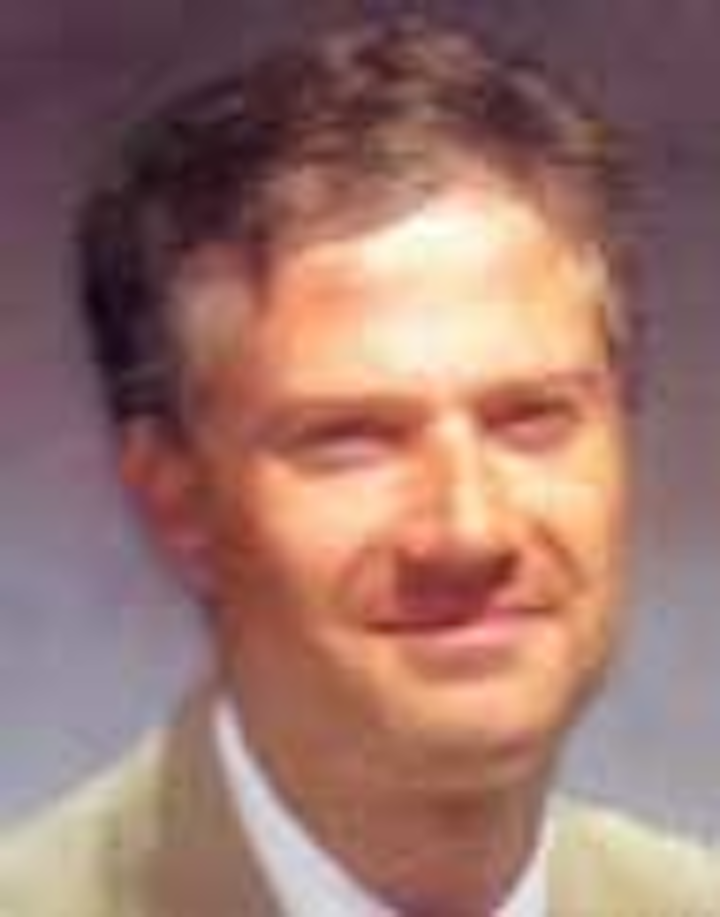 | | | |
| --- | --- | --- |
| | | Jeremy Beckman • London |
ExxonMobil has authorized Kiewit-Kvaerner Contractors to start engineering, procurement, and construction of a gravity-based structure for the new Hebron platform offshore eastern Canada. Fabrication is in progress at the Bull Arm yard in Newfoundland, and the completed structure will be installed at the Hebron field in the Grand Banks region, 350 km (217 mi) offshore Newfoundland and Labrador. First oil should flow from Hebron by end-2017.
•••
Pemex has contracted Petrofac and Doris Engineering to jointly assist and supervise construction and installation of deepwater wells and related infrastructure for the Lakach structure offshore Mexico. The scope extends to tie-ins to existing onshore facilities. The program should be completed toward end-2015.
•••
A referendum on future field development offshore the Bahamas will not be held for the time being. The islands' government has decided to postpone any popular vote until results of exploration drilling come through, and the scale of any discoveries has been determined. Bahamas Petroleum Co., which has been preparing an offshore drilling campaign for years, welcomed the decision.
Brazil
Production from Petrobras-operated presalt oil fields offshore Brazil has reached a new benchmark of 300,000 b/d. The figure was achieved seven years after oil was first discovered in the presalt layer in 2006, and with a total of just 17 production wells. All are in ultra-deepwater, with six of the wells in the Santos basin accounting for 43% of the production (129,000 b/d).
This month, Petrobras expects a new FPSO, theCidade de Paraty, with processing capacity for up to 120,000 b/d of oil, to go onstream at a location northeast of the presalt Lula field.
Another 11 new platforms should enter service for the company in ultra-deepwater fields in the Santos and Campos basins between 2014 and 2016, pushing its total presalt output beyond 1 MMb/d in 2017. Two of the additions will be conversions from twin-hulled vessels, to be handled by a joint venture of SBM Offshore and Queiroz Galvao Oleo e Gas, and deployed on Lula in block BM-S-11 under a 20-year charter.
•••
BP has completed a successful drill stem test of the presalt Itaipu-1 A discovery well in the Campos basin. The DST flowed oil at up to 5,600 b/d for 12 hours, with pressure build-up analysis after the main flow suggesting good connectivity with the main reservoir. BP is set to drill a further appraisal well, Itaipu-3, later this year on the BM-C-32 concession, 125 km (78 mi) offshore.
West Africa
Business intelligence provider GBI Research expects offshore drilling spending to increase across all major nations in the region. Escalating activity in countries new to offshore exploration, such as Sierra Leone and Liberia, may provide increasing competition for the more established nations. But Angola should remain the leading player for the next few years, with drilling expenditure there reaching $6.67 billion in 2016, GBI predicts, followed by Nigeria with $2.26 billion.
•••
Cairn Energy is set to become operator of three contiguous nearshore-deepwater blocks off Senegal. Current partners in the Rufisque, Sangomar, and Sangomar Deep blocks are Australia's FAR and Senegalese state oil company Petrosen. Analysis of 3D seismic suggests has identified numerous play types. A first well could be drilled around the turn of the year on the 250-MMboe "L" prospect.
•••
African Petroleum has started preparations for an exploration well later this year on the Alhamdullilah prospect offshore Gambia. The company has a 60% interest in surrounding blocks A1 and A4 in partnership with Buried Hill, but a further partner will be needed to co-fund the well. Alhamdullilah is a four-way dip-closed structure extending over 24 sq km (9.3 sq mi), with five mapped reservoirs. These will be targeted by the well, to be drilled in 2,300 m (7,546 ft) water depth.
•••
Cap Energy hoped to complete acquisition of majority shares in Sphere Petroleum last month, gaining access to two exploration licenses offshore Guinea-Bissau. These cover blocks 1 (Corvina) and 5b (Becuda).
•••
Eni has notched a ninth oil discovery in deepwater block 15/06 offshore Angola. The Vandumbu 1 well encountered net oil pay of 114 m (374 ft) in Lower Miocene sands. The well was drilled in a water depth of 976 m (3,202 ft), 150 km (93 mi) offshore. The result has increased the resource base of the West Hub project, Eni says.
Russia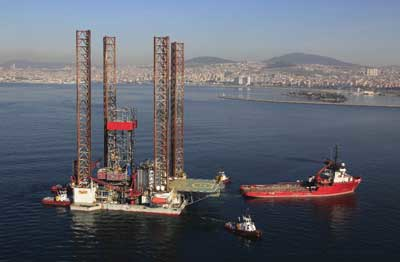 The jackupGSP Jupiter is preparing to drill a third well on the Dolginskoye field in the Pechora Sea.
The jackupGSP Jupiter should start drilling operations next month for Gazprom Neft on the Dolginskoye oil field in the Pechora Sea off northern Russia. Work scope includes drilling, logging, completion, and testing of the Severo-Dolginskaya No. 3 well. The Dolginskoye field was discovered in 1999, 110 km (68 mi) offshore, in a water depth of 35-55 m (115-180 ft). Two wells have been drilled to date on the north and south of the structure, with recoverable reserves estimated at over 200 million metric tons (220 million tons).
•••
Lukoil has commissioned Schlumberger to design wells for the V.Filanovsky development in the northern Caspian Sea. The two companies are also collaborating on integrated studies of Lukoil's prospective assets at the Moscow-based Center of Geologic Exploration Technologies, using equipment supplied by Schlumberger.
Mediterranean Sea
UK-based Northern Petroleum believes its Cygnus prospect offshore southern Italy could hold up to 790 MMbbl of oil. The company bases its estimate on a common oil/water contact identified between Cygnus and Eni's producing oil field in an adjacent concession. This follows analysis by ERC Equipoise, derived from previously undisclosed well data relating to Aquila in a new environmental submission by Eni. Northern is seeking partners to co-fund a 3D seismic survey over Cygnus and subsequent drilling.
•••
Burullus Gas Co. has handed Saipem an EPIC contract for new subsea facilities in the West Delta Deep Marine concession offshore Egypt. Scope includes supply and installation of rigid and flexible flowlines, umbilicals, and other structures in water depths of up to 850 m (2,789 ft). Offshore work will be performed during 2014.
•••
Noble Energy says the Leviathan #4 appraisal well offshore Israel encountered 454 net ft (138 m) of gas pay in multiple intervals. Results have led to an upgrade of reserves recoverable to 18 tcf. The drilling rigEnsco 5006 was due to transfer to the Alon C license to drill the 3-tcf prospect Karish.
Middle East
Saudi Aramco has contracted two new jackups from Asia Offshore Drilling (AOD) for operations offshore Saudi Arabia. Both have been under construction at Keppel FELS in Singapore – one was due to be delivered last month, the other in July. Seadrill will manage the drilling program on AOD's behalf.
•••
Wintershall and Qatar Petroleum have discovered new gas reserves offshore northern Qatar. The well was drilled in 70 m (229 ft) water depth in exploration block 4, close to the giant offshore North field.
East Africa
Statoil and partner ExxonMobil have proven fresh deepwater gas reserves in block 2 offshore Tanzania.Ocean Rig Poseidon drilled the Tangawizi-1 well in 2,300 m (7,546 ft) of water, 10 km (6.2 mi) from the previous Lavani and Zafarani finds. It encountered gas in tertiary sandstones, lifting volumes found on the block to date to 15-17 tcf. Statoil has booked the drillship Discoverer Americas to step up its exploration drilling both on block 2 and on block 5 off Mozambique to the south.
Another drillship,Deepsea Metro-1, has completed a drillstem test on the Jodari gas discovery in Tanzania block 1 for BG Group and Ophir Energy. The DST flowed at rates of up to 70 MMcf/d from one of the tertiary reservoir wells. The rig was next due to perform another DST to test the Mzia-2 appraisal well, 22 km (13.7 mi) to the north.
•••
Petrochina has farmed into 20% of gas-prolific Area 4 offshore Mozambique previously held by operator Eni. The deal netted Eni $4.21 billion.
India
The Indian Cabinet Committee on Investment has approved award of five new exploration blocks offshore eastern India. Cairn India and Reliance Industries picked up one and three blocks respectively in the Krishna Godavari basin, with ONGC assigned one off the northeast Indian coast.
ONGC has found more gas in the KG offshore shallow water basin, 25 km (15.5 mi) south of Narsapur.
The Saveri #1 well on block KG-OSN-2004/1 flowed gas from one interval and gas-condensate from another interval higher up. It boosts prospects for a cluster development with the Alankari and Chandrika South finds on the same block.
Offshore western India, Reliance hopes to develop the Dhirubhai gas field, after submitting a plan to the authorities last year. This calls for a new unmanned platform with dry tree wells, a multi-phase export pipeline to shore, and new onshore processing/export facilities. The location is in the Gujarat-Saurashtra basin, northwest of the Bombay High oil field, in water depths of 80-150 m (262-492 ft).
Asia/Pacific
Production has started from two development wells on the CNOOC-operated WZ 6-12 wellhead platform in the Beibu Gulf, offshore China. Three more wells are due to come online soon afterward. Thereafter, the jackupHYSY 931 is set to drill three more wells before transferring this summer to the WZ12-8 wellhead platform to complete the final development phase.
•••
ExxonMobil and Petronas Carigali have produced first gas from the Telok field in the South China Sea offshore Malaysia. One four-legged unmanned platform is currently in service (Telok A), with a second, Telok B, to follow. Eventually 14 wells will be drilled from both facilities. The combined wet gas stream will head through a new 16-mi (26-km) subsea pipeline to the existing Guntong E platform for processing.
•••
Lundin Petroleum has discovered oil on block PM308A offshore peninsular Malaysia. The jackupWest Courageous drilled the Ara-1 well in 75 m (246 ft) of water. The results confirmed an extension of a new intra-rift oil play, proven in 2011 by the Junglau-1 well, across a large structural complex in the northeast of the block. However, Ara-1's oil pay zones were thinner than expected. Lundin aims to use a recently extended 3D seismic dataset to identify areas where local sand reservoir sources might be better developed.
•••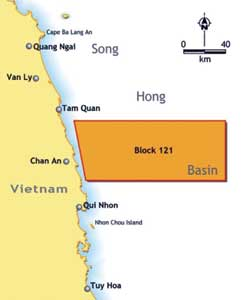 Drilling was due to start this month on the Ca Voi prospect offshore Vietnam.
Pan Pacific Petroleum has completed a 15% farm-in to the block 121 production-sharing contract offshore southern Vietnam. The semisubOcean General was due to spud a first well on the large Ca Voi prospect this month, pending its release from a job in Indonesian waters. After Ca Voi, the rig should drill two more wells on Vietnamese block 07/03 for the same operator, Premier Oil, including a remaining commitment exploratory well (Ca Duc-1X).
More Offshore Issue Articles
Offshore Articles Archives
View Oil and Gas Articles on PennEnergy.com