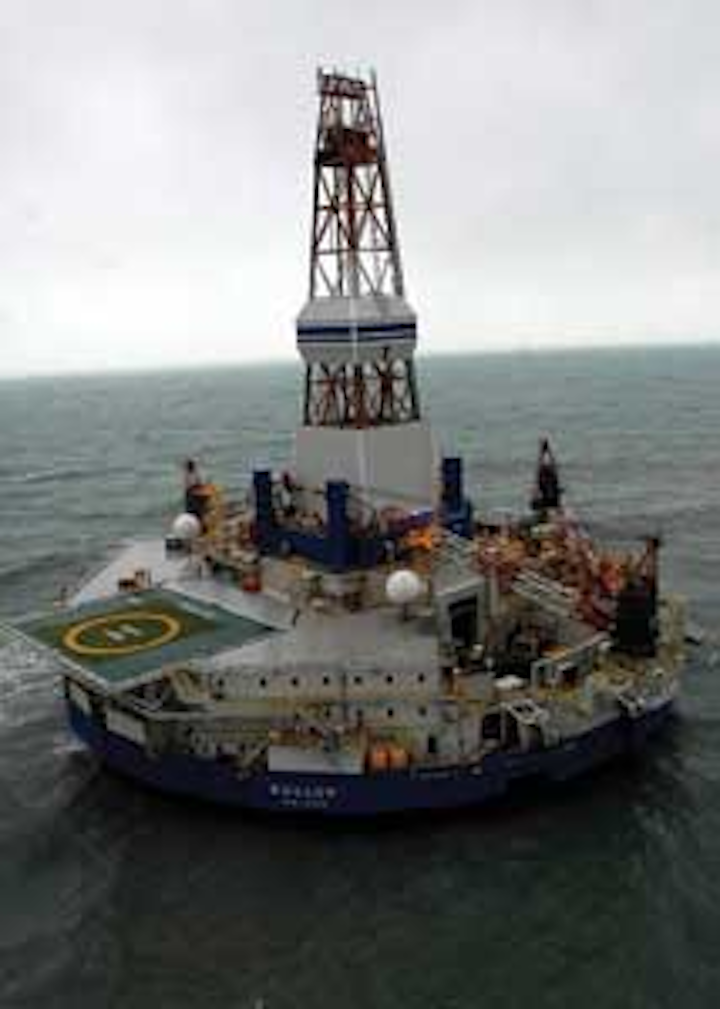 Jessica Tippee
Assistant Editor
Despite the challenges that the Arctic and sub-arctic regions present – ice, low temperatures, darkness and remoteness – the substantial amount of oil and gas reserves are propelling industry interest and exploration and development activity.
A recent report from Infield Systems estimates the Arctic region holds 116 Bboe of natural gas and 17 Bboe of oil – in discovered offshore reserves. According to the energy analyst, 33 of the 174 discovered fields have been successfully developed. However, the average field development time exceeds 13 years, the second longest timeframe in the world. "The Offshore Arctic Oil and Gas Market Report to 2018" identified 38 fields with production potential between 2012 and 2018, with seven currently under development or having a "firm plan."
Atlantic Canada and Greenland
ExxonMobil and its partners have sanctioned the $14-billion Hebron development project offshore Newfoundland and Labrador, Canada. The project, 350 km (217 mi) offshore in the Grand Banks, takes in the Hebron, West Ben Nevis, and Ben Nevis fields.
The centerpiece will be a stand-alone concrete gravity-based structure (GBS) platform in 95 m (311 ft) water depth, designed to withstand sea ice, icebergs, and severe local meteorological and oceanographic conditions. It will have production capacity for up to 150,000 b/d of oil, and storage for 1.2 MMbbl of crude.
ExxonMobil Canada Properties has contracted Kiewit-Kvaerner Contractors to provide engineering, procurement, and construction services for the GBS. The contract value is $1.5 billion and includes work done to date. Construction of the GBS has begun at the Bull Arm fabrication yard in Newfoundland and Labrador. The steel skirts have been installed, which allows base slab construction to progress. Work on the topsides is expected to start later this year. Front-end engineering and design was completed last year and detailed engineering continues. First oil is scheduled for late 2017. The aim is to extract more than 700 MMbbl during the field's 40-year lifespan.
The co-venturers are: ExxonMobil Canada Properties (operator, 36%), Chevron Canada Resources (26.6%), Suncor Energy (22.7%), Statoil Canada (9.7%), and Nalcor Energy Oil and Gas (4.9%).
Cairn Energy remains confident that all the elements are in place for drilling successes offshore Greenland, despite its unproductive campaign in 2011. The company has interests in licenses that cover 11 offshore blocks with a combined area of 102,000 sq km (39,382 sq mi). The current focus is on the Pitu license block, 100 km (62 mi) offshore northwest Greenland in water depths of 400-800 m (1,312-2,624 ft).
Studies by Cairn and partners Statoil and Nunaoil, based on mapping and evaluation of 3D seismic, indicate potential resources of up to 5 Bboe. A first well could be drilled next year on the main structural high, subject to approvals and rig availability.
Elsewhere in the region, Cairn may seek to pre-qualify for the second East Greenland bid round later this year. In 2012, various operators acquired 2D and 3D seismic in Baffin Bay. Cairn participated in a joint shallow borehole program operated by Shell on behalf of a consortium including Conoco Phillips, GDF, Nunaoil, Maersk, Tullow, and Statoil. The 11 completed boreholes have provided information to help stratigraphic correlations across the undrilled Melville basin.
United States
After marking the industry's return to offshore drilling in the Alaskan Arctic after more than a decade, Royal Dutch Shell suspended its exploratory drilling campaign in the Beaufort and Chukchi seas for 2013. In 2012, Shell completed top-hole drilling on two wells at the Burger prospect in the Chukchi Sea with the drillshipNoble Discoverer. After the drilling season ended, a small fire broke out on the drillship while in port, but no injuries were reported.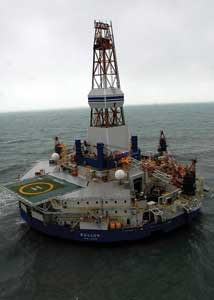 Shell'sKulluk drilling rig broke free during tow and ran aground offshore Alaska.
Another Shell drilling rig, theKulluk, was damaged in a maritime incident related to strong weather conditions. The conical drilling rig broke free and ran aground offshore Sitkalidak Island, Alaska, while on its way to Seattle, Washington. Both drilling rigs will be towed to Asia for maintenance and repairs.
"We've made progress in Alaska, but this is a long-term program that we are pursuing in a safe and measured way," said Marvin Odum, director, Upstream Americas. "Our decision to pause in 2013 will give us time to ensure the readiness of all our equipment and people following the drilling season in 2012."
The jackup drilling rigEndeavour – Spirit of Independence has received its ABS Certification. Once the US Coast Guard and the Alaskan Oil & Gas Conservation Commission have added their approval, Buccaneer Energy Ltd. can begin drilling on the Cosmopolitan prospect, which is in 50 ft (15 m) of water and 30 mi (48 km) northwest of Homer, Alaska. Spartan Drilling LLC will assume the role of drilling contractor for the project.
Russia
Rosneft and ExxonMobil have agreed to expand their cooperation to include an additional 600,000 sq km (231,661 sq mi) of exploration acreage in the Russian Arctic. The two companies signed accords to explore seven new blocks, comprising Severo-Vrangelevsky-1, Severo-Vrangelevsky-2, and Yuzhno-Chukotsky blocks in the Chukchi Sea; Ust' Oleneksky, Ust' Lensky and Anisinsko-Novosibirsky blocks in the Laptev Sea; and the Severo-Karsky block in the Kara Sea. Rosneft says these are among the world's most promising and least explored offshore areas.
Additionally, the two companies will jointly study the economic viability of an LNG development in the Russian Far East, which could involve the construction of an LNG facility.
Rosneft and ExxonMobil have commissioned Vostochniy Offshore Structures Construction Yard (VOSTCO) to conduct a study for a drilling platform in the Kara Sea offshore northern Russia.
The concept will be evaluated for use in the shallow waters of East Prinovozemelsky license blocks 1, 2 and 3, which cover a total area of 126,000 sq km (48,600 sq mi) in waters depths ranging from 20-200 m (65-650 ft).
According to Rosneft, the platform would need to incorporate safety and environmental protection measures for operating in arctic conditions, including the ability to withstand extreme ice, wind, wave, and temperature conditions. The study will evaluate the feasibility of using a gravity-based structure that could extend the drilling season by several months. This would be designed to operate in up to 60 m (200 ft) of water, with the drilling equipment installed on the seabed to drill a well, before being refloated and transferred to other drilling sites. Kvaerner will provide design services for the project in collaboration with VOSTCO.
Gazprom Neft has contracted GSP Offshore's jackupGSP Jupiter to drill in the Pechora Sea offshore northern Russia. The rig will start operations on the Dolginskoye oil field in early June. The location is in the southeastern part of the Russian sector of the Barents Sea. Scope of work includes drilling, logging, completion, and testing of the North-Dolginskaya No. 3 well. GSP additionally will provide two of the four offshore support vessels to assist the rig during drilling. This will be GSP's first experience in Arctic drilling.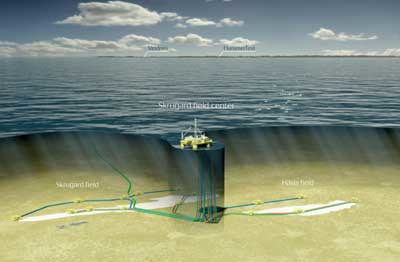 Statoil's Skrugard and Havis development concept in the Barents Sea.
The Dolginskoye field, discovered in 1999, is 120 km (74 mi) south of the Novaya Zemlya archipelago and 110 km (68 mi) north of mainland Russia. Water depth is about 35-55 m (115-180 ft). To date three exploratory wells have been drilled on the license – two wells on the North-Dolghinskoye field and one on South-Dolghinskoye. Recoverable reserves are estimated at more than 200 MM metric tons.
Gazprom has started construction of production wells on the Kirinskoye gas and condensate field offshore Sakhalin Island. ThePolyarnaya Zvezda (Polar Star) semisubmerged drilling rig is performing the program, 28 km (17.4 mi) offshore in 90 m (295 ft) water depth in the Sea of Okhotsk. Gazprom says Kirinskoye, part of the Sakhalin II project, is its top development priority offshore Sakhalin and will also be the first-ever instance of gas production on the Russian continental shelf via a subsea production system.
A manifold to receive the gas mix from the wells has been installed at the field and a pipeline has been laid to the coast to transport production. Another pipeline has been laid which will take MEG from the coast to the field for use in preventing hydrate formation in the wells and the gas gathering system. Gas flowlines and control cables are currently being trenched and process equipment is being installed.
Preparations continue for the Shtokman gas/condensate project in the Barents Sea, according to Gazprom. Phases 2 and 3 design and exploration programs are under way. Front-end engineering and design documents have been compiled for the offshore facilities in line with international standards, and engineering surveys are in the final stage. Preparation of the project documents in compliance with Russian standards is close to completion and will be submitted for review in 2013.
The Shtokman field is in the Russian sector of the Barents Sea, with C1 reserves of 3.9 tcm (138 tcf) of gas and 56.1 MMtons of gas/condensate. Gazprom Neft Shelf holds the gas and gas/condensate exploration and production license.
Technip has signed two agreements with State Corp. Russian Technologies (Rostec) that pave the way for the manufacture of flexible pipes and umbilicals for the Arctic region and Black Sea fields. The company signed a memorandum of understanding with Rostec subsidiary RT-Chemcomposite Holding Co. to establish a joint venture company for subsea activities in Russia. The other agreement was with Rustechexport, which could lead to a jointly owned company providing engineering, design, and turnkey construction for oil refinery, petrochemical, and gas chemical production projects in Russia, plus facilities for offshore oil field operations.
Norway
Statoil and partners Eni and Petoro have selected a development concept for the Skrugard oil field in the Barents Sea. This calls for a semisubmersible platform exporting the oil through a 280-km (174-mi) subsea pipeline to a terminal at Veidnes outside Honningsvåg in the Finnmark region of northern Norway. The oil will be stored in two mountain caverns and piped from there to the quay for transportation by tankers.
Skrugard and the nearby Havis oil find will share the same infrastructure – together they hold recoverable reserves in the 400-600 MMboe range. Output from both fields will be tied into the platform via a subsea production system in 380 m (1,247 ft) of water. Statoil aims to submit a plan for development and operation next year, and to bring Skrugard into production in 2018. It is targeting output close to 200,000 boe/d.
The company has drawn up nine new prospects in the Barents Sea for drilling during 2013-2014. The campaign will start in the Skrugard area, where four new prospects will be drilled. Skrugard and Havis are in license PL532, covering blocks 7219/9 and 7220/4, 5, and 7.
Production drilling has started on the Eni-operated Goliat oil field development in the Barents Sea. A total of 22 wells will be drilled from eight templates already installed on the seafloor. Drilling is expected to last at least three years and will continue after the scheduled start of production in summer 2014.
Development calls for 11 production wells, nine water injectors, and two gas injectors. Goliat's reservoir zones are relatively shallow and characterized by low pressure and low temperature. Water depths in the area range from 350-400 m (1,148-1,312 ft). Eni estimates recoverable reserves at 174 MMbbl of oil and 8 bcm (283 bcf) of gas. Its partner in the project is Statoil.


Click to Enlarge
More Offshore Issue Articles
Offshore Articles Archives
View Oil and Gas Articles on PennEnergy.com