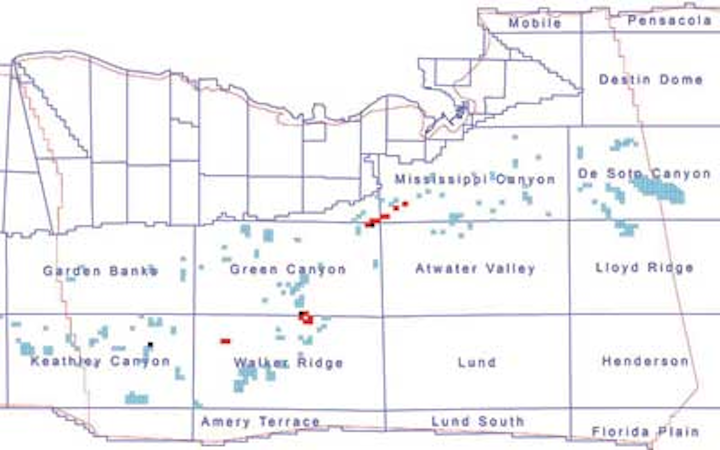 Bruce Beaubouef
Managing Editor
Oil and gas development in the Gulf of Mexico continues to rebound after the nadir of 2010, and activities are ramping up in all phases – leasing, exploration, drilling, field development and production.
Operators and E&P firms exhibited a strong interest in Gulf development with the Central GoM lease sale, held in mid-March. The positive results, described below, are expected to maintain the momentum that has been slowly but surely growing in the past two years.
And, along with the growing number of high-profile deepwater projects, operators are also reviewing opportunities for development along the continental shelf and in shallow-water areas.
Lease sale results
The recent Central Gulf of Mexico Lease Sale 227 covered about 38.6 million acres, located from three to about 230 nautical miles off the coast of Louisiana, Mississippi, and Alabama. The sale resulted in 52 companies submitting 407 bids on 320 tracts, with more than $1.2 billion in high bids.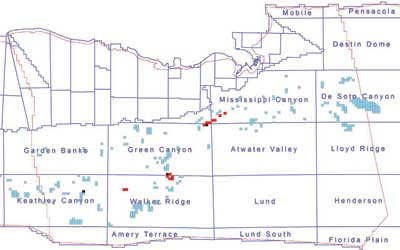 Statoil was the highest bidder on 15 leases in the Central Gulf of Mexico Lease Sale 227, including Walker Ridge 271, the company's number one priority lease.
Conducted by the Department of Interior's Bureau of Ocean Energy Management (BOEM), the lease sale included 7,299 blocks in water depths ranging from nine to more than 11,115 ft (three to 3,400 m). BOEM estimates the areas available for sale could result in the production of up to 890 MMbbl of oil, and 3.9 tcf of natural gas. Each high bid on a tract will now be evaluated by BOEM to ensure fair market value before a lease is awarded.
The sale builds on a number of recent offshore lease sales, including a November 2012 sale that made more than 20 million acres available, and a sale last June that made more than 39 million acres available.
The administration's Outer Continental Shelf Oil and Gas Leasing Program for 2012–2017 (Five Year Program) makes available for exploration and development all offshore areas it defines as having the highest conventional resource potential, including areas that are estimated to hold more than 75% of the nation's undiscovered, technically recoverable offshore oil and gas resources.
The March lease sale is the second under the new Five Year Program, and the first of its five scheduled Central Gulf of Mexico lease sales.
The lease sale promises to enable operators – including a number of international state-owned companies – to increase their presence in the Gulf of Mexico. For example, Colombia's Ecopetrol says that its US affiliate has placed the most competitive bids for six blocks in the recent lease sale.
Ecopetrol America Inc. partnered with Murphy Exploration and Production in two blocks; with Anadarko US Offshore Corp., MCX Gulf of Mexico LLC, and JX Nippon Oil Exploration (U.S.A) Ltd. in two blocks; and in two blocks Ecopetrol America has 100% interest. The bids placed by Ecopetrol and its partners in the six blocks add up to approximately $15.5 million.
Statoil was the highest bidder on 15 leases in the lease sale. Erik Finnstrom, senior vice president of Exploration for Statoil in North America, said: "Walker Ridge 271 was our number one priority lease, and we are very pleased to have placed the highest bid on this impact prospect that we call Monument."
A number of domestic E&P firms also hope to increase their Gulf presence through the lease sale as well. New Orleans and Houston-based independent EPL Oil & Gas Inc. reports that it was the high bidder on five leases. The five high bid lease blocks cover a total of 13,892 acres on a net and gross basis, and are all located in the shallow Gulf of Mexico shelf, within the company's core area of operations. EPL's share of the high bids totals $2.1 million.
Exploration
Meanwhile, Gulf operators are showing renewed interest in development opportunities along the OCS. Energy XXI says it has entered into an agreement with Apache Corp. to explore for oil and gas pay sands associated with salt dome structures on the central GoM shelf. The area of mutual interest includes several salt domes within a 135-block area.
In addition, Energy XXI has acquired a 25% working interest in 21 non-producing primary-term leases with Apache. A new wide-azimuth seismic program is under way to define the potential of the AMI, covering approximately 633,000 acres.
"This joint venture exemplifies our interest in exploring salt structures where new seismic data, remapping, and remodeling could uncover significant hidden hydrocarbons," said John Schiller, Energy XXI chairman and CEO.
Drilling and completion
Drilling activities are under way on several fronts, and many of these are showing positive signs. Chevron Corp. has an oil discovery at the Coronado prospect in the deepwater GoM. The Walker Ridge block 98 Well No. 1 encountered more than 400 ft (122 m) of net pay. The well is located approximately 190 mi (308 km) off the Louisiana coast in 6,127 ft (1,868 m) of water and was drilled to a depth of 31,866 ft (9,713 m).
"The Coronado discovery continues our string of exploration successes in the Lower Tertiary trend, where Chevron is advancing multiple projects," said Gary Luquette, president, Chevron North America Exploration and Production Co.
Elsewhere, Anadarko Petroleum Corp. has announced that its Shenandoah-2 well in the deepwater Gulf has encountered more than 1,000 net ft of oil pay in multiple high-quality Lower Tertiary-aged reservoirs.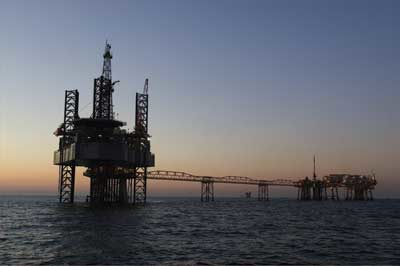 Independent EPL Oil & Gas Inc. reports that its five high bid lease blocks are all located in the shallow Gulf of Mexico shelf, within the company's core area of operations.
The Shenandoah-2 well, located in Walker Ridge block 51, was drilled to a total depth of 31,405 ft in approximately 5,800 ft of water, more than 1 mi southwest and approximately 1,700 ft structurally down-dip from the Shenandoah-1 discovery. The Shenandoah-1 discovery well was drilled in early 2009 on Walker Ridge block 52 and encountered more than 300 net ft of Inboard Lower Tertiary oil pay.
Similar to the initial Shenandoah discovery well, log and pressure data from the Shenandoah-2 well indicate excellent-quality reservoir and fluid properties. The well was drilled to test the down-dip extent of the accumulation, and the targeted sands were full to base with no oil/water contact.
"The successful Shenandoah-2 well marks one of Anadarko's largest oil discoveries in the Gulf of Mexico, with more than 1,000 net ft of oil pay and reservoir rock and fluid properties of much higher quality than previously encountered by industry in Lower Tertiary discoveries," said Bob Daniels, Anadarko sr. vice president Deepwater and International Exploration. "With ownership in the successful Shenandoah wells, the adjacent Yucatan prospect, and the very encouraging results from the nearby Coronado well, Anadarko is strategically positioned in the Shenandoah basin, which has the potential to become one of the most prolific new areas in the deepwater Gulf of Mexico."
"We are incorporating the information obtained from Shenandoah-2 into our planning and anticipate further appraisal drilling to advance this potentially giant project," Daniels added.
Anadarko is the operator of the Shenandoah-2 well and the previously announced Shenandoah-1 discovery well, with a 30% working interest. Other co-owners in Shenandoah are ConocoPhillips (30%), Cobalt International Energy (20%), Venari Resources LLC (10%), and Marathon Oil Co. (10%).
Field development
Field development is also moving forward on several GoM projects. Hess Corp. recently reported that development of the Tubular Bells field is proceeding on schedule, with drilling campaigns under way and construction of the spar platform ongoing.
Since last April, theStena Forth has drilled nine topholes and is currently drilling the second well. When the drilling program concludes, the project will have three to five producers, and two to three water injection wells.
Construction of the spar platform is under way in Texas and Louisiana. The engineering and construction of the project is being conducted almost entirely within the United States.
The initial subsea development will comprise two drill centers connected to three production wells and two water injection wells. There is a possibility that two additional production wells and one additional water injection well may be added to the field development.
The subsea facilities will be tied back to a Williams Partners-owned floating production spar (FPS) with a 50-person accommodation capacity. Hess will initially operate the production facility.
The spar platform is designed to handle:
60,000 b/d of oil
135 MMcf/d of gas production
40,000 bbls of produced water treating capacity
60,000 b/d of water injection.
Export from the FPS will be through Williams' existing pipeline systems, including its 12-in. oil line and its 12-in. natural gas line.
First production is planned for 2Q 2014. The primary target lies at approximately 24,000 ft (7,315 m) reservoir depth below approximately 10,000 ft (3,048 m) of salt.
The Tubular Bells project was sanctioned in 2011 with Hess having a 57.14% working interest as operator. Chevron has the remaining 42.86% interest.
Elsewhere, the semisubmersible hull for Chevron's Jack/St. Malo deepwater Gulf of Mexico project has sailed out of the Samsung Heavy Industries yard in Geoje, South Korea, bound for the Kiewit yard in south Texas.
At 56,000 metric tons (61,730 tons), the hull is the world's largest to date, said marine contractor Dockwise. The successful float-on operation was the first for the company's newDockwise Vanguard heavy transport vessel. The hull was scheduled to arrive at the Kiewit yard mid-April.
The Jack and St. Malo floating production unit will be installed in 7,000 ft (2,100 m) water depths. The $7.5-billion development will comprise three subsea centers tied back to the FPU with a capacity of 170,000b/d of oil and 42.5MMcf/d of natural gas. Startup is planned for 2014.
Production
With exploration and drilling activities on the rise, production has also been increasing over the past few years. Oil production in the federal Gulf of Mexico waters grew 6% last year, according to a recent report issued by the US Energy Information Administration.
The report, "Short‐Term Energy Outlook Supplement: Key drivers for EIA's short‐term U.S. crude oil production outlook," says that oil production in the federal GoM is projected to have increased from about 1.31 MMb/d in January to about 1.39 MM b/d in December 2012.
The increase was driven by the initiation of production at 13 new deepwater fields with a combined peak production of about 195,000 b/d, as well as the restart of the Mad Dog field, which had been offline since April 2011.
Also contributing to the increase was the start‐up of the Tahiti Phase 2 redevelopment project, as well as those deepwater fields that began production in 2011 but continued to increase production during 2012.
EIA says it expects federal GoM production to increase from an average 1.27 MMb/d in 2012 to an average 1.39 MMb/d in 2013. Adding to federal GoM production in 2013 will be a combination of six new field start‐ups with a combined peak production of about 45,000 bbl/d, and the Na Kika Phase 3 redevelopment project.


Click to Enlarge
More Offshore Issue Articles
Offshore Articles Archives
View Oil and Gas Articles on PennEnergy.com