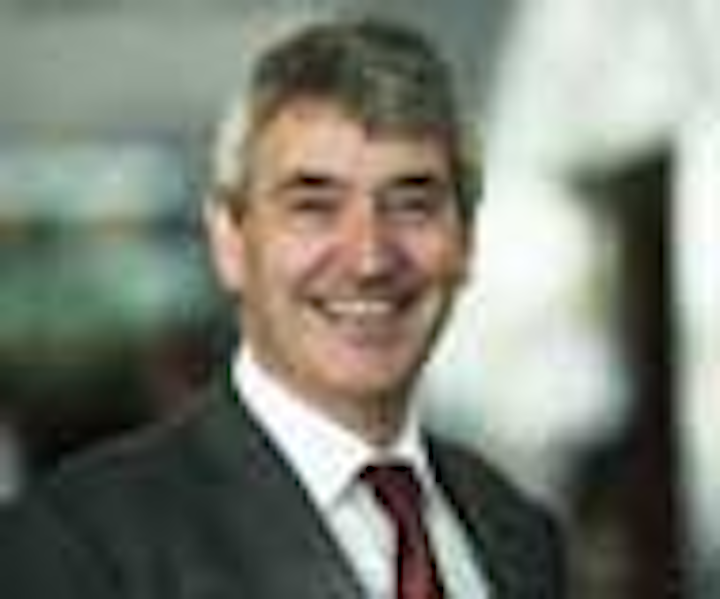 Mozambique next with Kenya a possibility
Nick Terdre
Contributing Editor
Statoil's investment in Tanzania's offshore sector is looking like a smart move, with two significant discoveries from two wildcats last year. The company is now seeking to make that three out of three, with a third wildcat spudded in February.
The company first started evaluating East Africa more than 10 years ago, says Nick Maden, senior vice president Exploration International. By around 2002/03, it had concluded that the East African margin was an area of promising potential, and particularly the Rovuma Delta at the mouth of the River Rovuma which forms the border between Tanzania and Mozambique.
Nick Maden, Statoil's senior vice president Exploration International.
When the opportunity came, Statoil applied for a license in Tanzania, and won block 2 in 2007. It also has blocks 2 and 5 in Mozambican waters - these were awarded in 2006 to Norsk Hydro, the oil and gas division of which subsequently merged with Statoil. All these blocks are on the edge of the delta, where it was thought there might be a better chance of finding oil, says Maden, although all the Tanzanian finds to date are essentially gas. The company is due to begin drilling off Mozambique later this year.
Statoil is not the only oil company to have exploration success off the coast of eastern Africa. In the Tanzanian sector, BG has discovered gas in the Jodari field which partner Ophir has given a mean recoverable resource estimate of 3.4 tcf, and in the Mzia field. Further south in the Mozambican sector, Eni and Anadarko have large gas finds. There are similar driving mechanisms in all these reservoirs, according to Maden.
"This is one of the exploration hot spots in the world," he says. "We see the prospectivity extending from Mozambique into Tanzania and possibly further north into Kenya. What makes East Africa a little bit unique is that elsewhere the industry has tended to develop from onshore to offshore, and from shallower to deeper waters, whereas here the continental margin is smaller and narrower, so there's no onshore industry, and it's a question of jumping straight into deep waters. More and more, this is what we're having to do."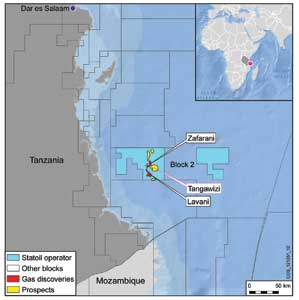 Statoil has found 7-9 tcf of recoverable gas at Zafarani and Lavani.
Statoil's Tanzanian license covers an area of around 5,500 sq km (2,123 sq mi), and in water depths up to 3,000 m (9,842 ft). The license is in the form of a production-sharing agreement with the state oil company, Tanzania Petroleum Development Corp. (TPDC), which has the right to take a 10% working interest in finds declared commercial.
Statoil initially was the sole licensee, but in 2010 it transferred a 35% interest to ExxonMobil, retaining a 65% working interest and the operatorship. Following the license award in Tanzania, Statoil commissioned 2D seismic surveys and more detailed 3D seismic, which led to the identification of numerous interesting prospects.
The first discovery was made in early 2012 by the Zafarani exploration well, which encountered 120 m (393 ft) of excellent quality reservoir with high porosity and high permeability. The second came in mid-year with the Lavani-1 exploration well, 16 km (10 mi) south of Zafarani, which intersected 95 m (311 ft) of similarly high-quality reservoir. This find was successfully appraised by Lavani-2, which additionally encountered a separate and significant gas reservoir. On publishing its 2012 results in February, Statoil gave a combined estimate for the two fields of 7-9 tcf of recoverable gas.
The wells were drilled by the drillshipOcean Rig Poseidon in water depths of 2,400- 2,600 m (7,874-8,530 ft). The two fields are about 100 km (62 mi) from shore. This year's well, on the Tangawizi prospect, is a little east of Zafarani in a similar water depth.
The discoveries made so far, which involved drilling to total depths of 5,100-5,300 m (16,732-17,388 ft), have been in Tertiary and Cretaceous horizons, similar to the BG finds. There are subtle differences between the plays but nothing dramatic, says Maden. However, the Tangawizi geological target is somewhat younger.
Development options are now under review, although Statoil and its partners are some time away from a development decision, and none of the finds have been declared commercial. Before a development decision is taken, the company will perform at least one drillstem test to investigate the composition of the gas, Maden says.
All the reservoirs found by Statoil so far consist of thick sandstone with very good porosity and permeability, which means fewer production wells will be needed than if the reservoirs presented more challenging conditions. That will help to offset the higher costs associated with development in such deep waters. If development goes ahead, it will take time - Maden suggests start-up somewhere in the region of 2020.
But dialogue already is under way with all relevant parties, including BG, the TPDC, and the Tanzanian authorities to find the best way of moving matters forward. In view of the lack of infrastructure and low level of gas demand in the region, an LNG solution is one obvious possibility, with gas piped ashore to a liquefaction plant and exported to markets such as the Far East. LNG is a technology with which Statoil has acquired valuable experience from its Melkøya LNG plant, which uses gas from the Snøhvit field in the Barents Sea. But Maden stresses that all options remain on the table.
Such a solution would also be beneficial for Tanzania. Although the country has no specific local content requirements, there is a general recognition that the offshore gas discoveries represent an opportunity to develop local industry and local people, Maden says.
More Offshore Issue Articles
Offshore Articles Archives
View Oil and Gas Articles on PennEnergy.com