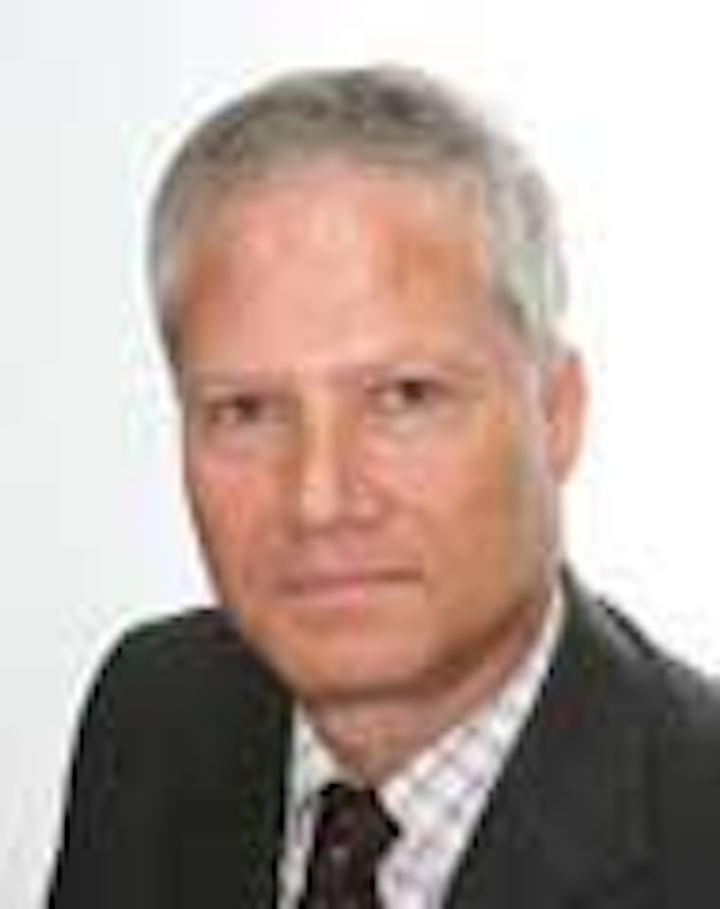 | | | |
| --- | --- | --- |
| | | Jeremy Beckman • London |
Husky Energy is pushing ahead with a third satellite extension at the White Rose field in the Jeanne d'Arc basin, 350 km (217 mi) offshore Newfoundland and Labrador. The company is targeting 20 MMbbl of oil from South White Rose via a subsea tieback to theSea Rose FPSO. Following regulatory approval, development will now include gas injection for enhanced oil recovery. Technip will install the flowlines, umbilicals, and associated subsea structures with start-up scheduled for 2014. Husky also plans to file a development application for West White Rose following completion of front-end engineering design (FEED).
To the south, EnCana may finally have brought onstream its Deep Panuke gas field, 250 km (155 mi) southeast of Halifax, Nova Scotia. SBM provided the mobile offshore production unit following a protracted construction delay. The gas will be processed offshore and sent via a subsea pipeline to Goldboro for onward transport through the Maritimes & Northeast Pipeline.
South America
ONGC has won an exploration block offshore Colombia, assigned under the country's 2012 bid round. The company has a 100% interest in the Guaoff-2 concession in the Guajira basin.
•••
Peru has launched an international bid round for nine blocks in the Salaverry-Trujillo, Lima, Lima-Pisco, Pisco, and Mollendo basins. All are 7 mi (11.2 km) from the coast and away from the protected fishing zone, and cover some of the country's least explored geological areas. State company Perupetro said there had been enquiries from oil companies in North and South America, Russia, South Korea, and the UK; awards should follow on Oct. 17. Currently there is production on two Peruvian offshore licenses, operated by Savia Perù and BPZ Energy, respectively.
•••
Brazil's much anticipated 11th bid round finally closed. Petrobras, as might be expected, was the biggest winner, paying a total of $454 million for interests in 34 of the 289 blocks on offer. Those with the greatest exploratory potential, the company said, are in the offshore Foz do Amazonas, Espírito Santo, and Barreirinhas basins.
Other big winners included Total, which secured shares in 10 licenses, including five as operator in the Foz do Amazonas basin. BP picked up stakes in eight deepwater blocks, two as operator, while Statoil operates four of its six new licenses in the Espírito Santo basin, all close to two existing concessions where it is in partnership with Petrobras. Among the successful newcomers is UK independent Premier Oil, which gained stakes in three blocks off northeast Brazil.
•••
Petrobras has started production fromCidade de Paraty, the second FPSO on the Lula field in block BM-S-11 in the presalt Santos basin. By the second half of 2014 as gas reinjection systems are commissioned, the facility should be operating at its full capacity, delivering 120,000 b/d of oil and 176 MMcf/d of gas.
Elsewhere in this region, Petrobras has discovered oil with the Entorno de Iara 1 well, drilled 235 km (146 mi) offshore Rio de Janeiro state in 2,266 m (7,434 ft) of water. Wire test samples confirmed 26° API crude from good-quality carbonate reservoirs just below the salt layer at a depth of 5,045 m (16,252 ft). Petrobras plans to follow up with a formation test and another well in the area.
West Africa
Ghana's government has approved the development plan for the country's second deepwater production hub. The Tweneboa-Enyenra-Ntomme (TEN) fields are 30 km (18.6 mi) west of the Jubilee field in the Deepwater Tano contract area, 60 km (37 mi) from the coast. Up to 24 wells will be drilled, connected via subsea facilities to an FPSO moored in 1,500 m (4,921 ft) of water and producing 80,000 b/d of oil at peak. Operator Tullow Oil says the partners will use the project to expand Ghana's fabrication capability. Start-up is scheduled for 2016.
•••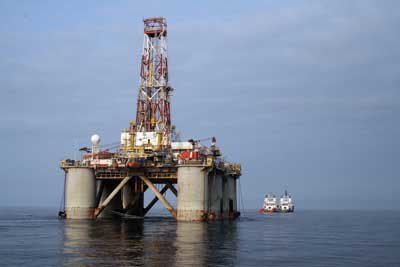 Lekoil has farmed into OPL 310 offshore Nigeria.
Lekoil has agreed to farm into 17.4% of license OPL 310 offshore Nigeria from Afren. Optimum Petroleum Development operates the license, located in the Upper Cretaceous fairway that runs along the West African Transform Margin. TheGSF Transocean Monitor was recently drilling an exploration well targeting Ogo, a four-way dip-closed structure in Turonian to Albian sandstone reservoirs; a side track was due to follow. Total resources could be over 200 MMboe.
•••
Noble Energy has found oil with a side track of its Carla South I-7 well in block I offshore Equatorial Guinea. According to partner PA Resources, analysis suggests 9-11 m (29-36 ft) of net oil pay in good-quality sandstones.
•••
EurOil has proven more gas and condensate with its latest appraisal/development well (IM-5) in the Etinde concession off Cameroon. Production tests from two reservoir intervals in the Middle and Intra Isongo formations yielded combined flow rates of up to 60 MMcf/d of gas and 7,819 b/d of condensate. EurOil's parent company Bowleven now estimates in-place volumes at the IM field at 155 MMbbl and 1.05 tcf.
•••
Frontier drilling is picking up pace in the southern half of West Africa. TheOcean Rig Olympia recently spudded Diaman No. 1, Gabon's first presalt deepwater exploration well, for partners Total and Cobalt International Energy. Offshore Namibia, the semisub Transocean Marianas is drilling Murombe-1, HRT's second exploratory well on license PEL-23 in the deepwater Walvis basin. Wingat-1, the preceding well drilled 15 km (9.3 mi) to the east, recovered samples of light oil and established two different source rocks. Murombe-1 is testing two objectives within a turbidite complex.
Mediterranean Sea
Energean Oil & Gas has secured $60 million in funds for a four-well program offshore Greece, aimed at doubling oil production from the Prinos and South Kavalos areas to 4,000 b/d by year-end. The money will also be used for development of the 32-MMbbl Epsilon structure next year via an unmanned platform connected to the main Prinos production facilities.
•••
Offshore Cyprus, the Noble Energy-led block 12 consortium agreed to drill an appraisal well on the deepwater Aphrodite gas discovery. Budget for the well, estimated to take four months to complete, is $117 million, according to partner Delek Drilling.
Additionally, Noble and its partners have confirmed a fifth deepwater gas find with reserves of over 1 tcf in the Israeli Levantine basin. Karish 1 was drilled in 1,740 m (5,700 ft) of water in the Alon C license, 20 mi (32 km) northeast of the Tamar field, which came onstream in April. The well encountered 184 ft (56 m) of gas pay in lower Miocene sands.
•••
Two ambitious independents have agreed to farm-in deals offshore Tunisia. EnQuest will take a 70% operating interest in PA Resources' assets, which include the producing Didon oil field and the planned Zarat field development. And DNO is set to take from Atlas Petroleum and Eurgas International an 87.5% controlling interest in the shallow water Sfax and Ras El Besh concessions in the Gulf of Gabes. They contain three oil discoveries and 29 prospects with combined prospective resources of up to 700 MMbbl.
Indian Ocean
Afren has completed the first 3D seismic surveys offshore the Seychelles in areas A and B. These covered a total of 3,375 sq km (1,302 sq mi) on the northern and southern portions of the license, including the Bonit prospect. Evaluation is under way in combination with existing 2D data to assess Tertiary, Cretaceous, and Jurassic prospectivity. Offshore Madagascar, Chinese contractor BGP has completed a 2D multi-client survey over the west Morondova region, which will be the focus of an upcoming bid round.
India
Reliance Industries and partners BP and NIKO have discovered gas and condensate in the D-55 structure offshore eastern India. The KGD6-MJ1 well was drilled in 1,024 m (3,360 ft) of water, and over 2,000 m (6,562 ft) below producing reservoirs in the D1-D3 gas fields. Analysis suggests the well intersected a 155-m (509-ft) gas/condensate column in Mesozoic reservoirs. The partners plan a follow-up appraisal program.
Asia/Pacific
Rosneft and INPEX will jointly explore the Magadan-2 and Magadan-3 blocks in the Sea of Okhotsk off northern Russia. Water depths range from 120-180 m (393-590 ft), with potential recoverable resources of 1.577 MM metric tons of oil equivalent (1.738 MM tons). The two companies will form a joint venture for the exploration program, with INPEX paying Rosneft bonuses for any commercial discoveries.
The 42,780-metric ton (47,157-ton) platform topsides for Exxon Neftegaz' Arkutun-Dagi field off Sakhalin Island was due to sail out of DSME's yard in South Korea. In readiness for the transportation, ALE used its Mega Jack system to jack the topsides in four sets of towers to a height of 24 m (79 ft). The operation was completed in 11 hours and in wind speeds of up to 50 m/s (164 ft/s).
•••
Thang Long Joint Operating Co. (TLJOC) has started oil production from the Hai Su Trang and Hai Su Den (HST/HSD) fields off southern Vietnam. Both are in 45 m (147 ft) of water in block 15-2/01 in the Cuu Long basin, 75 km (46.6 mi) offshore.
PetroVietnam subsidiary PTSC Mechanical and Construction built the two wellhead platforms; six wells have been drilled, with production sent by pipeline to the Te Giac Trang FPSO.
•••
Shell has contracted Royal Boskalis Westminster to install a depletion compression platform off Palawan Island in the Philippines. The facility will be bridge-linked to the existing gas production platform on the Malampaya field. Boskalis' scope extends to seabed preparation, tow out of the platform to the offshore location, and placement of iron ore gravel ballast on the four platform footings following installation to ensure stability. All work should be completed by late 2014.
Australasia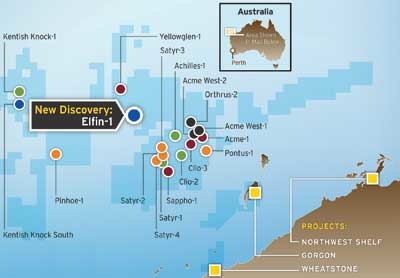 BP's exploration licenses offshore South Australia.
Statoil has agreed to farm into 30% of four licenses operated by BP offshore South Australia. EPP 37, 38, 39, and 40 cover 24,000 sq km (9,266 sq mi) in the Ceduna sub-basin within the Great Australian Bight. BP is currently processing a new 12,000-sq km (4,633-sq mi) 3D seismic survey over the license area, and has signed a three-year contract with Diamond Offshore for a new Moss CS60E design harsh environment semi for the drilling program. Hyundai Heavy Industries will build the 10,000-ft (3,048-m) water depth DP rig at a projected cost of $755 million. It should become available after November 2015.
•••
Total has discovered gas in the Browse basin off northwest Australia. The Bassett-1 well was drilled in 368 m (1,207 ft) of water in license WA-274P, 475 km (295 mi) northeast of Broome. Logs confirmed 7.5 m (24.6 ft) of gas pay in Jurassic sandstones on the structure's western flank. After the well is P&A'd, the partners planned to drill Dufresne-1 in the same license.