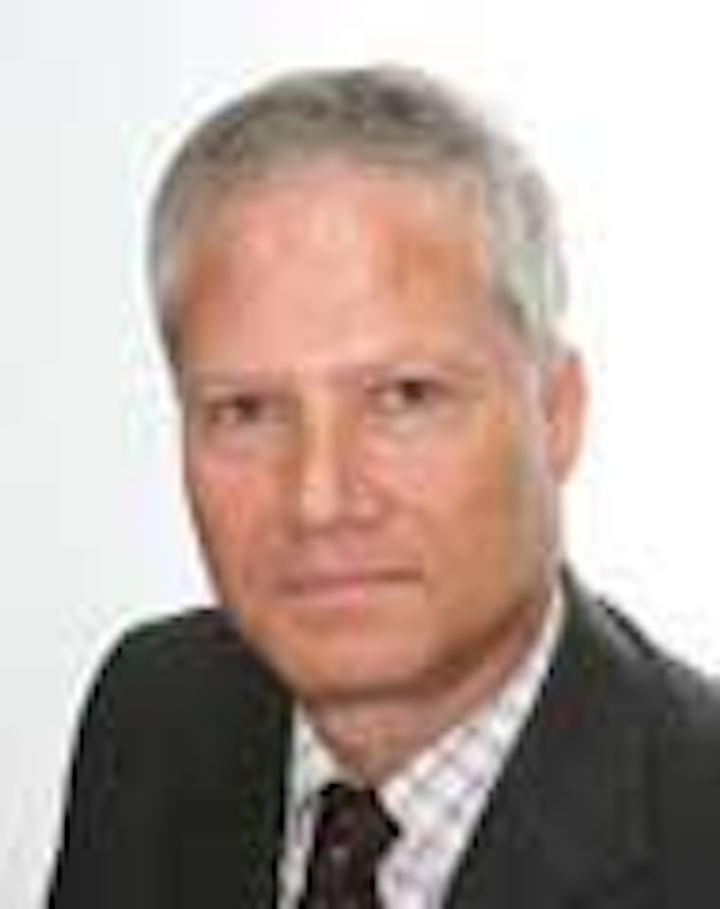 | | | |
| --- | --- | --- |
| | | Jeremy Beckman • London |
Growing belief in Ireland's exploration potential is attracting new players from outside Europe. ExxonMobil fired up interest with its well on the deepwater Dunquin prospect which started drilling in April and was designed to test a new play in the southern Porcupine basin off western Ireland. Now Dallas-based Kosmos Energy has negotiated farm-ins to two chunks of frontier acreage in the same part of the basin.
The company, which built a reputation unlocking a previously undrilled play type offshore Ghana, is set to take a 75% operated stake from Antrim Energy in licensing option 11/05, which encompasses five blocks and one part-block in the Porcupine basin. Antrim has reprocessed existing 2D seismic data and identified a Cretaceous deep-sea fan complex, potentially similar in seismic character to recent Cretaceous finds from Ghana westward. Kosmos' other proposed farm-in, with Europa Oil & Gas, would give it an 85% controlling interest in licensing options LO 11/7 and 11/18. Here studies have unearthed two promising lower Cretaceous prospects, Kiernan and Mullen.
UK independent Cairn Energy, another frontier exploration specialist, has agreed to enter as operator in two licenses in the northern Porcupine basin. These contain the Spanish Point gas condensate and Burren oil structures, both discovered by Phillips in the early 1980s. Neither has been drilled since, but following recent re-evaluation by existing partners Providence and Chrysaor, and a recent 3D seismic survey, an appraisal well will be spudded next spring on Spanish Point. This will determine whether the field, in 400 m (1,312 ft) water depth, has sufficient reserves for what could be the west coast's first full-scale offshore gas development.
Dublin-based Fastnet Oil & Gas, which has amassed shallow-water acreage off southern Ireland with potential mainly for gas production, has secured a new licensing option in the region. LO 13/3 covers eight part-blocks in the Mizzen basin and the southwest part of the North Celtic Sea basin, in water depths of up to 130 m (426 ft). A well drilled here by Esso and Marathon in 1975 encountered light oil shows at base Cretaceous level. Fastnet sees further potential in Triassic reservoirs sealed by salt, in a setting it believes is analogous to the prolific Wytch Farm oil field offshore/onshore southern England.
Norway to widen access to Barents Sea
Norway's government has announced its intention to open the southeastern part of the Barents Sea to exploration. The area was previously off-limits due to Norway's long-running maritime border dispute with Russia, which was resolved earlier this decade. Following the Norwegian Petroleum Directorate's survey of the region's oil and gas potential, the Petroleum and Energy Ministry believes more than 300 MMcmoe is waiting to be discovered. It plans to open the southern part of the sector first to exploration.
The surge in exploration activity throughout the Norwegian continental shelf in recent years is due to the combination of giant new discoveries, led by Statoil, Lundin, and Total; high oil prices; and the government's generous relief terms for exploration costs. However, a clawback may be under way, with the government proposing legislation to reduce tax breaks to petroleum investors. According to Statoil, this would involve reducing the "uplift" in the petroleum tax system from the present 7.5% to 5.5%. It would apply to future development projects, but probably not if the operator submitted a development plan prior to May 5, 2013. Statoil's CFO Torgrim Reitan said: "The change in the Norwegian petroleum tax reduces the attractiveness of future projects, particularly marginal fields, and raises questions regarding the predictability and stability of the fiscal framework for long-term investments on the Norwegian continental shelf."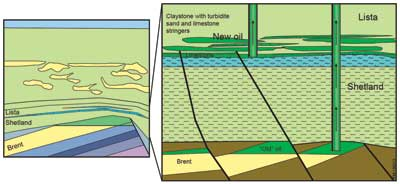 Schematic of the previously unproduced Lista/Shetland group formations in the Gullfaks field.
Statoil finds solution for Gullfaks formation
Statoil has proven commercial oil reserves in a previously undeveloped formation of the Gullfaks field in the Norwegian North Sea. Well 34/10-A-8 was originally drilled from the Gullfaks A platform in 1987 as a conventional producer, targeting Brent Group deposits which house the main Gullfaks reservoirs. Last December, however, it was recompleted for a formation test in the shallower Cretaceous-age Shetland group carbonates, and in overlying Paleocene intra-Lista formation sandstones.
The company had known for some time that these intervals were prospective, but had not attempted development due to assumed poor reservoir qualities and overpressure concerns. However, the test showed that the perforated zone has good flow properties with rates of up to 7,500 b/d. Analysis of results so far suggest a recoverable range of 40-150 MMboe with further potential upside, although more data may be needed from tests on other Gullfaks wells in the same intervals.
In the UK central North Sea, Apache has started oil production from the Tonto field via a deviated well drilled from the Forties Bravo platform. The appraisal wellbore encountered oil in an Eocene sandstone reservoir and the horizontal completion lateral that followed delivered further pay. Recently it was flowing at more than 10,300 b/d. Apache applied seismic inversion processing to determine the potential of the structure, which is above the main Forties Paleocene reservoir. The company may use a planned 3D seismic survey over Forties this summer to image production patterns in the reservoir for optimal placement of future Tonto producers.
First oil out from Huntington
E.On Ruhrgas' Huntington oil field in the UK central North Sea is finally onstream. The project was approved in November 2010, and was due to start up last year. But the start date had to be put back several times due to the financial problems of the FPSO provider Sevan Marine. These left the company unable to fund the soaring cost of modifications to the cylindrical platform, formerly known asSevan Voyageur. Eventually Teekay agreed to buy this and two other operational FPSOs from Sevan in exchange for financial help with completing the structural changes at the Nymo yard in Norway.
According to analysts BritBoss the first phase of development has focused on the Forties reservoir, which should remain in production for 12 years. There is known potential also in a Fulmar Triassic reservoir, Huntington Deep, which has yet to be appraised.Voyageur Spirit, as the FPSO is now known, will produce 25-30,000 boe/d from six wells drilled through a subsea template, with the oil offloaded offshore and the gas sent through a 12-km (7.5-mi) pipeline connecting to the CATS gas trunkline system.