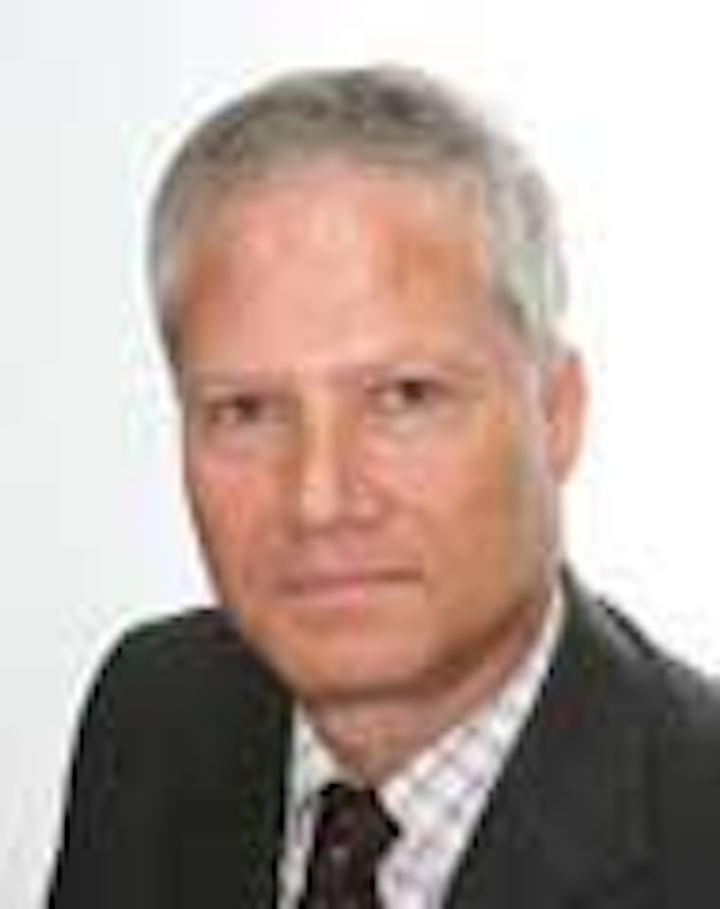 | | | |
| --- | --- | --- |
| | | Jeremy Beckman • London |
Husky Energy has signed an agreement with the government of Newfoundland and Labrador concerning the offshore West White Rose development. Studies are under way for a fixed wellhead platform, with first oil planned by 2017. Earlier this year Husky discovered more hydrocarbons at Northwest White Rose.
Caribbean Sea
Trinidad and Tobago's Ministry of Energy and Energy Affairs is offering six blocks for lease under the country's 2013 Deepwater Competitive Bid Round. All are east of producing oil and gas fields, in water depths ranging from 600-3,500 m (1,968-11,483 ft), with diverse hydrocarbon play types. Bids are due by Jan. 31, 2014.
•••
Ecopetrol plans to start exploration drilling next year offshore Colombia's northwest (Caribbean) coast, said CEO Javier Gutiérrez at a recent briefing in London. This would be done in partnership with foreign oil companies, he added.
South America
A consortium led by Petrobras has agreed to pay a $1.4-billion signature bonus to develop the giant Libra oil field in the presalt Santos basin offshore Brazil. The company and its partners CNPC, CNOOC, Shell, and Total were awarded a 35-year production-sharing contract for the field, thought to hold 8-12 Bbbl recoverable. Libra is 170 km (105 mi) off the coast of Rio de Janeiro in water depths of around 2,000 m (6,500 ft). The minimum work program includes 3D seismic, two wells, and an extended test, to be completed by end-2017. Libra is thought to have the potential to deliver 1.4 MMb/d at peak.
Elsewhere in the same basin, Petrobras has discovered oil with a gas cap and associated condensate in the Bracuhy structure in presalt block BM-S-24. The well was drilled in 2,251 m (7,385 ft) of water, 26 km (16 mi) northeast of the 2008 Jupiter find. Petrobras planned a formation test in the oil-bearing zone.
As head of the BM-S-9 partnership, the company has contracted an FPSO from Modec and Schahin Petroleo e Gas to produce oil and gas from the Carioca area presalt layer. This should be delivered by June 2016, and will have oil processing capacity of up to 100,000 b/d. Initial-phase development calls for four producer and four injector wells.
•••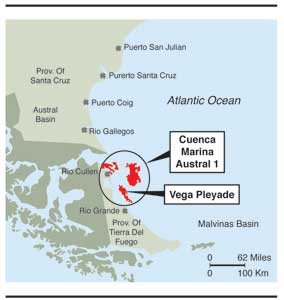 Total's Vega Pleyade development location offshore southern Argentina.
Total and partners Wintershall and Pan American Energy have committed to a new gas/condensate development offshore Tierra del Fuego, southern Argentina. The Vega Pleyade field is in the producing Cuenca Marine Austral 1 (CMA-1) concession that Total has operated since 1978. The company plans to install a wellhead platform with three horizontal wells in 50 m (164 ft) of water, with production sent through a 77-km (48-mi) pipeline to onshore treatment centers. Total plans further offshore drilling next year to boost production from the Carina field, as well as further appraisal of CMA-1.
Kosmos Energy has negotiated farm-out agreements with BP on three blocks in the Agadir basin offshore Morocco. BP will take a non-operating interest in the Essaouira Offshore, Foum Assaka Offshore, and Tarhazoute Offshore blocks. The company also will fund Kosmos' share of the cost of one exploration well in each of the three blocks, subject to a cap. They cover a total area of 25,000 sq km (9,652 sq mi) in water depths of up to 3,000 m (9,842 ft).
Additionally, Kosmos signed a petroleum agreement with the Office National des Hydrocarbures et des Mines covering the Tarhazoute Offshore block, under a reconnaissance contract since 2011. Tarhazoute is contiguous with Essaouira and Foum Assaka, and will allow integrated exploration over the little explored salt basin, Kosmos said.
•••
Tullow Oil has awarded Technip two subsea contracts with a total value of $1.23 billion for the TEN project in Ghana's Deepwater Tano concession. Technip's scope covers engineering, supply, and installation of flexible flowlines, risers, dynamic umbilicals, and jumpers.
•••
SOCO International is set to take a 60% operating interest from PAR Resources in the Mer Profond Sud license offshore Republic of Congo. SOCO will drill an exploration well, possibly in 2014-2015, testing a different structural setting and play from previous wells on the block.
•••
Cobalt International Energy has two presalt discoveries offshore Angola. The Mavinga 1 well on block 21 encountered around 100 ft (30 m) of net oil pay, while Lontra 1 on block 20 found oil and gas. Cobalt plans further drilling on Mavinga, which it hopes to tie into the deepwater Cameia development.
Mediterranean Sea
Genel Energy aims to start drilling its first operated well offshore Malta early next year, using theNoble Paul Romano. The target is the tertiary Hagar Qim prospect on the Area 4 license in around 450 m (1,476 ft) of water.
•••
Lebanon's Minister of Energy and Water has extended the deadline for submission of bids for the country's first offshore licensing round to Jan. 10, 2014. This follows the cabinet's delays in issuing decrees concerning delineation of offshore blocks - five are on offer, but more could be added. Fifty-two companies pre-qualified for the first round.
Middle East
Qatar Petroleum has awarded Technip an engineering, procurement, installation, and commissioning contract for the FMB project, which involves tie-in of new offshore facilities. Technip will supply a living quarter platform and a utility platform, with the topsides installed in both cases via the floatover method.
•••
In the UAE, the governments of Ajman and Sharjah have agreed to develop the shared Zora field around 40 km (25 mi) off their two coasts. According to operator Dana Gas, once negotiations on issues such as gas sales are concluded, a contract will be awarded for fabrication and installation of an offshore unmanned platform.
East Africa
ExxonMobil has secured extensions to its three production-sharing contracts offshore Madagascar, allowing exploration to re-start on the Ampasindava, Cap St. Andre, and Majunga concessions. The company plans various shore-based and offshore studies and environmental assessments in preparation for deepwater drilling.
Australian company Pura Vida Energy has agreed to farm into 50% of the offshore Ambilobe block north of Ampasindava from Sterling Energy. Pura Vida sees potential for large oil discoveries in salt-related plays, and will fund acquisition and processing of new 2D and 3D seismic data.
India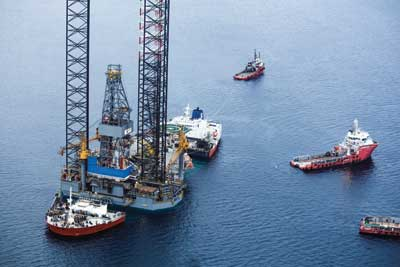 Hercules Triumph on its way from Sri Lanka to drill for Cairn offshore India.
GAC Sri Lanka has towed the drilling rigHercules Triumph from the port of Trincomalee in Sri Lanka 700 NM to Kakinada, India. Following its arrival, the rig was due to start operations for Cairn Energy on the Ravva oil field.
Gazprom has started gas production from Kirinskoye, Russia's first subsea development, in the Sakhalin III concession in the Sea of Okhotsk. The seafloor facilities, 28 km (17.4 mi) offshore in 90 m (295 ft) of water, comprise high-pressure flowlines connected to a manifold. Gas is transported via a subsea pipeline to the onshore processing plant in the Sakhalin region for onward delivery to eastern Russia. The subsea facilities are designed to continue operating under ice, and to withstand up to nine-point magnitude earthquakes.
•••
CNOOC is reportedly offering 25 new offshore blocks under a partnership arrangement with foreign companies. Seventeen are in the South China Sea, three in the East China Sea, and five in the Yellow Sea and Bohai Sea. Data on the blocks will be available for viewing until Dec. 30.
In the offshore Bohai region, the company has discovered heavy oil in the Luda North structure in Liadong Bay, in 31 m (102 ft) of water. CNOOC drilled two wells and applied a new technique in thermal recovery technology during a flow test. In the southern part of Liadong Bay the company has produced first oil from the Suizhong 36-1 Phase II adjustment project. This involved adding four new platforms and enhancing existing facilities at the field center.
•••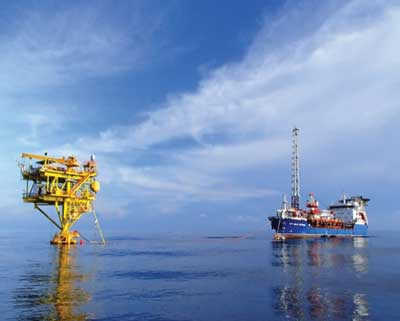 EPVBalai Mutiara connected to the Balai-2 wellhead platform.
Mubadala Petroleum has discovered gas in the Pegaga prospect, 250 km (155 mi) northwest of Bintulu in the Sarawak basin. According to Petronas the well, drilled in 108 m (354 ft) water depth, encountered a 247-m (810-ft) gas column.
Northeast of Bintulu, theBalai Mutiara early production vessel has delivered first oil from an extended well test on the Balai field. Petronas and partners Roc Oil and Dialog D&P were awarded the Balai Cluster risk service contract in August 2011. The partners have also installed four lightweight guyed caisson wellhead platforms. Production and reservoir information from the test will be used for the full-field development.
Offshore Peninsular Malaysia, Petronas has approved Lundin Petroleum's development plan for the Bertam oil field in block PM307. This involves construction of a 20-slot wellhead platform, to be installed alongside a spread-moored FPSO in 76 m (249 ft) of water. Lundin plans 14 horizontal wells with electric submersible pumps, and estimates the project's cost, excluding FPSO-related expenses, at around $400 million.
Australia
Eni says the Evan Shoals field in the Timor Sea off Northern Australia contains at least 8 tcf of gas. The company upgraded reserves following the Evans Shoal North-1 appraisal well, drilled in 111 m (364 ft) of water on the NT/P48 permit, 300 km (186 mi) northwest of Darwin. During a test, the well flowed at an equipment-constrained rate of 30 MMcf/d. Eni favors a fasttrack development. Shell operates the permit; other partners are Petronas and Osaka Gas.
•••
Australia's government has awarded new exploration permits offshore Western and South Australia, under the country's 2012 Offshore Petroleum Exploration Acreage Release. These could lead to exploration investments of up to $730 million over the next six years.
•••
Chevron has acquired 100% interests in two deepwater blocks in the Bight basin off South Australia. Blocks S12-2 and S12-3, covering a total area of 32,375 sq km (12,500 sq mi), are 275 mi (443 km) west of Port Lincoln.
•••
Esso Australia Resources has started up the $4.5-billion Kipper Tuna Turrum project in the Bass Strait. This involves producing gas from the Tuna field through two new pipelines, and oil from the Turrum field through the new Marlin B platform. Kipper is set to enter production in 2016 following the installation of mercury removal facilities. Turrum and Tuna are part of Esso/BHP's Gippsland basin joint venture. The same two companies are partnered by Santos in the Kipper venture.