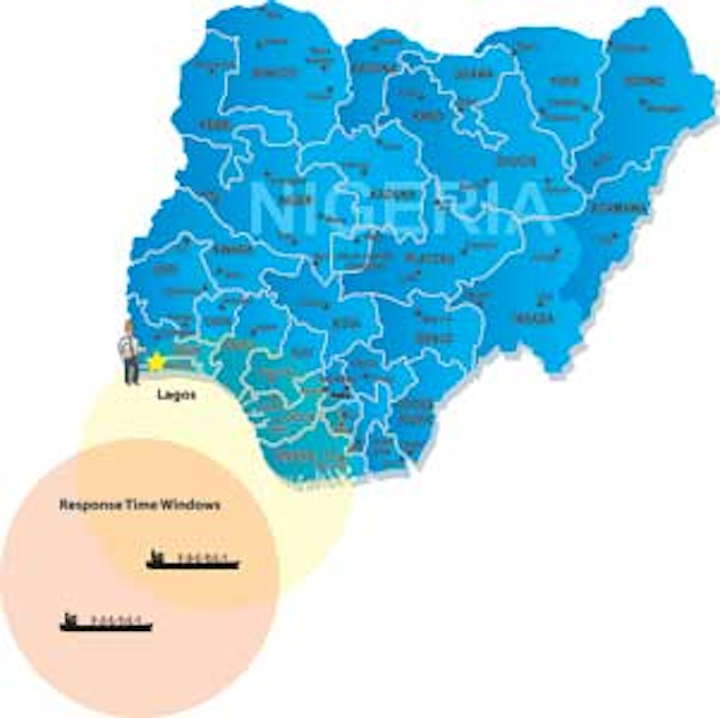 Blake McLane
Emerging Markets Communications
Over the past five years, nearly 50 new deep offshore plays have been discovered off the coast of West Africa, cementing the region's reputation as a vast resource of untapped potential.1 In fact, about one-third of new discoveries worldwide since 2001 have occurred in West Africa, most of these offshore.2 This boom in activity has drawn dozens of E&P operators, including supermajors and large independents, and has created thousands of new jobs and a growing need for service providers and infrastructure.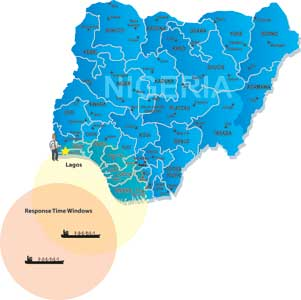 Emerging Markets Communications' local presence in Nigeria provides support for network sustainability for offshore assets in West Africa.
As offshore activity in West Africa continues to increase, so does the demand for reliable communications, and a critical element of operational performance is an unfailing real-time connection. Companies in the region, both on maritime and fixed assets, require communications providers who can install, maintain, and repair services quickly.
Oil and gas service providers that offer expertise in offshore (typically remote) services depend on specialized satellite-based communications providers to ensure optimal reliability, with no lags or breakdowns. If a communications disconnect does occur, they immediately turn to satellite-based providers to fix the problem as rapidly as possible.
An international oil and gas service provider of more than 40 maritime support vessels, with operations offshore West Africa, leveraged Emerging Markets Communication (EMC), a satellite network provider to deliver communication services.
Threat of remote breakdown
Traditional communications networks in West Africa - both conventional and remote - have proven troublesome and more prone than usual to interruptions and breakdowns, due mainly to vulnerable hardware, unstable infrastructure, and insufficient backup capabilities.3 For these reasons, satellite-based communication is sought-after as a viable alternative and is considered essential in maritime operations in remote locations.
The service provider deploys and maintains dozens of vessels along the West Africa coast, with a concentration in Nigeria, and provides offshore support for various deepwater platforms. The company found itself in a constant struggle to maintain consistent network services, not uncommon for companies in the region.
Furthermore, it sustained repeated hardware damage to its communications equipment due to harsh weather and wear and tear, seriously compromising uptime and connectivity between operations centers and vessels.
Because real-time operations are critical, when service goes down, it must be repaired quickly and effectively. This is a standard request, and applies to every communications network in play across the globe. Often however, companies in emerging markets deploy an ad hoc approach, using heuristic techniques and hardware/software patches to resolve issues and maintain business continuity.
In some regions this is standard protocol, as no alternative exists. While this provides short-term relief, it does not address long-term requirements and sustainability. The service company recognized that a permanent network backbone - built to sustain service and deliver optimal uptime - was crucial, from both a business and operational standpoint.
West Africa presents a range of emerging market issues, not least of which is network reliability and business continuity in the face of environmental and geopolitical challenges. Remote communications, an essential commodity in most cases, presents a continuous challenge in many areas of the continent, extending to offshore engagement for most, if not all, companies engaged in the region.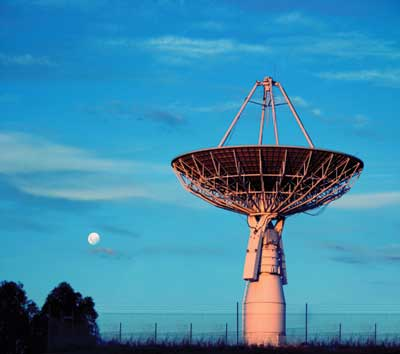 Teleports direct satellite connectivity traffic to offshore rigs and vessels.
As part of the solution to the downtime, EMC provided immediate hardware fixes as well as a longer-term and more permanent solution. The company deployed its Lagos field support team to design a new network configuration that merged new equipment with deeply leveraged network continuity protocols, combining VSAT and terrestrial requirements within a "network bubble" that incorporated roaming services for the customer's maritime vessels within the region. This undertaking was completed in less than 48 hours.
One issue identified early on was latency, which resulted in slower connectivity speeds. The recommended solution for this was MultiProtocol Label Switching (MPLS), a key vehicle to accelerate and to manage network traffic between fixed and roaming points. It uses dedicated virtual links capable of encapsulating a range of network protocols and access technologies. It is useful for remote networks, as it optimizes reliability while maintaining a high degree of performance (i.e. the network is configured to always choose the shortest path within an available bandwidth, agnostic to network or bandwidth fluctuations).
The solution also provided optimized network integration for the customer's hardware, including upgrades to equipment. In particular, EMC specified VSAT hardware with C-band and Ku-band antenna capabilities, elevating overall system reliability and capability (i.e. satellite broadband at sea functionality).
This solution was also delivered using an "inclusive backbone" approach, incorporating a range of regulatory, logistical, support, management, and infrastructure requirements. This approach provides cost predictability in conjunction with full project oversight and reliable rapid response and troubleshooting.
While remote and especially offshore communications will continue to be a challenge, it is imperative that progress be made to ensure continual connectivity for real-time communications. In this cast, the oilfield service provider was not only up and running in less than 24 hours, but had a stronger network in place to ensure 24/7 connectivity between their vessels and their customers' on and offshore.
References
1 Deepwater oil and gas activity in West Africa extends roughly from Angola northward to Mauritania, with Nigeria and Angola recognized as the region's heavyweights, boasting more than 75% of the region's total offshore oil and gas production over the past decade.
2 Offshore activities represent the lion's share of total oil and gas production for the region, accounting for more than 78%, a 20% increase since 2001. West Africa enjoys an annual average growth rate of 6%, making it one of the most productive and profitable regions in the world.
3 Best-in-class communications networks deliver various reliability protocols, such as N+1 or 2N redundancy, to insure optimal reliability and uptime. These protocols, while increasingly deployed worldwide, are still often deficient in West Africa and other emerging markets.
Steps necessary for communication success offshore West Africa
The inclusive rapid-response approach - an approach that addresses both immediate fixes and longer-term solutions - is becoming the industry standard, despite the obstacles inherent in emerging markets in particular. The following protocols and deployments represent current "best practice" implementation for communications network providers in West Africa:
Localized support in African countries
Established field support locations with rapid response capabilities (12-48 hours)
Direct engineering expertise
State-of-the-art hardware and equipment
Licensing
Establish and maintain communications (VSAT) licensing in all required countries/regions
Maintain licensed, direct-buy environments for hardware and services
Maintain expert knowledge of customs and regulations in all operating countries
Deliver both VSAT and terrestrial service and support
Maintain proprietary Multiprotocol Label Switching (MPLS) PoP installations
Provide reliable teleports between fixed satellite relays and remote assets
Maintain reliable satellite-based network roaming for remote assets.