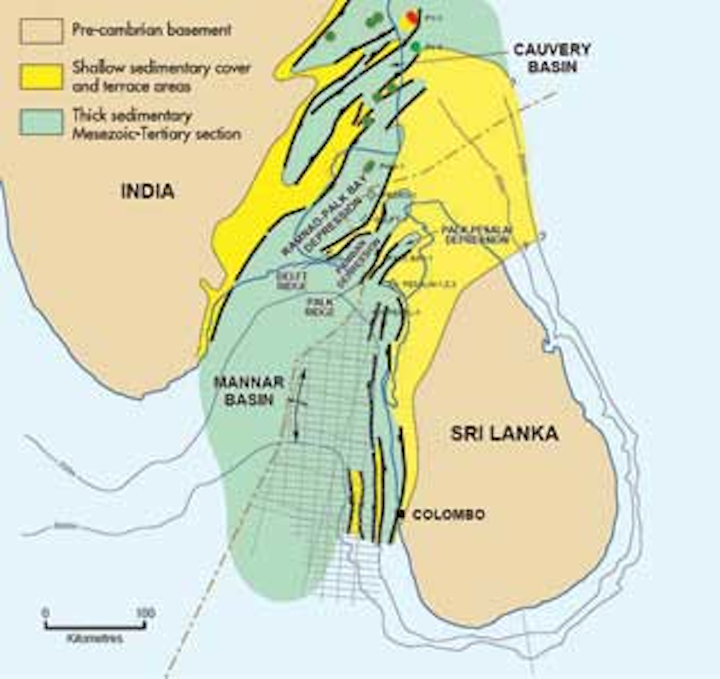 Second licensing round aims to capitalize on Cairn India discoveries
Gurdip Singh
Contributing Editor
In an aggressive bid to develop indigenous hydrocarbon resources, Sri Lanka is set to lease 13 blocks in the Cauvery and Mannar basins next year, along with six ultra-deepwater "joint study" blocks to the east and south of the island nation, each ranging from 18,000 to 26,000 sq km (6,950 to 10,040 sq mi). The blocks in the Cauvery basin range in size from 2,403 sq km (928 sq mi) in the shallow waters of the Palk Straight, between Sri Lanka and India, to 4,566 sq km (1,763 sq mi) in deepwater to the northeast of Sri Lanka. The blocks in the Mannar basin are larger, ranging in size from 2,714 sq km (1,048 sq mi) to 8,120 sq km (3,135 sq mi) in the deep to very deep waters of the Gulf of Mannar.
The bid round covers blocks off the northern and western coasts of Sri Lanka in the Cauvery and Mannar basins. (Image courtesy PRDS)
In addition, the country is taking a very broad approach in dealing with international oil and gas companies to ensure a "win-win" scenario when agreements are signed in 1Q 2014.
The country's Petroleum Resources Development Secretariat (PRDS) is working on many models for developing production-sharing contracts and alternatives. PRDS Director General Saliya Wickramasuriya believes the potential for growth is high, both in the hydrocarbon production and demand from the domestic market through the development of natural gas-based power generation.
Under the first round in 2007, Sri Lanka leased one block in a three-block offer. Cairn India Ltd. took the concession and made two discoveries, Dorado and Barracuda, in late 2011. The development of these two discoveries will provide a strong lead for the second round bidders.
"Discussions are still ongoing, and PRDS hopes to award at least two blocks on a joint study basis within the year," said Wickramasuriya. "There is very little data about hydrocarbon resources of these blocks, and no exploration history, so we are unable to estimate potential at this time."
But Wickramasuriya is quick to point out that neighboring India is producing oil and gas from its side of the Cauvery basin, and the two discoveries by Cairn India in the Mannar basin are proof of hydrocarbon potential in Sri Lankan waters. He also notes that the Bay of Bengal submarine fan and the continental abrupt margin both have sizeable potential.
International consultant IHS performed a legal and fiscal benchmarking exercise, comparing the existing Sri Lankan regimes to several other countries across a range of production scenarios. "The end result was that, for the second bid round, we made some adjustments to both enhance our competitiveness and provide greater investor security," Wickramasuriya added. "The impacts of these changes have been modeled in a recent study and have clearly increased our 'attractiveness' in terms of many parameters.
"The true test, of course, will be the number and quality of bids," he observed.
Sri Lanka offers an eight-year exploration period in three phases: three-year, two-year, and three-year.
Wickramasuriya says the country's new petroleum act provides "a clearer separation of policy, regulation and operations, a more empowered regulatory authority for expedient decisions, and clearer definition of roles, responsibilities, powers and functions."
Benchmark development
The development of Cairn India's discoveries will benchmark future investments. The PRDS assures it has taken the best options in exploiting gas and transporting it to power generation plants through pipelines, which will be the backbone of future infrastructure.
Wickramasuriya says the two discoveries suggest that there could be vast recoverable reserves off Sri Lanka's western coast. "The smaller field, Dorado, is the subject of our ongoing commercialization discussions, the success of which will determine the first gas flow for Sri Lanka," he commented. The field is estimated to begin gas production in 2017 or 2018.
"We will be taking into account future expansion capabilities when designing the Cairn block infrastructure. We anticipate being able to produce more fields in the Mannar basin through the same system. We are looking at the subsea production system and the onshore pipeline as separate projects, with the latter potentially a prime investment opportunity."
He notes that the world energy industry is watching the development of the Cairn India resources, gas pricing, and supply, as well as the monetization of reserves.
"Reservoir uncertainty needs to be reduced by testing the next appraisal/development well. This will validate assumptions on deliverability and gas calorific value," he said. "We also need to rigorously examine the risks with respect to flow assurance from wellhead to boiler."
Despite the fact that coal currently has a price advantage over liquid fuel-fired thermal energy, it is nevertheless 100% imported, leaving Sri Lanka exposed to an increase in the global price of coal, a trend predicted by many analysts.
"This dependency [on imported energy] drives our urgency to establish domestic oil and gas production, as this would ultimately be the key to our energy security," he added.
"We have a contractual regime in place, and follow a production-sharing contract format. Our petroleum resource agreement allows for production sharing based on average daily production rates," he said.
"Our new petroleum legislation will permit direct application for any unallocated acreage post the bid round and any time in the future, as our priority is to maximize exploration activity all around the island."