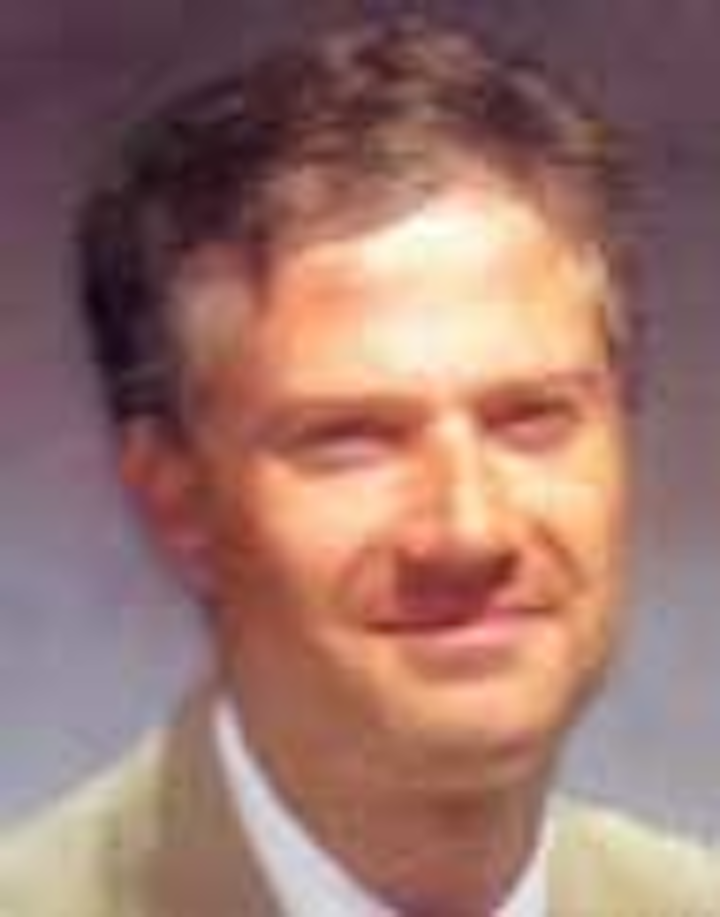 | | | |
| --- | --- | --- |
| | | Jeremy Beckman • London |
Exploration in Europe continues to head north, with Iceland provisionally awarding concessions to two consortia under the country's second licensing round. UK independent Faroe Petroleum will operate seven blocks, in partnership with Iceland Petroleum, in the Dreki area off northeast Iceland. Orkustofnun, the country's National Energy Authority, issued further licenses in this area to Valiant Petroleum and local company Kolvetni. A third application, by Eykon Energy, remains under review.
Jan Mayen is a microcontinent in between the conjugate margins of Greenland and the Norwegian continental shelf. Analysis of seabed samples from the northern part of Faroe Petroleum's blocks suggest the presence of Mesozoic sedimentary rocks and a working hydrocarbon system, with analogies to oil fields offshore both Norway and the UK.
As elsewhere in the North Atlantic, the window for offshore activity may be limited. Late last year, Faroese authority Jarðfeingi accepted a request from Statoil to suspend work on well 6104/21-2 (Brugdan II) offshore the Faroe Islands until later this year. This is a complex well that has already taken five months to drill, and harsh winter conditions could have created further problems. The Faroese government accepted that the priority was a successful result, and hopefully a first discovery for the islands.
ExxonMobil, which is a partner in the Brugdan well, has received sanction to take a 20% stake in offshore production license 016, also operated by Statoil, and awarded under the third Faroese licensing round in 2008.
Due east of Iceland, 36 companies have submitted bids for 86 blocks and part-blocks in the Norwegian Barents Sea and Norwegian Sea. These areas were the focus of Norway's 22nd licensing round - most of the established players participated. Licenses should be issued before mid-year.
Ireland plans frontier seismic grid
Ireland's government is looking to stimulate activity in the country's frontier western offshore basins. Although the country's 2011 Atlantic Margin licensing round resulted in a record 13 awards, large parts of the available acreage drew no offers. These regions have proven petroleum systems, but applicants may have been deterred because seismic data coverage is patchy at best.
The Department of Communications, Energy and Natural Resources has therefore decided to commission a new survey program designed to deliver a regional grid of high quality seismic data over Ireland's frontier basins. Eni, one of the few majors active in these areas, has agreed to operate the program and provide technical support. Seismic acquisition should start this year, pending appointment of a contractor. The government hopes the resultant data will allow the frontier resource potential to be predicted with much greater confidence, allowing it and the industry to better evaluate future licensing needs.
Another priority is to develop a transparent and effective regulatory system for Irish oil and gas exploration and production. This includes establishment of a petroleum safety framework, which could be in place in late 2014 when gas production is due to start from Shell's Corrib field development off western Ireland.
Total proves oil close to Visund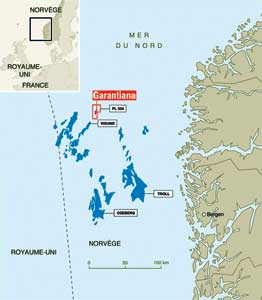 Location of the Garantiana oil discovery.
Total has confirmed a 25-75-MMbbl oil find from its recent well on the Garantiana prospect in the Norwegian North Sea, drilled by the semisubmersibleBorgland Dolphin. The location is 30 km (18.6 mi) northeast of the Statoil-operated Visund field in 384 m (1,260 ft) of water. During a test, the well flowed 4,300 b/d from the lower Jurassic Cook formation, and an appraisal side track confirmed the extent of the discovery. The partners are considering a stand-alone development or a tieback to a platform in the area, although there are other prospects under evaluation nearby. A second exploration well will be drilled sometime next year.
In the Barents Sea, Lundin Norway has a minor oil discovery in license PL490, 10 km (6.2 mi) northwest of the Snøhvit gas/condensate field. Oil was encountered in thin sandstone strata in the Kolmule formation - studies will continue to determine whether the find is commercial.
Statoil has approval from the Norwegian Ministry of Petroleum and Energy for its first subsea tieback to the Grane production complex in the North Sea. The Svalin development takes in two structures - Svalin M will be drilled directly from the Grane platform, while Svalin C will be developed via a subsea facility connected to the platform via a 6-km (3.7-mi) pipeline. Recoverable reserves are estimated at 75 MMbbl, and the extra production should keep Grane in service through 2030.
North Sea operators re-direct focus
Wintershall may have opened a new oil play in the Dutch North Sea. A well on the F17a license, drilled by the jackupGSP Saturn in 44 m (144 ft) of water, found oil in a late-Cretaceous chalk reservoir. Early analysis suggested at least 30 MMbbl recoverable, with strong upside. The partners plan to appraise the discovery this year. Wintershall has some minor oil production in the sector from the Kotter and Logger fields, originally developed by Conoco, but these have been in steady decline.
Under a continuing cooperation with Russia's Gazprom, Wintershall has agreed to increase its stakes in blocks on part of the Urengoi gas/condensate field onshore Siberia. In exchange, Gazprom is taking a 50% interest in Wintershall Noordzee's oil and gas E&P operations in the UK, the Netherlands, and Denmark. Currently, Wintershall operates 23 offshore installations in the Dutch sector, of which 18 are controlled remotely from the port of Den Helder, and two gas platforms in the UK and German sectors.
Tullow Oil, which acquired various gas production interests in the southern North Sea prior to becoming established as a major operator offshore Ghana, is now looking to exit the sector. By end-2013 it aims to sell all its E&P holdings offshore the Netherlands and UK, including operatorship of the Schooner/Ketch fields. Instead, the company will focus its energies on building up Tullow Norway, having agreed to acquire Norwegian independent Spring Energy for $372 million. Spring has interests in 28 licenses in the North Sea, Norwegian Sea, and Barents Sea, including six commercial discoveries. Tullow's new division will manage these and the company's exploration acreage offshore Greenland.