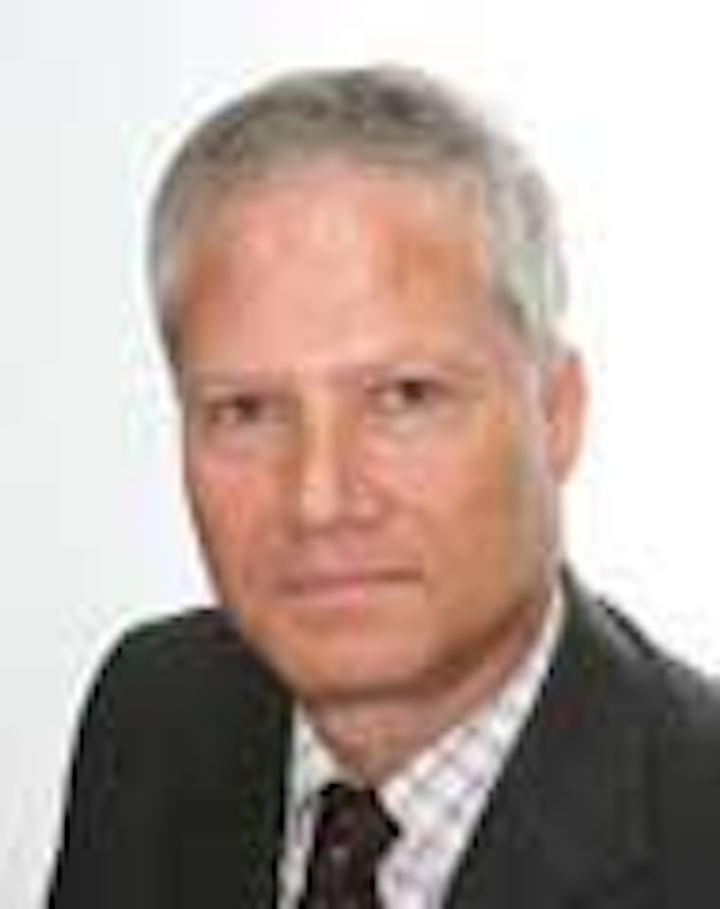 | | | |
| --- | --- | --- |
| | | Jeremy Beckman • London |
Global investment in offshore pipelines will grow by nearly 60% during 2013-17, according to a report by Infield. Europe will account for the largest share of capex (25%) for two main reasons. First is the growth in long-distance trunklines taking gas from Russia and the Caspian Sea, crossing Eastern Europe in the case of South Stream and Shah Deniz II, and the North Sea, assuming expansion of the Nord Stream system. The other factor will be increased development of remote fields in the UK and Norway with long-distance connections to offshore infrastructure.
Asia is also set for strong growth, mainly from shallow-water pipelines offshore Indonesia, Malaysia, and Thailand, but also from subsea infrastructure associated with deepwater floating platforms.
North America
Suncor Energy was due to take the Terra Nova field FPSO off station this month from its location offshore Newfoundland and Labrador. The planned maintenance program will be extended to 11 weeks after an underwater inspection revealed that one of the vessel's mooring chains had broken. The component will be repaired and maintenance completed on the remaining eight chains.
•••
Bahamas Petroleum has secured three-year extensions for each of its five licenses offshore the Bahamas. The company is in talks with potential farm-in partners to co-fund drilling of a mandatory exploration well by 2015. Drilling could start on the southern licenses during the second half of 2014.
South America
Tullow Oil has agreed to two license deals with Japan's Inpex. One gives Tullow a 30% interest in block 31 offshore Suriname, where Inpex subsidiary Teikoku Oil is currently the sole licensee. Offshore Uruguay, Tullow has agreed to transfer 30% of its equity in Area 15 in the Pelotas basin to Inpex, subject to approval from Uruguayan regulator Ancap. Here Tullow is preparing to evaluate newly acquired 3D seismic, over acreage in 2,000 to 3,000-m (6,561 to 9,842-ft) water depths.
•••
Shell and partners Petrobras and ONGC have committed to two new deepwater projects offshore Brazil. One involves a redevelopment of the Bijupirá/Salema fields, with four new wells expected to lift production to 35,000 boe/d during 2014. The other calls for installation of subsea infrastructure to tieback the Massa and Argonauta O-South fields to the FPSO serving the Parque das Conchas (BC-10) development. The current tie-in of Argonauta O-North should be completed later this year, adding 35,000 boe/d at peak.
•••
Petrobras has completed drilling and formation tests of its fourth exploration well on block BM-S-11 in the Iará area of the presalt Santos basin. Results confirmed good-quality, 28° API oil with strong porosity/permeability characteristics in the Carbonate reservoirs. The location is 6 km (3.7 mi) west of the discovery well in 2,197 m (7,208 ft) of water, and 226 km (140 mi) off the coast of Rio de Janeiro.
BP has farmed into five Petrobras-operated exploration blocks in the Poliguar basin, 40-110 km (25-68 mi) from the coast of Rio Grande do Norte and Ceará states. Water depths range from 50-2,100 m (164-6,890 ft).
West Africa
ConocoPhillips will farm in to three contiguous blocks offshore Senegal. The Rufisque, Sangomar, and Sangomar Deep concessions hold potential resources of over 1.5 Bbbl. Operator Cairn Energy has secured the semisubCajun Express to drill two exploration wells in 2014. If the program brings a commercial discovery, ConocoPhillips could operate the subsequent development.
•••
AGR will provide well management services for Svenska Petroleum's exploration drilling campaign on blocks 2 and 5A offshore Guinea Bissau, due to start late this year.
•••
Tullow Oil has contracted MODEC to supply and operate an FPSO for the deepwater Tweneboa/Enyenra/Ntomme (TEN) project, the second in the Deepwater Tano license offshore Ghana. The VLCCCentennial J will be converted for the role, handling 80,000 b/d of oil and 170 MMcf/d of gas with 1.7 MMbbl of fluids storage capacity. SOFEC will design the associated mooring system. The TEN fields are in average water depths of 1,500 m (4,921 ft). MODEC also supplied the FPSO Kwame Nkrumah serving the Jubilee development.
•••
Noble Energy has started production of gas/condensate from the Alen field in blocks 0 and 1 offshore Equatorial Guinea. Production is sent to the Aseng field FPSO for storage. The project was completed at a cost of just under $1.37 billion.
•••
Eni has discovered a potential oil and gas giant in shallow water in the Marine XII block offshore Congo. The Nene Marine 1 and 2 wells were drilled close together in around 24 m (79 ft) of water, encountering wet gas and light oil in the presaline Lower Cretaceous clastic sequence. Eni estimates in-place resources at around 600 MMbbl and 700 bcf, with exploration upside.
•••
State oil company PetroSa is teaming with Sasol to explore an offshore block in South Africa's Orange basin, their first cooperation in 10 years. Block 3A/4A on the country's western margin is little explored, but is on trend to the Ibhubesi gas field to the north. Water depths range from 100-500 m (328-1,640 ft).
Caspian Sea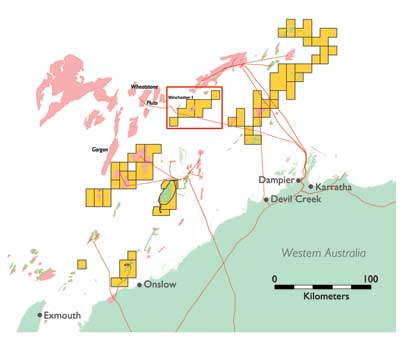 Platform substructures under transport from Astrakhan to the V. Filanovsky field. (Photo courtesy Lukoil)
A transport and installation barge has towed platform substructures from Astrakhan in southern Russia to Lukoil's Vladimir Filanovsky field in the northern Caspian Sea. The LQP-1 and RB substructures, supporting the living quarters and riser block platforms, will be fixed to the seafloor via driven piles. Next to be installed are the substructures for the central processing platform, followed next year by the four platform topsides and their connecting bridges, all built by yards in Astrakhan.
Mediterranean Sea
Greece's government has awarded a consortium led by Hellenic Petroleum an exploration block offshore western Greece. The Patraikos concession covers 1,892 sq km (730 sq mi) in the Gulf of Patra, in water depths of 100-300 m (328-984 ft). According to Irish partner Petroceltic, the site has oil prospectivity in Jurassic, Cretcaeous, and Eocene formations. Initial work will include geological studies and 2D and 3D data acquisition.
Australasia
Oil Search has proven gas in the Hagana prospect offshore Papua New Guinea. The well hit the target in the deeper Pliocene objective, confirming a new turbidite sand play with gas charge and retention at this stratigraphic level. Hagan is 225 km (140 mi) west of Port Moresby in 105 m (344 ft) of water. The find is a short distance northeast of Oil Search's recent Flinders gas discovery, the first well drilled in the Gulf of Papua in over a decade, the company claimed. The rig was next due to drill the Kidukidu prospect in license PPL 385, 40 km (25 mi) southwest of Hagana.
•••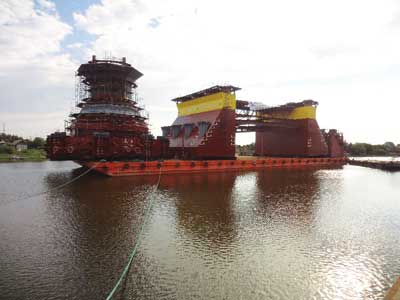 Location of the Winchester gas discovery in the Carnarvon basin. (Image courtesy Santos)
Santos achieved its fourth consecutive gas discovery off Western Australia with the Winchester-1 well in the Carnarvon basin. Wireline logs and pressure testing confirmed 40 m (131 ft) of net pay in the Jurassic Angel and Triassic Mungaroo formations. The location is the WA-323-P permit, 135 km (84 mi) northwest of Dampier and in 75 m (246 ft) of water. The earlier finds were Crown, Bassett West, and Bianchi.
Middle East
Qatar Petroleum and Occidental Petroleum have sanctioned Phase 5 development of the Idd El Shargi North Dome (ISND) field offshore Qatar. Their aim is to sustain production at around 100,000 b/d of oil for the next six years. Phase 5 will involve implementing or improving water-flood schemes in all ISND's producing reservoirs; drilling over 200 new production, water injection, and water source wells; and installing associated minimum facilities platforms, wellhead jackets, and fluid-processing equipment. Additionally, pilot studies will start for produced water reinjection and EOR. Costs could exceed $3 billion.
•••
The Iranian Research Institute of Petroleum Industry (RIPI) and Kish Oil aim to develop the Tousan oil field, southwest of Qeshm Island in the Persian Gulf, originally discovered by Petrobras. Reserves are estimated at 400 MMbbl with around 25% recoverable. Four wells will be drilled from a new offshore platform, with first-phase production of 7-10,000 b/d heading through a 30-km (18.6-mi) pipeline to an onshore treatment plant.
East Africa
BG has discovered gas in the Mkizi structure in Tanzania's deepwater block 1. The drillshipDeepsea Metro made the find in 1,301 m (4,268 ft) of water, between the earlier Jodari and Mzia discoveries, encountering gas in a Tertiary stacked channel complex. There could be 600 bcf recoverable, according to partner Ophir Energy.
To the south, Statoil's first operated well offshore Mozambique also found gas in the Cachalote structure in Area 2, but not in large volumes, according to partner Tullow. The productive section was an upper Cretaceous deepwater channel system on the outboard flank of the Ibo High. The drillshipDiscoverer Americas has since spudded the Buzio-1 well in the eastern part of the license.
India
Reliance Industries is considering sharing its east coast oil and gas-related infrastructure with ONGC. Under a memorandum of understanding, both companies have agreed to perform a joint study which will investigate commercial terms. ONGC believes the arrangement could speed up development of its deepwater fields adjacent to those operated by Reliance offshore eastern India.
Southeast Asia
Salamander Energy has discovered oil in the Surin prospect in the Gulf of Thailand, 25 km (15.5 mi) from the offshore Bualang complex. The well was drilled in the G4.50 block in the central part of the western sub-basin, encountering oil in Miocene fluvial sandstones.
•••
CNOOC has notched two shallow-water Bohai Bay oil discoveries offshore China. Bozhong B-4, drilled on the west slope of the Bozhong Sag, encountered oil pay zones with a total thickness of 50 m (164 ft) and flowed 660 b/d during testing. Kenli 10-4-1, drilled on the south slope of the Laizhou Bay Sag, intersected 45 m (147 ft) of oil pay and tested 2,800 b/d.
In the South China Sea, the 30,000-metric ton (33,069-ton) jacket has been installed for CNOOC's Liwan gas field central platform. All nine development wells have been completed and will be connected to deepwater production facilities. Pipelay is also nearing completion.
In the same sector, the company has signed production-sharing contracts with BP and Shell. BP's covers deepwater block 54/11 in the Pearl River Mouth basin in the east of the sea, where water depths range from 370-2,300 m (1,214-7,546 ft). Shell's PSC is for block 35/10 in the Yinggehai basin, in 80-110 m (262-361 ft) of water. During the exploration period, Shell will acquire 3D seismic and possibly drill wells, covering all associated expenditure.
•••
Japan's first-ever exploration well off its northwest coast was a dry hole. Japan Drilling performed drilling, on behalf of the JX Holdings joint venture, 30 km (18.6 mi) southwest of Sado Island in 110 m (361 ft) of water.