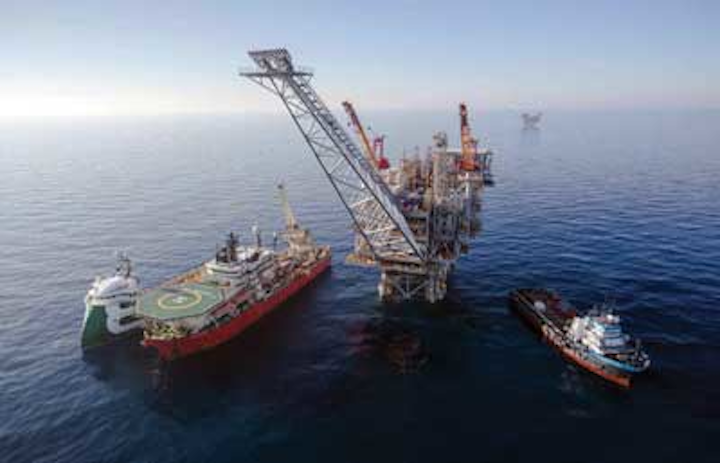 Bruce Beaubouef
Managing Editor
Developers look to expand presence offshore Israel
The Middle East continues to be one of the world's most active offshore regions as operators, developers, and state oil companies continue to advance plans for new and existing exploration and production projects.
New drilling campaigns are taking place offshore Saudi Arabia; field development is occurring off Iran; and enhanced recovery efforts are being implemented off the coast of Qatar, all in an effort to meet regional and international oil and gas demands.
Meanwhile, offshore Israel is shaping up to be one of the hottest development areas in the region, as it continues to attract investment from operators and E&P firms. The following is a brief overview of activity across the Middle East.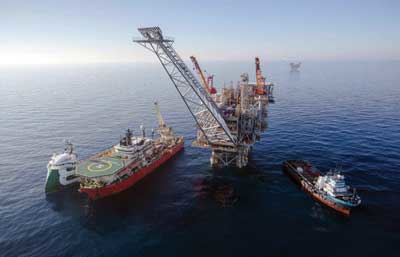 The Tamar production complex, located in Israel's exclusive economic zone in 5,600 ft (1,700 m) of water, became fully operational during 2Q 2013 after four years of development work. (Photo courtesy Noble Energy)
Offshore Israel, Noble Energy says the Tamar production complex became fully operational during 2Q 2013, with uptime reliability of more than 99%. Israel's gross gas production averaged 676 MMcf/d (19 MMcm/d), with Tamar contributing 636 MMcf/d (18 MMcm/d), with a single-day production high of 784 MMcf/d (22 MMcm/d) during the period. There are plans to expand the Ashdod onshore reception terminal, which handles Israeli gas produced offshore.
Noble estimates resources at this year's offshore Karish discovery in the 1.6-2 tcf (45-57 bcm) range. Total gross mean resources in the Levant basin now stand at around 38 tcf (1.1 tcm).
The Tamar field development is probably the most well-known project offshore Israel, but there are others. Recently, partners in the Gabriella license offshore Israel agreed to resolve their disputes over their respective funding obligations. The disputes caused drilling of a first exploratory well to be suspended earlier this year.
Under the settlement and release agreement, Adira Energy, Modi'in Energy, and Brownstone Energy will waive and release each other from any claims and demands they have with respect to the license. Additionally, they will fund their proportionate share of costs in connection with the attempted drilling of the first well.
The agreement also gives the partners rights to participate in any farm-out of their interests in the concession realized by the other members, for a period of one year. Adira also agrees to relinquish its 15% buy back option and management fee, and reduce its overriding royalty interest to 2.625%.
Adira has applied to Israel's Ministry of Energy and Water for an extension of the date for execution of the drilling contract to Feb. 28, 2014, and for the spud of the first well to Dec. 31, 2014.
As for the offshore Yitzhak license, the company is seeking extension to Sept. 30, 2014, to sign a drilling contract and to June 30, 2015, to spud of the first well.
Elsewhere offshore Israel, Modi'in Energy has revised its resource report for the Yam Hadera license. Following re-interpretation of seismic data, consultants Netherland, Sewell & Associates claim that Yam Hadera could hold up to 208 MMbbl of recoverable oil and 3.4 tcf (96 bcm) of natural gas, with a geologic probability of success of 17%-29% for different horizons. The location is 30 km (18.6 mi) from the coast, between Hadera and Haifa and northwest of Adira Energy's Gabriella and Yitzhak licenses. Adira has an option to take a 15% interest in the concession.
The growing opportunities offshore Israel have individual firms looking to expand their presence there either by acquiring more acreage, or investing in companies already operating in the area. An example of the latter could be seen in July, when Pelagic Investments (PI) announced that it agreed to acquire shares in offshore Israel exploration specialist Adira Energy. PI is an investment group managed by Prentis B. Tomlinson, who also owns Cayman Islands-based Pelagic Exploration, which holds interests in various licenses offshore Israel. Tomlinson said of Adira: "The development of the company's interests in the Gabriella and Yitzhak licenses provide a unique opportunity to access a material stake in large contingent and prospective resources in highly fractured Middle Jurassic carbonates on these Syrian Arc structures."
Developers are also making plans to commence new drilling campaigns in the region. Asia Offshore Drilling reports that it has taken delivery of its third newbuild jackup drilling rig from Keppel FELS in Singapore, and is now mobilizing theAOD III offshore Saudi Arabia, to start a three-year contract with Saudi Aramco. Seadrill is managing the operations of this rig, as well as the previously delivered AOD I and AOD II, which also are working for Aramco.
Field development is proceeding in several areas, with activities heating up offshore Iran in particular. Kish Oil Co. and the Iranian Research Institute of Petroleum Industry (RIPI) were expected to finalize a development plan in August for the offshore Tousan oil field.
According to Mahmoud Zirakchianzadeh, managing director of Iranian Offshore Oil Co. (IOOC), the plan is to deliver production of 7-10,000 b/d of oil under a first-phase development, eventually building to 25,000 b/d. There will be four wells, one offshore platform, and a 30-km (18.6-mi) pipeline transporting production for treatment onshore. Sazeh Co. is responsible for facilities design.
Zirakchianzadeh, speaking to news service Shana, added that the buyback contract for the field will be implemented within 36 months.
Tousan, discovered by Petrobras, is southwest of Qeshm Island in the Persian Gulf, and extends to Iran's maritime border with the United Arab Emirates. It holds reserves of around 400 MMbbl, with 25% considered recoverable.
IOOC plans to develop the Qeshm region into an oil and gas hub by building infrastructure to support development of the offshore Hengam, Tousan, Northwest Tousan, Taftan, Hormozha, Gorzin, Salkh, Dostko, and Forouz A and B fields.
Offshore Qatar, operators are working to increase and optimize production from older fields. Recently, Occidental Petroleum of Qatar and Qatar Petroleum agreed on the Phase 5 field development plan for the Idd El Shargi North Dome field (ISND) offshore Qatar.
The two parties have collaborated on the field since signing a development and production-sharing agreement with Qatar's government in mid-1994. Their goal is to sustain oil production levels at around 100,000 b/d over the next six years.
ISND's Phase 5 program includes implementing or improving water-flooding practice in all the field's oil-producing reservoirs.
The partners plan to drill more than 200 new production, water injection and water source wells, and to support these wells by installing associated facilities, including minimum facilities platforms, wellhead jackets, fluid processing equipment, and pipeline debottlenecking and water source projects.
In addition, they will implement pilot studies to support produced water re-injection and enhanced oil recovery projects. Total costs could exceed $3 billion.
Under separate contractual arrangements, Oxy Qatar also operates the Idd El Shargi South Dome and Al Rayyan fields in offshore block 12, in partnership with Dolphin Energy.
While development and production activities are ongoing, service providers are making efforts to ensure the region's existing offshore facilities maintain their integrity and remain fit-for-purpose. In July, Zamil Mermaid Offshore Services contracted three Saab Seaeye Panther XT Plus ROVs for a seven-year inspection and repair contract for Saudi Aramco.
According to Neil Howie, Zamil Mermaid's operations manager, the Panther XT offers a small footprint and an ability to work easily in the 2-knot shallow water currents prevalent offshore Saudi Arabia. Additionally, this range is said to handle 90% of tasks normally conducted by a hydraulic work-class ROV. The three ROVs will perform light construction, inspection, and surveying.