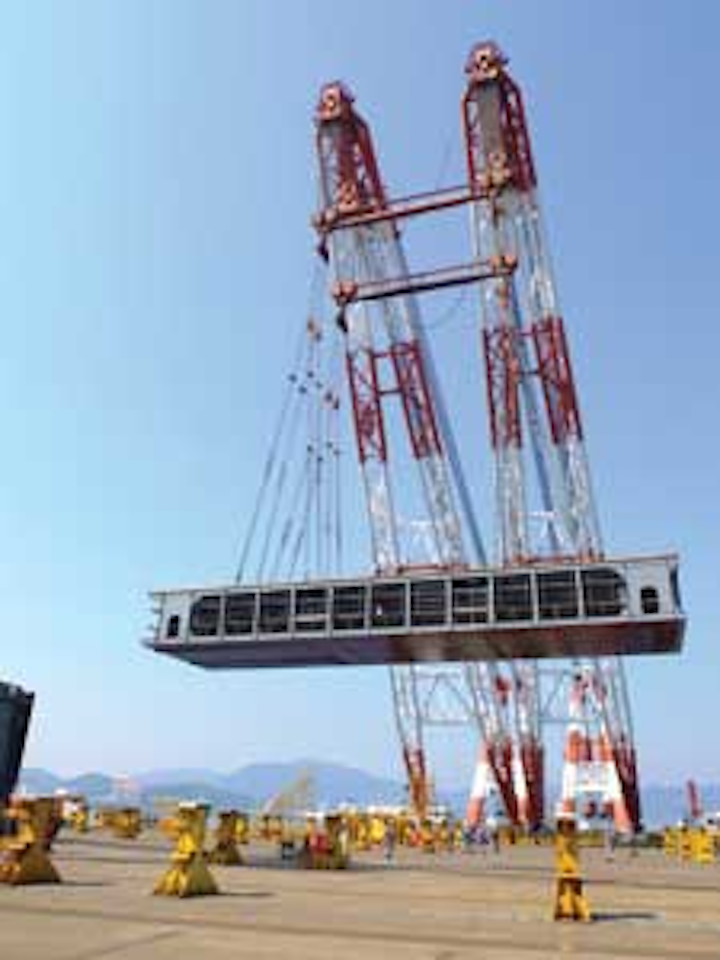 Russell McCulley
Senior Technical Editor
A public row has erupted Down Under between local elected officials, most prominently WA Premier Colin Barnett, and proponents of floating liquefied natural gas (FLNG) technology as a development solution for the west's vast offshore gas resources. The backdrop: skyrocketing labor and construction costs, coupled with new competition with likely future LNG exports from North America and East Africa that could derail several planned LNG developments, along with the new onshore liquefaction plants and the jobs they would bring.
While LNG demand, particularly in Asia, is expected to remain strong over the next decade, increased capacity could make it tougher for operators to land the long-term supply contracts needed to finance large-scale LNG projects, particularly greenfield developments like those offshore Western Australia. According to a recent report from Ernst & Young, high LNG development costs "will require ironclad long-term off-take agreements. But more recently, the market is witnessing the inherent conflict of increasingly more expensive projects trying to sell to increasingly more price sensitive buyers…As substantial volumes of lower-cost LNG move into Asian markets, projects at the high end of the supply curve - namely, many of the Australian projects - will become increasingly vulnerable."
In April, Australia's Woodside Petroleum shelved plans for the $45-billion Browse LNG development, which included a three-train processing facility at James Price Point. Saying the development concept "did not meet the company's commercial requirements for a positive final investment decision," Woodside promised to explore other options, including FLNG. Some analysts had speculated that the final cost for the James Price Point option could be double the original estimate. "Browse is a world-class resource and it will be developed," CEO and Managing Director Peter Coleman said at a conference in Melbourne last month. "But only at the right time, in the right way, to ensure maximum return to our shareholders."
Barnett was "bitterly disappointed" by the decision. "I recognize Woodside has a responsibility to its shareholders, however my obligation is to the people of Western Australia, and this decision does not benefit them." The Premier raised doubts about the safety of FLNG and the thousands of construction jobs that would have followed the James Price Point development.
Despite the engineering and technological challenges, FLNG projects could be considerably less expensive than shore-based hub developments, chiefly because much of the equipment can be fabricated in Asian shipyards. In March, ExxonMobil submitted documents to Australian authorities seeking environmental approval for an FLNG development at the Scarborough field, which the company operates in a 50-50 partnership with BHP Billiton. Plans include a 495-m (1,624-ft) long by 75-m (246-ft) wide floating production facility. A final investment decision is expected in 2014 or 2015, with first production possible about 15 years later.
Work under way
The Scarborough facility will be slightly larger than the massive substructure for Shell's Prelude, now under construction at Samsung Heavy Industries in Geoje, South Korea. Prelude is on track to become the world's first FLNG development, and the biggest offshore floating facility, when it goes into production around 2017. The floater will have an annual production capacity of 5.3 MM metric tons of liquids, 3.6 MM metric tons of LNG, 1.3 MM metric tons of condensate, and 0.4 MM metric tons of LPG.
Construction has begun in Darwin on the Prelude onshore supply base, Shell said. Work continues in Dubai on the 93-m (305-ft) high turret mooring system by SBM Offshore. The system will be shipped to Geoje in five pieces. More than 1,600 "blocks" - the large steel structures that will form the hull - have been built so far. Shell will use theNoble Clyde Boudreaux semisubmersible to conduct the Prelude drilling program, which calls for seven development wells.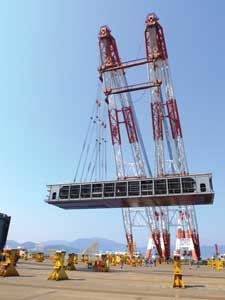 In May, workers at the Samsung Heavy Industries shipyard in Geoje, South Korea, laid the keel for Shell's Prelude floating LNG project. When complete, the 600,000-metric ton facility will be moored in 250-m (820-ft) water depths in Australia's Browse basin. With first production expected around 2017, Prelude is on target to be the world's first FLNG development.
Three other greenfield projects offshore Western Australia currently under development - Inpex Corp.'s Ichthys, and Chevron's Gorgon and Wheatstone developments - will include onshore LNG processing.
With a steel-cutting for the FPSO hull at the Daewoo Shipbuilding & Marine Engineering yard, in June, all of Ichthys' major offshore elements are under construction. The vessel will be used for condensate dewatering, stabilization, storage, and export. In January, construction began on the development's central processing facility, also at SHI's Geoje yard. Inpex claims that the platform, at 150 m by 110 m (492 ft by 361 ft) will be the world's largest semisubmersible.
Also in January, work began in Singapore on the SBM Offshore-supplied turret for the FPSO. Ichthys will export gas to a processing facility near Darwin via an 883-km (549-mi) subsea pipeline. Inpex plans to ship the first LNG cargo by the end of 2016.
Work continues on the offshore and onshore facilities for Gorgon, which will include a three-train, 15.6-MMtpa LNG facility on Barrow Island. Twenty-four caissons have been placed for the 1.3-mi (2.1-km) LNG jetty. Farther offshore, subsea umbilicals have been installed connecting Barrow Island and subsea equipment at the Gorgon and Jansz-lo gas fields. In August, Allseas'Solitaire pipelay vessel was installing the 34-in. production pipeline to the Jansz-lo field.
Last year, the projected cost of Gorgon rose by about $9 billion to $52 billion. Chevron plans to ship its first cargo in 1Q 2015.
The Wheatstone onshore facilities at Ashburton North near Onslow will include two LNG trains with a combined capacity of 8.9 MM tpa, with the possibility of expansion to 25 MM tpa. First LNG is expected in 2016. Four-fifths of initial production will come from the Chevron-operated Wheatstone and Iago fields; the remaining 20% will be gathered from the Julimar and Brunello fields, which are being developed by Apache Corp. and KUFPEC. A processing platform installed in 73-m (240-ft) water depths will connect to the shore via a 225-km (140-mi) trunkline measuring 44 in. in diameter.