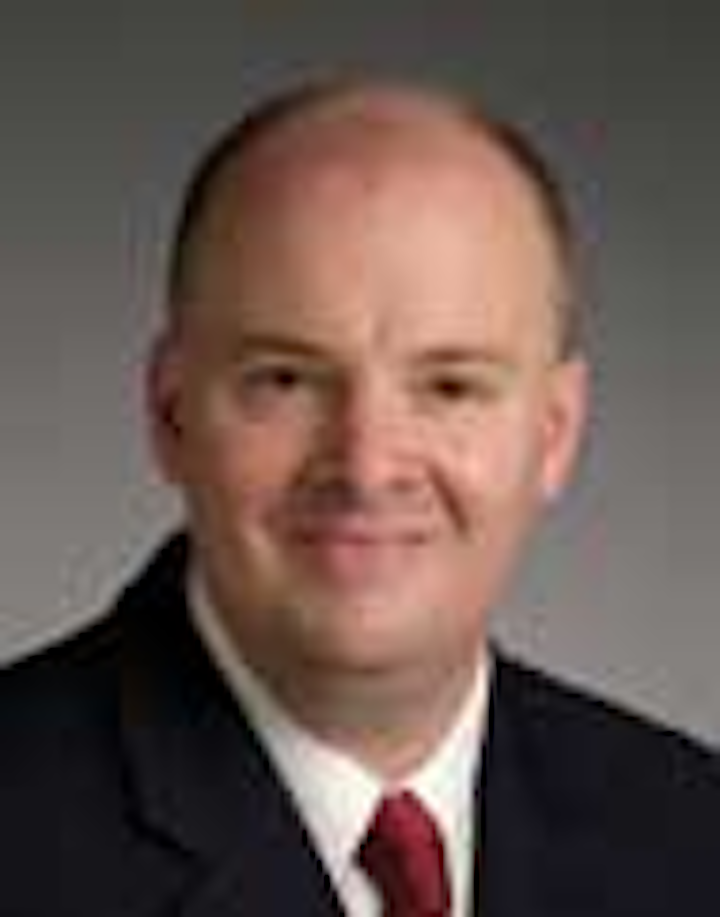 | | | |
| --- | --- | --- |
| | | Bruce Beaubouef • Houston |
Gulf of Mexico operators and contractors had a brief scare in early October as tropical storm Karen triggered a hurricane watch and threatened to move through the central part of the Gulf of Mexico, toward coastal Louisiana or Mississippi.
On Oct. 3, one analyst commented that the storm appeared to be headed through the heart of the production center of the Gulf of Mexico, and would likely have an impact on offshore oil and gas production. But, just as quickly as it appeared, the storm weakened and eventually fizzled out.
Nevertheless, a number of Gulf operators and contractors shut down production and operations as the storm approached, and many companies evacuated staff as a precautionary move. Chevron reportedly evacuated some workers from its GoM operations but maintained that its production remained unaffected by the approaching storm. The company did not specify which installations were being partially evacuated, but all four of the company's operated platforms were in the projected path of the storm, including its Tahiti facility.
BP also secured offshore facilities and drilling rigs, and began evacuating non-essential personnel at its Thunder Horse, Na Kika, Atlantis, and Mad Dog facilities on Oct. 2. BP also said that it had suspended oil and natural gas production in the eastern GoM.
Other operators and drillers also evacuated offshore personnel. Shell, Murphy Oil, Apache, Enterprise Products Partners, Marathon Oil Corp., and contractor Diamond Offshore Drilling evacuated non-essential workers in the eastern and central part of the Gulf.
Exxon Mobil Corp. curtailed output by 1,000 boe/d and pulled nonessential personnel from offshore operations in Karen's path. Anadarko Petroleum Corp. shut down and evacuated the Independence Hub and its Neptune, Constitution, and Marco Polo platforms in the central and eastern Gulf. Enterprise Products Partners evacuated all workers from four platforms connecting production to pipelines, and shut down one of the platforms.
The Manta Ray Offshore Gathering system, operated by Enbridge, evacuated all personnel from two platforms, and Garden Banks Gas Pipeline LLC also removed workers from the South Marsh Island 76 platform. Destin Pipeline LLC declared force majeure, saying in a notice to shippers that it was incapable of providing transportation services from its offshore receipt points because of the storm.
By Oct. 6, the storm had dissipated enough to allow offshore operations to resume. Workers began to return to their facilities that day, including workers from Marathon Oil, Chevron, and BP. Additional companies that had evacuated workers followed suit in light of the new weather report.
But according to one report, nearly two-thirds of oil output in the Gulf of Mexico had been halted as Karen approached Louisiana. The Gulf accounts for 19% of US oil production and 6% of natural gas production.
Maersk newbuild drillship bound for GoM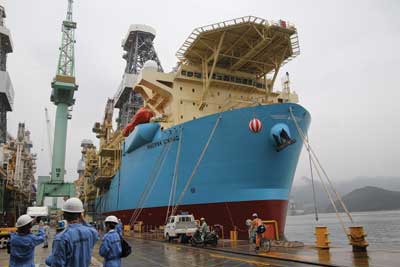 Maersk Drilling's first ultra-deepwater drillship,Maersk Viking, shown here at a naming ceremony in Samsung's shipyard in Geoje, South Korea, will be deployed to the US Gulf of Mexico under a three-year, $610-million contract with ExxonMobil. (Photo courtesy Maersk Drilling)
Maersk Drilling's first ultra-deepwater drillship,Maersk Viking, will be deployed to the US Gulf of Mexico under a three-year, $610 million contract with ExxonMobil.
The newbuild vessel is the first in a series of four ultra-deepwater drillships to enter Maersk's fleet in late 2013 and early 2014. Samsung Heavy Industries will deliver the rigs at a total cost of $2.6 billion.
At a naming ceremony in Samsung's shipyard in Geoje, South Korea, Maersk Drilling CEO Claus Hemmingsen said the vessel would further the company's goal of "establishing ourselves as a significant drilling contractor in the US Gulf of Mexico."
The ultra-deepwater semisubmersibleMaersk Developer has been active in the Gulf of Mexico since 2009. A second newbuild drillship, Deepwater Advanced 2, will be deployed to the region upon delivery.
Subsea 7 wins EPIC contract for Cardona project
Stone Energy has awarded Subsea 7 a contract for work at the deepwater Cardona field development in the US Gulf of Mexico.
The $70-million contract scope includes engineering, procurement, installation, and commissioning of flowlines, risers, pipeline structures, and a gas lift umbilical.
Project management and engineering work will start immediately at the company's offices in Houston. Offshore operations are due to start in 3Q 2014, with stalking of the risers and flowlines and welding being performed at Subsea 7's Port Isabel spoolbase.
InterMoor to supply suction piles for Delta House
LLOG Exploration has awarded InterMoor a contract for design, fabrication, and installation of 12 suction pile anchors, pre-set installation of 12 chain/polyester/chain mooring lines, and hook-up of the Delta House semisubmersible FPS in the deepwater Gulf of Mexico.
The 12 piles will be 85 ft (26 m) long and 16 ft (5 m) in diameter weighing approximately 150 metric tons each. Fabrication of the 12 suction piles will take place at InterMoor's 30,000-sq ft (2,787-sq m) Morgan City, Louisiana, facility. Installation activities are planned for mid-2014.
Delta House will be moored in 4,500 ft (1,372 m) of water in Mississippi Canyon block 254. It is LLOG's second Exmar-designed Opti deep-draft, semisubmersible production system in the region.
Commander Drilling Technologies to offer turnkey services
Commander Drilling Technologies (CDT) has announced its formation as a leading provider of turnkey drilling and completion services in the Gulf of Mexico.
The newly formed company says it will fill a unique industry niche, particularly for independent producers, since no other company currently offers turnkey drilling services in the Gulf of Mexico. A 30-year history in the region helps support that expertise.
CDT management is led by Stephen Morrison, an experienced and respected executive in the offshore turnkey industry. Morrison was previously employed by Applied Drilling Technologies Inc. (ADTI), a subsidiary of Transocean from 1996-2012. He led ADTI as president from 2007-2012.
Morrison says he will be supported by a highly skilled team that has years of experience in the offshore turnkey market.
"I am excited to be part of this new company that is bringing back turnkey drilling and completion services to the Gulf of Mexico. Our entire team looks forward to once again drilling wells for our supportive group of clients."