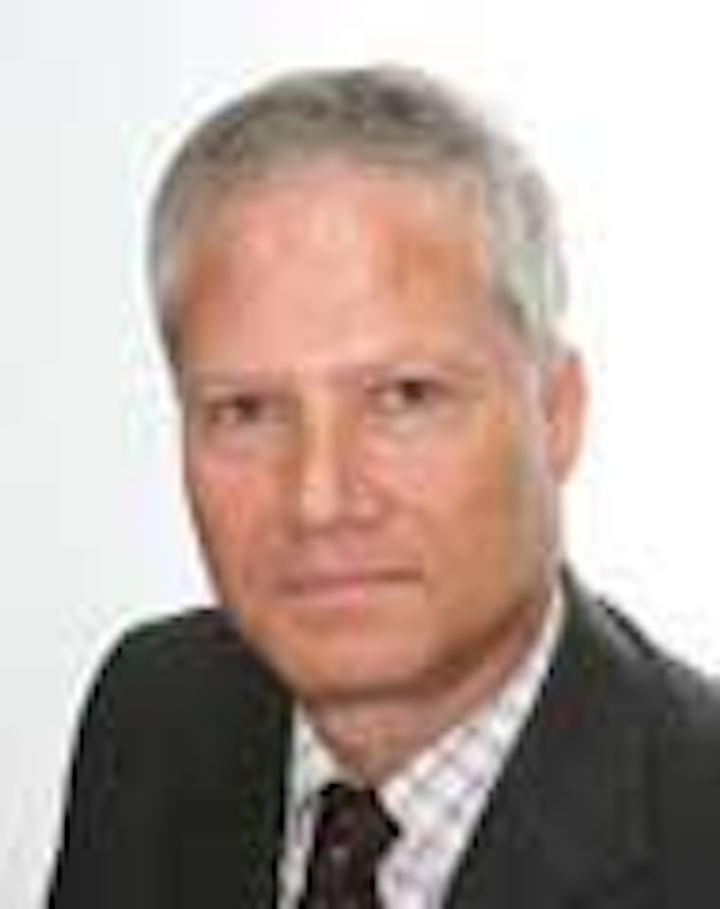 | | | |
| --- | --- | --- |
| | | Jeremy Beckman • London |
Lundin Norway's Gohta discovery in the Barents Sea could hold up to 235 MMboe of oil and gas, based on production test results from the Permo-Carboniferous reservoir. Well 71201/3, drilled by the semisubmersibleTransocean Arctic 35 km (21.7 mi) north of the Snøhvit field, penetrated a 25-m (82-ft) gas column and an underlying 75-m (246-ft) oil column in karstified and dolomitized limestones.
This was one of two oil finds announced in September in previously undrilled far north plays. Following industry interest sparked by OMV's Wisting oil discovery to the north in the Maud basin south area, Dolphin Geophysical and Searcher Seismic brought forward a seismic survey in this region originally planned for next spring. The 3,300-sq km (2,050-sq mi) 3D Sharp Broadband program is designed to map and evaluate potentially similar structures to Wisting, along with deeper geological targets that could extend to the Permian level.
Statoil hopes to prove more oil to supplement its planned Johan Castberg (Havis/Skrugard) development in Barents Sea license PL608. However, the second of four exploratory wells in the area found only small volumes of gas in the Iskrystall prospect. The semisubWest Hercules was next due to drill Skavl in PL532, 5 km (3.1 mi) south of Skrugard.
The Njord A platform could remain shut in until mid-2014. (Photo courtesy Øyvind Nesvåg, Statoil)
In the Norwegian Sea, Statoil may extend this summer's shutdown of the Njord field facilities until mid-2014. Analysis and inspection work, designed to verify the semisubmersible platform's strength under different weather and load conditions, found that some of the deck structures may be too heavily loaded and that reinforcements may be needed to numerous beams.
Bids in for latest Norway round
Norway's latest licensing round has drawn a strong response according to the Norwegian Petroleum Directorate (NPD). The 2013 Awards in Predefined Areas (APA) round attracted bids from 50 companies, three more than the APA 2012.
The aim of the APA scheme is to stimulate interest in mature areas and in previously relinquished blocks. This year's round was expanded by six blocks around the Aasta Hansteen field in the Norwegian Sea – a total of 377 blocks or part-blocks were offered. NPD's exploration director Sissel Eriksen said demand was higher than previously for acreage in the Barents Sea, with interest also in the central Norwegian Sea and the northern Norwegian North Sea.
Ekofisk giant taken out of service
ConocoPhilips has shut down Ekofisk 2/4A, Norway's longest serving offshore production platform. Since start-up in spring 1974, the facility had produced 872 MMboe and 70,000 b/d of oil at peak. Until 1996 it had been manned by a 35-strong crew, but thereafter operations were remotely controlled, most recently from the company's onshore base in Tananger, southwest Norway. Preparations are under way to P&A the platform's 23 wells, with the jackupRowan Gorilla 6 due to start the program early in 2014. The new Ekofisk 2/4Z platform is due to start operating by the end of this year and will have 35 production wells.
In the UK central North Sea, ConocoPhillips and co-venturer Chevron have permission from Britain's government for a third tieback to the Britannia production complex. Enochdu is a black oil Palaeocene reservoir in 140 m (459 ft) of water in block 21/5a, 18 km (11 mi) southwest of the Britannia platform. A two-slot production manifold will transport the wellstream through a multi-phase pipeline to a connection point close to the existing Callanish subsea manifold. All the new structures, along with a gas-lift pipeline and electro-hydraulic controls umbilical, will be incorporated into a subsea bundle.
Unmanned buoy to revive North Sea fields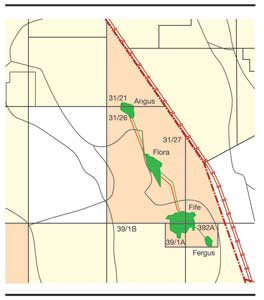 Redevelopment is in prospect for four fields in the UK North Sea.
Much of the UK's remaining North Sea reserves are in marginal fields remote from infrastructure. Most are beyond the economic threshold for FPSOs, but alternative options are emerging.
Unmanned Production Buoy (UPB), based near Aberdeen, was awarded acreage under the UK's 27th offshore licensing round containing the decommissioned Angus, Fergus, Fife and Flora fields, previously developed by Hess using floating production systems. UPB plans to initially reactivate Angus and Fife by adapting its unmanned buoy concept: buoys are currently deployed offshore for power generation and control of remote wells (i.e. off South Africa), but UPB's version would add processing and hydrocarbon storage. These capabilities, the company claims, would be based on proven technologies used widely onshore, and the resultant solution should be economic on fields with reserves of 2-15 MMbbl and production rates of less than 5,000 b/d.
The company has signed a memorandum of understanding with AMEC to provide engineering, procurement, and construction management for three oil production buoys serving six fields off northwest Europe, including Ireland and Denmark. Estimated cost of the development program is $1.2 billion.
Breagh delivers first gas for RWE Dea
RWE Dea has started production from Breagh, its first major operated development in the UK North Sea. The first three of the seven Phase 1 development wells came onstream at a combined rate of 2.75 MMcm/d (97 MMcf/d). Production should build to a peak of 4 MMcm/d (141 MMcf/d) early next year.
Breagh is 65 km (40 mi) off the coast of northeast England in a water depth of 60 m (197 ft). The field is on the southern margin of the Dogger Shelf and is the first UK offshore development of the Carboniferous Yoredale formation. Phase 1, focused on the western area, will produce gas from the Yoredale sandstone layers. Extensive salt above the reservoir made seismic interpretation difficult, complicating placement of the wells, the company says.
Although the Breagh Alpha platform was installed two years ago, start-up was held up initially because of bad weather and later by commissioning issues at the onshore terminal in Teesside receiving the field's gas. RWE Dea and partner Sterling Resources are working on plans for a Phase 2 development in the field's eastern section.