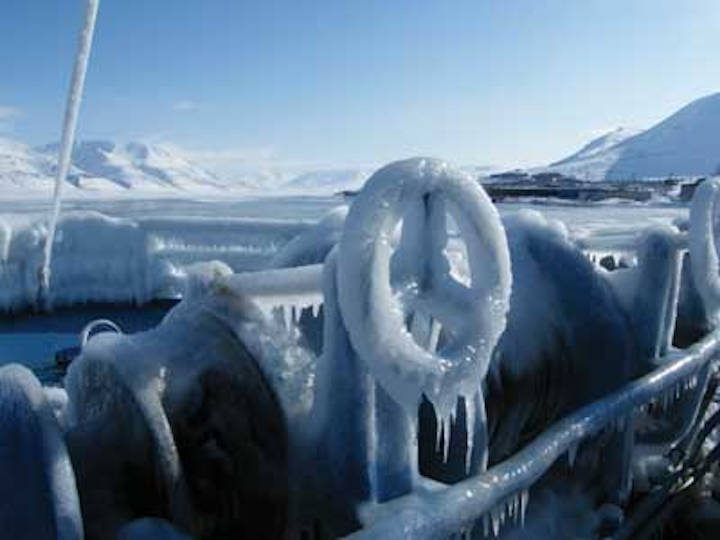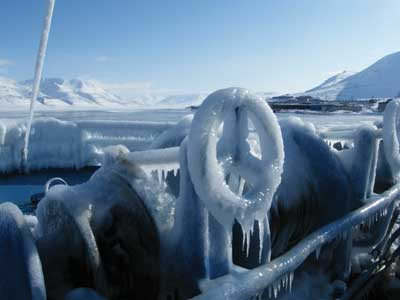 (Above) The risk of an accidental hydrocarbon release is the biggest environmental concern in the Arctic. Should an offshore accident occur, climate and weather conditions as well as long distances are likely to hamper response action and restoration efforts. (Photo by Graeme Davies, courtesy DNV)
Performance-based system the most promising model for safety regime
Peter Bjerager
DNV GL Oil and Gas Americas
There are already numerous international and national rules and guidelines aimed at mitigating the risks of Arctic petroleum operations. But the likelihood and effectiveness of detailed international regulations can be questioned. The next step should therefore be a well-governed framework for company self-regulation and cooperative ventures between governments, industry, insurance, and other stakeholders.
Exploring and using Arctic resources would not be possible if the requirement is that there be no risk at all. The Arctic region is, however, not uniform with respect to hazards and risks. The discourse about Arctic risks illustrates the significance of perceptions and subjective judgment regarding risk, risk criteria, and risk levels. Societal perceptions of risk may differ from those of industry. In general, communicating probabilities is more complicated than describing potential consequences. The goal must be to share sufficient knowledge so that all relevant stakeholders are able to make their decisions by weighing the downside risk against the benefit of the activities in question. Thus, more and better knowledge, transparency, and improved communication among stakeholders are important to bridge risk perception gaps. Enhanced harmonization, information sharing, and multilateral cooperation on risk-acceptance criteria is needed.
For the Arctic, a performance-based system seems to be the most promising model for a well-functioning safety regime. This calls for proper knowledge and understanding of the risk factors, the undertaking of risk assessments, and, where appropriate, identifying preventive and mitigating means. The operators will then have a relatively high degree of freedom to develop solutions, as long as proper risk management is ensured. Sharing knowledge and experiences must be an integral part of this.
Important remaining challenges require strong focus on technology development. Oil spills in ice environments and plans for escape, evacuation, and rescue of personnel are not always managed sufficiently today. This situation calls for a major effort to reduce the probability of incidents, and to prevent accidents from happening, but also to develop systems that can handle emergencies.
The diversity and paradoxes of Arctic futures call for comprehensive but also well-tailored and differentiated policy responses. Some Arctic regions, like the coast off northern Norway, are fairly mature in terms of economic development as well as governmental regulation, while large areas toward the North Pole remain a challenge in terms of regulatory frameworks for search, rescue, evacuation, environmental clean-up, and liability for oil spill damages.
Petroleum activities and regulations
The petroleum industry has explored and produced oil and gas in Arctic areas for more than 50 years, onshore and offshore. Factors such as melting sea ice, high energy prices, unrest in the Middle East, demand growth in Asia and the Russia/Norway delimitation agreement have led to significant increases in industry interest across the Arctic region.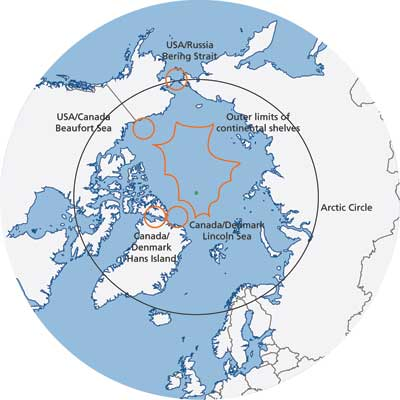 The recent Russia/Norway delimitation agreement has led to significant increases in industry interest across the Arctic region.
UNCLOS, the basic legal framework for offshore and maritime activities in the Arctic, grants the coastal states exclusive rights on their continental shelves, reflecting the sovereignty principle. In terms of hard law it is up to the coastal states to regulate activities, but they are obliged to protect and preserve the marine environment and take into account international standards established by competent international organizations, like IMO.
High north – low tension
Despite the frozen and inaccessible nature of the bulk of Arctic land and sea, the Arctic is not an unchartered and unregulated region as implied in some requests for a new binding Arctic Ocean Treaty.
On the contrary, the binding rules of the Law of the Sea and an extensive set of governance institutions weave their Arctic web year by year – and the bulk of Arctic resources are clearly and unambiguously under national jurisdictions of the Arctic five: Russia, Norway, USA, Canada, and Denmark/Greenland.
The Cold War heritage of military saber-rattling, the presence of virgin strategic resources, and a number of unsettled territorial boundaries have fueled the notion of a potentially destabilizing race to the Arctic. However, the dominant interest of all major Arctic players is peace, stability, and the rule of law based on modern Law of the Sea principles.
Powers such as China, Japan, and Korea have legitimate interests in access to shipping and high-seas water-column resources, and have been accommodated as observers in the Arctic Council and position themselves on commercial terms in shipping, energy extraction, fisheries, research, and tourism. The main threat of military escalation lies in potential conflict overflow from other regions. This is not considered a realistic scenario at present.
Russia is the largest and most important player in the Arctic, in terms of Arctic-coast length, population, resources, and relevant infrastructure and technological equipment (icebreakers etc.). The country participates actively in all relevant institutions dealing with Arctic issues. Its interest in stable and predictable Arctic governance was demonstrated by the 2010 delimitation deal with Norway. That agreement points the way toward feasible solutions to the remaining five territorial disputes in Arctic waters.
Institutional architecture
The basic governance framework for managing Arctic risks is in place, but substantive rules and means for cross-sector coordination must keep pace with economic and technological developments.
The UN Law of the Sea Convention codifies customary international law regarding use of the oceans and provides the basic legal framework for managing all marine activities in the Arctic. It lays down substantive principles of management and allocates regulatory competence differently among coastal states, flag states, and port states, depending on the sector in question and distance from the coast.
Alongside such legally binding means of governance, a circumpolar soft-law institution, the Arctic Council, is rising in prominence as a high-level forum for dealing with a range of circumpolar matters, including sustainable development and environmental protection. Among its distinctive features is the involvement of transnational indigenous peoples' associations as permanent participants entitled to full consultation with respect to Council activities. The main decision-making mechanism is a bi-annual ministerial meeting which produces non-binding declarations that provide direction for future work.
Environmental challenges
The risk of accidents involving wide dispersion of hydrocarbons is the gravest environmental concern. Among possible impacts are habitat fragmentation, introduction of invasive species, and discharges of black carbon. Should an offshore accident occur, climate and weather conditions as well as long distances are likely to hamper response action and restoration efforts. Currently available technologies for recovery of oil from the surface perform poorly in high waves and rough weather conditions. Oil spills in and under the ice constitute a special challenge. The threat of major oil spills is also the gravest threat posed by Arctic shipping, including vessel-based tourism.
The damage from oil spills hinges critically on location and timing. Knowledge of impacts has been scant but is improving. Recent research points to small differences in the vulnerability of marine organisms to oil spills in the Arctic compared to other parts of the Norwegian continental shelf.
Shipping activities and regulations
Trans-Arctic shipping has been limited, but is increasing rapidly. Russia is the dominant player. Natural conditions have improved with less ice and Russia is now providing better economic terms and greater flexibility. In terms of tonnage, destinational shipping is still most important; transit shipping will continue to be very small compared to the traffic that goes via Suez.
The global shipping regime is sensitive to the special needs that certain vulnerable marine regions may have. Inter-relationships among regional bodies and the IMO are crucial for obtaining global endorsement of risk-reducing standards that reflect Arctic needs, and for effective compliance measures.
The Arctic Council has recently stepped up its activities in support of infrastructure development for reducing navigational risks in the Arctic and for dealing with emergencies and accidents. In 2011, the Arctic states adopted a legally binding Arctic Aeronautical and Maritime Search and Rescue Agreement. This is the first legally binding instrument to be negotiated under the Arctic Council.
HSE standards in the Arctic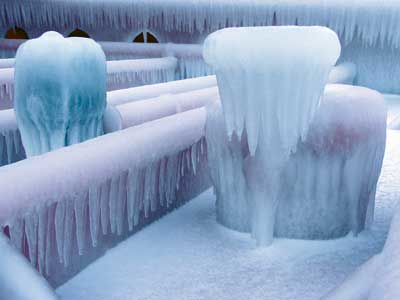 The Barents 2020 project recommends performance-based standards based on Russian cold climate experience and Norwegian offshore competence. Photo courtesy DNV.
So far, the most comprehensive project to harmonize and strengthen development of applicable industry HSE standards is the Barents 2020 project. The idea behind Barents 2020 was that Russian cold climate experience could be merged with Norwegian offshore competence. The project was led by DNV and the industry sponsors were Gazprom, Statoil, Eni, Total, OGP, and DNV. As laws and regulations are national, they were outside the remit of this project.
The Barents 2020 report was issued in March 2010 and included a list of 130 – mostly performance-based – standards recommended for common use. Many of the standards could be used in the Barents Sea without revisions, while many others would need revisions or further written guidance. The issues and topics in greatest need of completion, revision, and detailed guidance were defined and given recommendations that have been submitted to the relevant standardization body – primarily – ISO TC 67's ISO 19906 standard, and to the new TC67 Subcommittee 08, "Arctic Operations," which is now already working to produce new standards.
Independent of this, companies are free to use the deliverables, such as RPs, as project specific standards, and national standardization bodies will also implement recommendations as they see fit. Both Russian and Norwegian authorities have mechanisms for accepting references to these documents.
In order to secure performance-based standards through a broadly accepted process, further work to harmonize risk acceptance criteria and standards in the Arctic may well take a similar approach.
The author
Peter Bjerager is COO of DNV GL Oil and Gas Americas, Houston.
Editor's note: This article is based on a joint report on the challenges related to offshore operations in the Arctic by DNV GL and the Fridtjof Nansen Institute (FNI). DNV GL is a global classification and risk management company. The Norwegian Fridtjof Nansen Institute is an independent foundation engaged in research on international environmental, energy, and resource management politics. The final part of the article, on progress and further development of HSE standards in the Arctic, is based on the Barents 2020 report, and outlines how industry and governments can collaborate to determine broadly accepted standards for risk management in the Arctic.