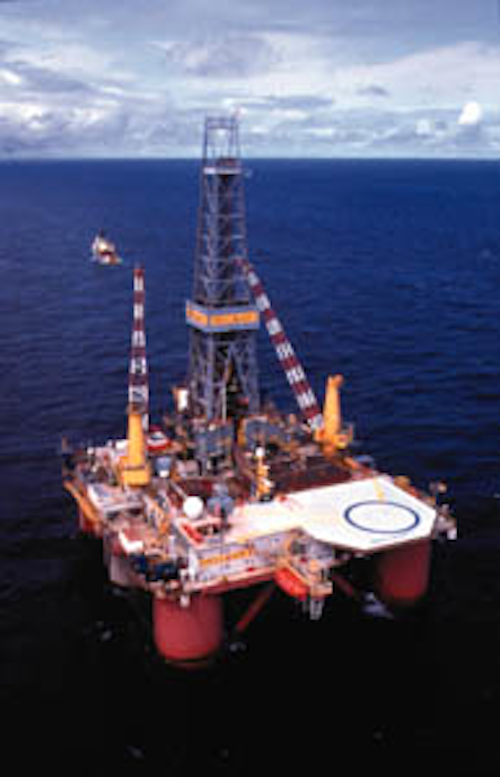 Drillmar 1 drilling Nigeria's Oyo Field.
For a second year in a row, the handsdown most exciting offshore play in the world today is West Africa's Gulf of Guinea, which has outpaced all predictions and become the darling of both major operators and independents. And rightly so - its level of activity has equaled if not exceeded that of the world's most active plays over the past year.
Most of West Africa's governments have realized the wisdom of ending the political, social, and economic unrest that so long characterized the region, and have gotten down to the business of producing hydrocarbons from their vast resources. An atmosphere conducive to exploration and development has been fostered, and it is paying off in the nines. From the westward thrust of nations along the northern Gulf of Guinea, to the frontiers of South Africa, discoveries have been made not only in the traditional venues, but in totally new locales, and over the course of 1996, deepwater aquatories from Nigeria to Namibia have proven themselves very prospective - and have been attracting operators as a result. In 1995, there were 24 commercial discoveries offshore West Africa, three times that of 1994, but seven short of 1996's list. And, of those discoveries proven during the past year, several may be West Africa's largest offshore elephants.
The migration to the Gulf of Guinea that began in 1995, mostly from the Gulf of Mexico and North Sea, has slowed - primarily because these two areas are also sharing in the boom - but continues nevertheless. Most of that migration has been to Nigeria, Gabon, Congo, and Angola, drawn by new deepwater and frontier concessions and terms that have been improved considerably.
NIGERIA - Despite its reputation as the most dangerous place on earth to do business and the continued arbitrary rule of General Sabi Abacha, of graft and corruption beyond measure, Nigeria's offshore petroleum industry has hardly been affected. A boycott of Nigerian oil was being talked up last year as was sanctions against doing business with countries that continually violate their citizens' basic human rights, but naturally nothing of the sort materialized.
Nigeria's offshore production was approximately 2 million b/d oil last year, its offshore reserves holding steady at 17.5 billion bbl. To sustain that level of production as well as improve the environment, the government has decided to begin a genuine effort at capturing the wasted gas it has been flaring for so long. The country has an estimated 106 tcf of proven gas and another 45 tcf in recoverable gas reserves, making it the world's ninth largest in gas reserves. The Nigerian Gas Company has been made responsible for gas gathering, treatment, and transmission.
Nigeria is also launching a program to maximize oil production from its undeveloped marginal fields, approximately 800 million bbl oil reserves are in such Niger Delta fields. Plans are to emulate the marginal fields programs of the North Sea and Venezuela.
Not a small role in increasing offshore production will likely be played by the almost certain development of Nigeria's deepwater province, as well, where several significant discoveries have been made recently by Shell - the very large Benga Field in almost 4,000 ft water depth and another as-yet-unnamed structure in OPL 212 - and by the Statoil/BP Alliance - Oyo Field at over 1,000 ft water depth in OPL 210 - indicating the high prospectivity of the province. Exxon is believed to have had a major find of its own , but no other information is available at this time. Extensive 3D seismic is ongoing throughout the Nigerian deepwater area by all the leaseholders.
The NGO Field discovered by Abacan Resources, straddles Blocks 237 and 469, and has flowed 23,070 b/d high grade crude and condensate. Located in the shallow waters of the Niger Delta, the field began production at 50,000 b/d. Another major field, Mobil's Kpono West Field discovery, has tested 17,000 b/d. The NNPC-Mobil joint venture lies in just 150 ft water. It is the latest in a series of major discoveries Mobil has made in Nigerian waters.
The Kpono Fields and Elf's Amenam Field with 650 million bbl reserves have been unitized, but the two operators are arguing over the split - Elf is arguing that 80-90% of the field is within its concession and that it has been more successful with its four wells than Mobil has with its three. Mobil has countered with its experience and ability to tie into its Ekpe Field for easier and less expensive development. Negotiations are being refereed by the Nigerian Dept. of Petroleum Resources.
Other notable discoveries have been Ashland's Okwori South 1 in OPL90, which tested 6,184 b/d oil, and Atlas Petroleum's Ejulebe Field, which has tested 6,000 b/d oil. The latter lies just three km from Chevron's Mefa Field and will likely be produced through the Chevron facility.
Recently, NNPC, fearing US sanctions against Nigerian crude, has decided to diversify its concession holders. New exploration and production awards are set to go to several Asian and perhaps a South African company. The state oil company has made a reasonably successful effort to reduce its billion-dollar debt to foreign oil company joint venture partners. Its two huge involvements, the giant Nigeria LNG export project with Shell, and the Mobil-led project to reduce flaring of the estimated 2.5 bcf/d gas, are ongoing. With costs set now at US$4.5 billion, the LNG project will probably be coming on stream in 1998-99. And the gas will continue to be flared at least through next year.
ANGOLA- Though the country has a long way to go in overcoming its long and bitter and very destructive civil war, peace has descended on all but the Cabinda Enclave, where a small separatist group occasionally arises to keep their movement alive. And with the peace, prosperity is returning as well - there's a major resurgence of exploration and production that's making up for lost time, and, as in Nigeria, deepwater is definitely the allure these days. Shell discovery of the Bengo Field in the deepwater Lower Congo Basin, Block 16, was the first to prove the prospectivity of the deepwater zone, having found some 300 million bbl recoverable oil. Further wells were drilled last year to prove it up as were other wildcats.
Sonangol, the state oil company, made a concerted effort to license the country's deepwater acreage via direct negotiations over the past year to two years, and has granted several more Lower Congo Basin deepwater concessions as a consequence: the extension of offshore Cabinda Block C, Block 14, to Chevron; Block 15 to Esso; Block 16 to Shell; Block 17 to Elf; and Block 18 to Amoco; and Block 20 to Mobil. Block C of the Cabinda enclave has been granted to Fina.
It is in Block 17, however, that the news has been most exciting, for it was there last year that Elf discovered the mighty Girassol Field at a water depth of more than 1,345 meters, some 200 km northwest of Luanda. With an estimated in-place 3.5 billion bbl oil, more than half of which will be recoverable with today's technology, the field may very well turn out to be the largest offshore field in all of Africa.
Sonangol is quite justifiably enthusiastic about its deepwater prospects and expects drilling activity this year to be double last year's, perhaps as many as 28 wells.
Chevron's Kokongo Field, one of Africa's first deepwater fields, is now approaching full production. Located 40 miles offshore in Cabinda Area B, it's ultimate production will be around 390,000 b/d.
The company's Cabinda Block B Nemba Field, which employs subsea production and was tied in to Elf's Pambi Field FPSO, at 17,000 b/d oil, remains ahead of schedule. The system will stay on site until next year, when two permanent structures will be in place.
Chevron and Elf, Angola's two major producers, are in the midst of their $1.5 billion expansion programs, and other Western companies are investing an additional US$1 billion in new exploration. Chevron kicked off its five-year 55-well offshore program for Cabinda areas B and C, with an expected production increase of 500,000 b/d. Elf, on the other hand, is into its five-year exploration drilling program. Texaco is spending $600 million over the next four years to boost output from its Soyo concession in Block 2 from 60,000 b/d to 90,000 b/d oil. As operator, Texaco is contributing about $118 million of that amount, its partners the rest - Braspetro 27.5%, Total 27.5%, and Sonangol 25%.
Angola's offshore production is approximately 700,000 b/d oil this year, its offshore reserves, over 2 billion bbl.
GABON - Gabon is doing well. Its economy continues to strengthen and the political situation has calmed. Best of all, this beautiful little country's petroleum prospects are looking up appreciably. After withdrawing from OPEC, exploration and production have risen considerably, and several new prospects are on the horizon, including deepwater.
Marathon-Santa Fe's discovery of the 4,545 b/d Tchatamba Marine Field in just 151 ft of water on Gabon's Kowe permit was the big news last year, but, as elsewhere in West Africa, the real interest these days is in the country's deepwater prospects. Several companies have joined the deepwater search, foremost among them, Elf, which has found oil on its Apari Marine license at a 300 ft water depth just off Cap Lopez. It tested 1,604 b/d and is set to start up this year following the sinking of six wells. Second is Occidental Petroleum, which operates five of Gabon's 12 deepwater blocks, but is only now drilling. It drilled two wildcats, however, one on its 1.2 million acre Chaillu Block and the other on its 3.3 million acre Meboun Block. The company acquired the adjacent 1.1 million acre M'Pola Block last year, for a total of 5.6 million acres in offshore Gabon holdings, and Marathon signed an exploration and PSC with Gabon for the Akoumba Marin Permit, some 636,000 acres approximately 30 miles offshore in the North Gabon Basin, where water depths range from 600 to more than 6000 ft.
Santa Fe Energy has gotten a contract for the Mondah Bay Block, which lies in the Atlantic Salt Basin and holds some billion bbl of recoverable oil reserves, according to the company, which has targeted several prospects where the water depth is 100 ft and drilling depth less than 5,000 ft. First drilling will be later this year.
The 2.4 million acre Gryphon Marin Block was awarded to Amoco and Phillips in an exploration and production-sharing contract. Amoco is operator. A 500 sq km 3D survey and reprocessing of 2D data will be carried out. The block is a continuation of the subsalt play in nearby Phoenix Block, which Amoco is now evaluating.
Gabon's offshore production is about 360,000 b/d oil and more than 252 million cf/d gas, with offshore reserves now more than 550 million bbl oil and condensate and 400 bcf gas.
EQUATORIAL GUINEA - "Zafiro" is practically a synonym for West Africa's booming offshore industry, and until 1995, when Mobil and UMC discovered oil on Equatorial Guinea's Qua Iboe structure, on the Zafiro prospect, the country was hardly known for petroleum production, having just the Alba gasfield to show for itself.
UMC's (United Meridian Corporation) and Mobil's discovery of the Zafiro Field, however, changed all that and, in doing so, has given a big boost to exploration of the whole Gulf of Guinea, but in particular of its Qua Iboe structure. The discovery wildcat tested at 10,500 b/d oil and 3.4 MMcf/d gas. The field lies on Block B, a 547,000-acre tract just 18 miles from Mobil's Qua Iboe production in Nigeria's aquatory.
Other test wells have expanded the field and shown it to be a major oil reservoir. It went onstream via an FPSO at the end of 1996. Ultimately, the field, estimated to have between 105 and 210 million bbl reserves, may have as many as 18 wells.
Mobil has also drilled several exploration wells on the Topacio prospect south-southeast of Zafiro, the first of which flowed 11,055 b/d oil and 4.2 million cf/d gas. The company also drilled a deepwater prospect, Jade, but has released no further information. Nomeco plans a well this year on its Alba block.
Equatorial Guinea's offshore production is now 48,000 b/d oil, but that is expected to rise considerably by 2000. Offshore reserves are estimated at 220 million bbl oil and 130 bcf gas. New concessions for the country's remaining aquatory, including that along abutting the coast of Rio Muni are now on offer.
CôTE D'IVOIRE - Like Equatorial Guinea, until recently Côte d'Ivoire' had little to say for itself in offshore prospects, buts Block CI-11 has dramatically altered the country's offshore production profile, from a footnote in 1994, with only 500 b/d oil, to a new venue that is attracting more and more interest from majors and independents alike. Likewise, reserves have jumped from only 50 million bbl oil to well over 150 million bbl oil and 65 bcf gas. This as a result of UMC Petroleum's incredible series of discoveries on the block - eight consecutive successful wells - making the Lion and Panthere Fields major producers. The Lion, already producing 10,000 b/d, tested at 23,695 b/d oil and 65 million cf/d gas. The Panthere, a gas producer, continues to be expanded with further drilling, but went on production last year.
Block CI-27, with its Foxtrot gasfield, has been granted to Apache. The company plans seismic studies then a deep well to test for oil before proceeding with gas production.
Block CI-102, one of the country's most prospective aquatories, has been awarded to a group headed by operator Ranger Oil (24%) Energy Africa (24%), Clyde Petroleum (24%), and Gentry Resources (11%). Five previous exploratory wells have produced high quality oil shows. Water depth is 200 meters.
Elsewhere, in the eastern Ivoirian aquatory, Block CI-01, UMC and partners have confirmed their Kudu Field as commercial, with 27.7 million cf/d gas and 740 b/d condensates flow rates. Expected production is 80 million cf/d gas for onshore power generation in C?te d'Ivoire and Ghana.
The Ivorian state oil company Petroci, is actively seeking other companies to undertake exploration of the country's other blocks. In addition, it hopes to attract joint venture partners for the Belier-Outpost and North Espoir Fields and Blocks CI-1 and CI-2, surrounding the 10 million-plus bbl Belier Field. The company drilled an appraisal well on the Belier Outpost at the end of 1994, confirming the oil. Nearby Espoir Field holds almost 65 million bbl oil.
CONGO - With the government's relinquishment of its requirement for joint venture participations, the Congo is now signing production sharing contracts with all comers. Last year, it signed two separate agreements with Elf for the N'Kossa Field, one with Elf for its Haute Mer permit surrounding that field, one with Agip for its Kitina Field, and another with Agip for the Marine VI and VII acreage surrounding the Kitina Field. N'Kossa began production last summer at about 85,000 b/d, which is to increase to 115,000 b/d by next year. Kitina, also started up last year with an output of 30,000 b/d. Yombo, already in production, has an output of 9,300 b/d.
Elf plans further delineation and developmental drilling on N'Kossa, while Agip expects to drill additional development wells on Kitina. Yombo's new owners, Walter International and Nuevo Corp. drilled six more wells last year.
Deepwater isn't at the same level of exploration in the Congo as it is in some of the other West African plays, but Elf's deepwater discovery, Moho, should spark considerably more interest. The field lies at 4,265 ft water depth some 75 km offshore in the Haute-Mer on the Marine X Block. The discovery well flowed at 3,500 b/d oil and 2,200 b/d oil from two levels, and the second has flowed at 4,700 b/d. Further evaluation is underway, but the field is expected to be quite large.
Exxon and Shell have jointed Elf in the Congo's deepwater Mer Profonde Sud license, awarded last year. Elf retains 40% interest, with the other 60% equally divided between Exxon (Esso E&P Congo) and Shell E&P Africa. Located entirely in waters in excess of 1,500 meters depth, the new lease is 32 km west of N'Kossa and perches NW of Chevron's Block 14. The Mer Profonde Nord Block has been awarded to Exxon. The 1,540 sq mile area, some 50-75 miles offshore, has water depths to 6,600 ft. Exxon plans seismic before the end of the year.
The Congo's offshore oil production over the past year held to its current 180,000 b/d. Offshore reserves are a little over 900 million bbl of oil and 3.2 tcf of gas.
Copyright 1997 Oil & Gas Journal. All Rights Reserved.