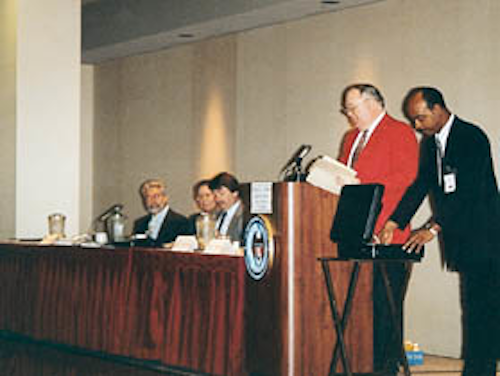 Minerals Management Service Regional Director Chris Oynes revived an old tradition last month when he wore a red sports coat at the Central Gulf of Mexico Lease Sale 166. Oynes said the sports coat is worn as a sign that a sale will generate a lot of money. In this case traditions held sway as the sale brought in more than $1.2 billion in total bids. Here Oynes is shown reading bids with the help of MMS physical scientist Alvin Jones.
After selling leases on over 1,000 blocks in the Central Gulf, has the MMS seen its last record sale? Not according to analyst Matthew Simmons. His thinking is that the next Western Gulf sale also will be one to watch. Why? Two words: Walker Ridge.
Before this lease sale, most people not intimately connected to the geography of the Gulf would not even know where this property is. Before 1996, there were only five leases in the area. After Sale 166, everyone should know the name. The formation runs from 6,000 ft depths to over 9,000 ft, about 250 miles offshore, just north of Mexico's line of demarcation. It is the favorite of the majors. Exxon, BP, Shell, and Texaco all leased acreage in the ridge in huge, oddly shaped chunks across all depths. Walker Ridge borders the cutoff between the Central and Western Gulf and is as far south as US leases go.
Also in the Western Gulf is the newly prolific Alaminos Canyon, where Exxon and partner British Petroleum are evaluating an oil and gas discovery on Blocks 25 and 26 that could total more than 100 million bbl. With increased activity in Walker Ridge and such huge finds in Alaminos Canyon, it is a safe bet Oynes will again be sporting a red coat when the next sale rolls around.
No boom behavior in OCS leasing - just diversity
US equity markets might not be keeping up with current events. Wall Street analysts, notoriously shortsighted when evaluating drilling company stocks, have driven the group price down by as much as 11% since Jan. 1, based on little more than weather. US Gulf of Mexico Lease Sale 166 smashed previous records and showed strong interest from a wide range of companies in a wide range of properties, all of which will drive drilling utilization for years to come.
Minerals Management Service Regional Director Chris Oynes set the mood when he donned a red sports coat and announced to a somber crowd that Dead Sea predictions were patently unfounded. (Later, after six hours' of reading bids totaling more than $1.2 billion, he confided that his opening remarks may have been too conservative. "I should have gone up there and said, 'Show me the money!' " And why not? Everyone wants in on the act. The MMS can afford to be cavalier (at one point, after reading a bid in which the winner left several million on the table, Oynes said, "The government appreciates your money.").
There is no sign of boom behavior in the bids or properties or bidders. The key word is diversity. Properties that have been available and accessible for dozens of years, areas long thought to have played out, sold well last month. Companies scooped up hundreds of properties in less than 300 ft of water based on new technology that tells them there may be oil there.
Analyst Matt Simmons said he saw a number of trends in the bidding that he credits to new technology. Of course, deepwater is hot. There was plenty of money spent in depths over 3,000 ft. But, the real story is not who can go the deepest, but who can find the most oil for the least money. Not surprisingly, this was the strategy dozens of independent companies employed in their shallow water bidding. They may not all be able to compete in 7,500-10,000 ft depths, but what does it matter if they can read 3D seismic and make a find in shallow water that is not only easier to explore but has the infrastructure in place for development.
So, how accurate is this seismic information companies are betting their futures on? Simmons said he still considers 3D seismic data open to interpretation, and refers to it as an art rather than a science. He said the bidding trends last month bear this opinion out. He said he watched one company bid higher on blocks to the east of a formation, while a competitor placed his higher bids on the west end of the formation. They have access to basically the same data, but obviously disagree on which way the reservoir has formed.
"You can see that pattern of behavior in all the hot spots," Simmons said.
Copyright 1997 Oil & Gas Journal. All Rights Reserved.