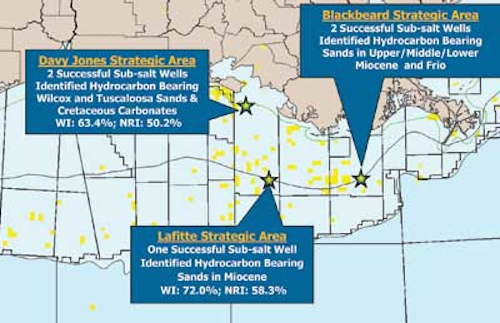 Targets are below salt at more than 25,000 ft well depth
McMoRan Exploration continues to build on its successes in its shallow-water, ultra-deep gas play in the Gulf of Mexico. Recent well results suggest increases in reserves in place and more opportunities ahead for 2012 and beyond.
McMoRan recently announced that its Lafitte ultra-deep prospect on Eugene Island block 223 in 140 ft (43 m) of water encountered additional hydrocarbons. The well was drilled to a true TVD of 29,756 ft (9,070 m) and was logged with wireline logs to 29,740 ft (9,065 m).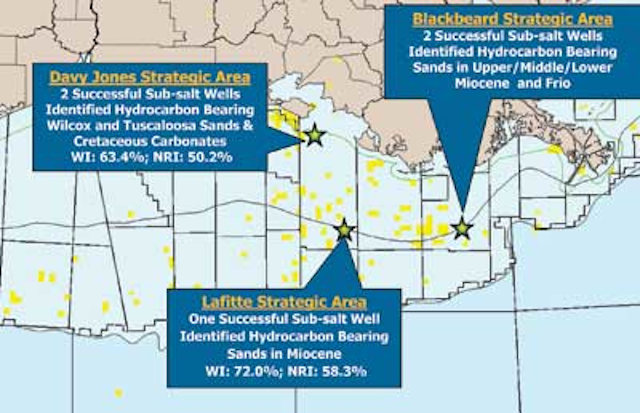 McMoRan ultra-deep Gulf of Mexico exploration areas.
The wireline log results indicated 56 net ft (17 m) of hydrocarbon-bearing sand over a 58-ft (17.7-m) gross interval in the Cris-R section of the Lower Miocene with good porosity. Flow testing will be required to confirm the ultimate hydrocarbon flow rates from this zone, which was full to base.
The new Cris-R sand interval combined with the 115 ft (35 m) of potential net pay (250 gross ft, 76 gross m) announced previously brings the total possible productive net sands to 171 ft (52 m) in the Lafitte well. McMoRan says that these results enhance the potential of its other acreage in the Lafitte strategic area, including the Barataria and Captain Blood ultra-deep prospects.
Barataria (10,000 gross acres) is west-southwest of Lafitte and Captain Blood (10,000 gross acres, 40.5 sq km) is immediately south of Lafitte.
McMoRan is deepening the Lafitte well to a proposed total depth of 32,000 ft (9,754 m) to evaluate Oligocene objectives. Lafitte is McMoRan's third ultra-deep prospect to encounter Miocene age sands below the salt weld on the GoM continental shelf. McMoRan holds a 72% working interest and a 58.3% net revenue interest in Lafitte. Other working interest owners include Energy XXI, 18.0%, and Moncrief Offshore LLC, 10%.
Ultra-deep gas prospects
The well results from Lafitte are the latest success in McMoRan's ongoing ultra-deep gas exploration and development program in the shallow water GoM.
McMoRan has actively pursued large ultra-deep targets located in the shallow waters of the GoM below the salt weld (i.e. listric fault) at depths generally below 25,000 ft (7,620 m) since 2008.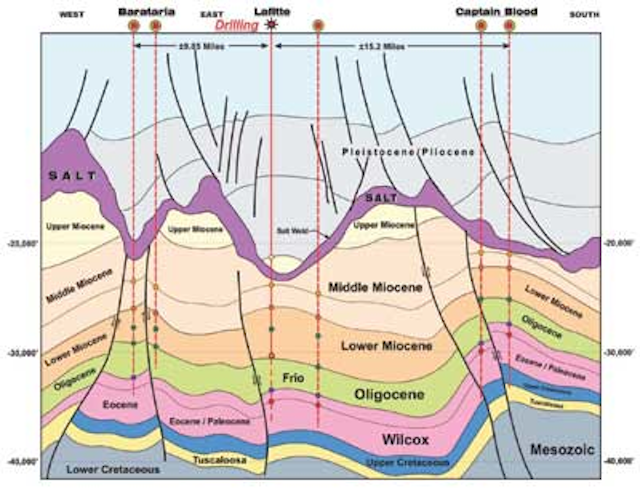 Presence of sands at Lafitte, if confirmed, would enhance the prospectivity of Barataria and Captain Blood, as they are all one complex.
The data reported from four wells confirms McMoRan's geologic model and the highly prospective nature of this emerging geologic trend. Prior to McMoRan's involvement in the ultra-deep, there had been only two wells drilled on the continental shelf targeting these objectives; one did not reach its proposed depth and the other was outside of McMoRan's focus area. Importantly, McMoRan's results indicate the potential for large accumulations of hydrocarbons at these deeper depths in the shallow waters of the GoM, which is expected to reduce the risk of future activities.
McMoRan says its activities confirm the presence below salt of geologic formations including Middle/Lower Miocene, Wilcox, Frio, Tuscaloosa, and Cretaceous carbonate. These formations have been prolific onshore, in the deepwater GoM, and in international locations. McMoRan is encouraged by the results which indicate the potential for prospects with high quality reservoirs on large structures with multi-tcfe of gross unrisked potential. McMoRan intends to conduct further drilling and flow testing to determine with greater certainty the ultimate potential of this emerging geologic trend.
Davy Jones
The Davy Jones offset appraisal well (Davy Jones No. 2), on South Marsh Island block 234, 2.5 mi (4 km) southwest of the Davy Jones No. 1 discovery well, was drilled to TD of 30,546 ft (9,310 m). Log results above 27,300 ft (8,321 m) confirmed 120 ft (36.5 m) of hydrocarbon bearing Wilcox sands with continuity across the major structural features of the Davy Jones prospect.
Results from wireline logs of the Cretaceous section indicated that the Davy Jones No. 2 well encountered 192 net ft (58.5 net m) of potential hydrocarbons in the Tuscaloosa and Lower Cretaceous carbonate sections. Flow testing will be required to confirm the potential hydrocarbons and flow rates from these sandstones and limestones. A 6 5/8-in. production liner has been set to 30,511 ft (9,300 m) and the well has been temporarily abandoned. McMoRan is evaluating development options and expects to complete and flow test the No. 2 well in the second half of 2012. McMoRan is also considering updip locations in a subsequent well to the north to evaluate the Tuscaloosa sands and Lower Cretaceous carbonates higher on the Davy Jones structure.
The Tuscaloosa sands are correlative with the prolific Tuscaloosa trend onshore South Louisiana, and the carbonate section may be analogous to productive fields located offshore and onshore Mexico in the southern GoM. These potential hydrocarbon bearing zones are the first Cretaceous sandstones and limestones encountered offshore central Louisiana on the Gulf of Mexico continental shelf.
McMoRan believes the combination of productive Wilcox and Cretaceous intervals on the same structure could enhance the value of Davy Jones and the prospectivity of McMoRan's other ultra-deep prospects on its acreage position within the Davy Jones trend.
In January 2010, McMoRan logged 200 net ft (61 net m) of pay in multiple Wilcox sands in the Davy Jones No. 1 well on South Marsh Island block 230. In March 2010, a production liner was set and the well was temporarily abandoned to prepare for completion. McMoRan is completing the well currently and plans to flow test the No. 1 well by early 2012.
Davy Jones involves a large ultra-deep structure encompassing four OCS lease blocks (20,000 acres, 81 sq km). McMoRan holds a 63.4% working interest and a 50.2% net revenue interest in Davy Jones. Other working interest owners in Davy Jones include: Energy XXI, 15.8%; Nippon Oil Exploration USA Ltd, 12%; and W.A. "Tex" Moncrief Jr., 8.8%.
Blackbeard East
McMoRan commenced drilling the Blackbeard East ultra-deep exploration by-pass well on Aug. 25, 2011, at 30,630 ft (9,336 m). The by-pass well is currently drilling below 33,000 ft (10,058 m) to evaluate Eocene objectives. The well is permitted to 34,000 ft (10,363 m).
In January 2011, wireline logs indicated that the original Blackbeard East well encountered hydrocarbon-bearing sands in the Oligocene (Frio) with good porosity below 30,000 ft (9,144 m). McMoRan is considering downdip drilling opportunities on the flanks of the structure to evaluate this section further. This is the first hydrocarbon bearing Frio sand encountered either on the GoM Shelf or in the deepwater offshore Louisiana. The Frio sand section below 30,000 ft is in addition to the 178 net ft (54 net m) of hydrocarbons in the Miocene sands announced in December 2010 above 25,000 ft (7,620 m) at Blackbeard East. Pressure and temperature data below the salt weld between 19,500 ft (5,944 m) and 24,600 ft (7,498 m) at Blackbeard East indicate that a completion at these depths could use conventional equipment and technologies.
Blackbeard East is in 80 ft (24 m) of water on South Timbalier block 144. McMoRan holds a 72% working interest and a 57.4% net revenue interest in the well. Other working interest owners in Blackbeard East include EXXI, 18.0%; and W.A. "Tex" Moncrief Jr., 10%.
Blackbeard West
The Blackbeard West ultra-deep exploratory well on South Timbalier block 168 (Blackbeard West No. 1 well) was drilled to 32,997 ft (10,057 m) in 2008. Logs indicated four potential hydrocarbon bearing zones that require further evaluation, and the well was temporarily abandoned.
McMoRan began drilling a new ultra-deep well within the Blackbeard West unit on Ship Shoal block 188 in 4Q 2011. The well, approximately 4 mi (6.4 km) west of the Blackbeard West No. 1 well, is drilling below 3,100 ft (944 m) and has a proposed total depth of 26,000 ft (7,925 m). McMoRan holds a 67.1% working interest and a 51.3% net revenue interest in the Ship Shoal block 188 well.
More Offshore Issue Articles
Offshore Articles Archives
View Oil and Gas Articles on PennEnergy.com