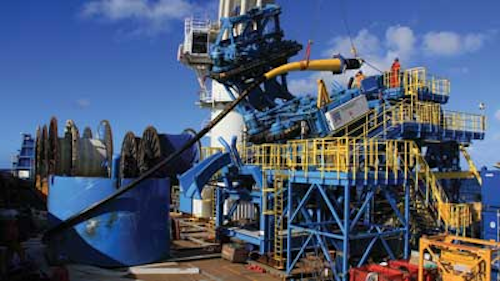 Shell has received provisional approval from the Bureau of Ocean and Energy Management for its revised exploration program in the Chukchi Sea off Alaska. Assuming permission from three other US environmental/marine fisheries departments, the company could drill up to six wells, starting this year, although the window might be limited by rules governing ice encroachment at the proposed drill site.
Buccaneer Energy, in partnership with BlueCrest Energy II, has agreed to acquire two leases in the Cook Inlet from Pioneer Natural Resources Alaska. One contains the shallow-water Cosmo oil and gas field, which Buccaneer plans to develop in phases. The initial scheme could involve the jackupEndeavour drilling offshore gas wells as tiebacks to an existing onshore production site and also water injector wells. Oil wells would be drilled directly from the onshore site.
•••
Chevron plans a 3D seismic survey this summer over the EL 460 block in the Canadian Beaufort Sea, in water depths ranging from 800-1,800 m (2,624-5,905 ft). In the Orphan basin off Newfoundland and Labrador, the company will drill an exploratory well this year on license 1074R in partnership with Statoil and Repsol.
Also off Canada's east coast, Husky Energy has applied to amend its plan for the North Amethyst development to include the deeper Hibernia formation. The company is currently evaluating the addition of a wellhead and drilling platform for future development of the White Rose region, and expects to award FEED contracts by mid-year.
South America
OGX has produced its first oil as an operator in the Brazilian sector, following the start of an extended well test on the Waimea field in the Campos basin. The operation is being performed from the turret-moored FPSOOSX-1. OGX plans to test production at different flow rates, stabilizing eventually at 15,000 b/d, with the oil sold to Shell in two cargoes. The company expects to declare commerciality for Waimea by mid-year and lift production by year-end above 40,000 b/d via two additional horizontal wells. Among the equipment suppliers, GE provided turnkey engineering for the subsea facilities, which include midwater arches.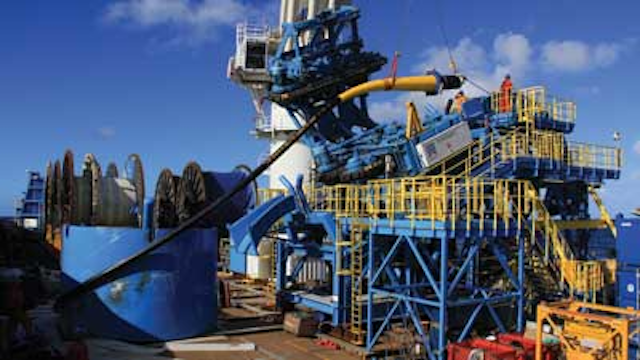 Load-out of riser for OGX Waimea project. Photo courtesy of GE Oil & Gas.
In the shallow-water Santos basin, OGX has discovered hydrocarbons in the Albian and Aptian sections of the Fortaleza well, with 110 m (361 ft) of net pay.
•••
Qualification testing has finished for the world's first small-scale gas-to-liquids facility at Petrobras' CENPES Research and Development Center in Brazil. According to supplier CompactGTL, the technology incorporates all components required for treating associated gas at remote offshore oilfield locations, including Fischer Tropsch synthesis.
•••
The semisubmersibleLeiv Eiriksson has started the latest multi-well campaign off the Falklands, and the first-ever exploratory well south of the islands. Currently the rig is drilling the Darwin East prospect in license PL0178 for operator Borders & Southern Petroleum, targeting a lower Cretaceus sandstone reservoir. The rig will later work for Falkland Oil & Gas.
West Africa
Gambia's Ministry of Petroleum has provisionally offered two offshore exploration blocks to CAMAC Energy. The A2 and A5 concessions are in water depths ranging from 600-1,000 m (1,968-3,281 ft). Chevron's well on the Jammah prospect drilled in 1979 on what is now A2 exhibited gas shows, and recent 3D seismic data acquired over two blocks to the west has revealed various prospects and leads.
•••
Tullow Oil has approval from Ghana's government for the $1.1-billion Phase 1A development of the Jubilee field. The scheme calls for five new production wells, three water injectors and an expanded subsea facilities network, the latter to be installed by Technip. At the main Jubilee production center, a new-design completion has been fitted to the J-07 well to stem unexpected declining productivity. The new completion will probably be featured in the Phase 1A wells.
•••
Total and NNPC have finally started the long-delayed second phase of the Ofon field development, 65 km (40 mi) offshore Nigeria in the OML 102 lease. Four new platforms have been commissioned, the main purpose being to recover gas which will be compressed offshore prior to export to the mainland.
Afren has discovered oil and gas in the Okoro East structure off southeast Nigeria, via a well drilled by the jackupTransocean Adriatic IX. Oil was encountered at Tertiary level, but there was also substantial pay from deeper zones previously unexplored in this area.
•••
The semisubmersibleEirik Raude should begin a 60-day exploration program in April for Ophir Energy off Equatorial Guinea. The first of three firm wells will test stacked targets close to the Fortuna gas discovery in block R. Next up will be wells on the Tonel and Silenus East gas prospects. Gas finds on the block and on blocks O and I could be set aside for a proposed second onshore LNG train.
•••
Namibia's Ministry of Mines and Energy has sanctioned BP's farm-in to offshore block 2714A. BP will take a 25% interest from Enigma Oil & Gas, and has agreed to cover Enigma parent company Chariot Oil and Gas for its share of the first commitment well, Kabeljou-1, on the giant Nimrod structure. This is due to be drilled during the second half of 2012.
Eastern Europe
Rosneft has been awarded exploration and production licenses for three blocks in the Russian sector of the Barents Sea. The Tsentralno-Barentsevsky, Fedynsky and Perseevsky concessions all adjoin the Norwegian sector, and contain estimated resources of 3.3 billion metric tons (3.64 billion tons) of oil and gas/condensate and up to 2,800 bcm (98,881 bcf) of gas. Rosneft expects to acquire 2D and 3D seismic and drill up to five exploratory wells.
•••
ExxonMobil and OMV Petrom have found gas with their first deepwater exploration well in the Romanian sector of the Barents Sea. Domino-1 was drilled in 1,000 m (3,281 ft) of water in the Neptun block, 170 km (106 mi) offshore.
•••
Russia's Prime Minister Vladimir Putin has called for faster progress with the South Stream project. This involves installation of a large-diameter pipeline in the southern waters of the Black Sea, taking gas from Russian onshore fields to southern and eastern Europe. Gazprom's management committee has pledged to bring the construction start forward to this December.
Caspian Sea
Eurasia Drilling has contracted Blue Water Shipping to deliver a newbuild jackup to the Caspian. The rig is under construction at Lamprell's Hamriyah complex in Sharjah. Starting next month it will be transported in three shipments onboard heavy-lift vessels from Dubai to the Black Sea, and will then sail through the Volga River system into the Caspian Sea.
•••
Dragon Oil expects to employ three rigs throughout this year for development drilling on its fields in the Cheleken Contract Area off Turkmenistan. This summer, construction of the first of two new 16-slot platforms (Dzhygalybeg A) should be completed. These will be able to accommodate either a jackup or platform-based rig. Later in the year the new block-4 riser platform should also be finished.
Middle East
Noble Energy's run of deepwater drilling successes continues in the Israeli sector of the Levant basin. The latest find, Tanin in the Alon A license, 13 mi (21 km) northwest of the Tamar field, found gas in the lower Miocene. Noble estimates reserves in the range 0.9-1.4 tcf.
The company's partners Delek Drilling and Avner Oil have flagged up technical problems at Yam Tethys, Israel's sole nearshore gas production complex. They say output has been impacted by a decline in the Mary B reservoir, but this could be offset by bringing forward development of the offshore Noa North reservoir. Another option is to develop probable gas reserves in the Ashkelon lease.
•••
National Iranian Offshore Oil Co. expects oil production from the Forouzan field in the Persian Gulf to rise by 20% over the next year or so. The field overlaps Iranian and Saudi waters – exploration and production activities started more than four decades ago. Elsewhere in the Persian Gulf, early production from Phase 12 of the South Pars gas field should start shortly, with first gas from Phases 17 and 18 now likely in June.
India
ONGC has two fresh shallow--water gas finds: Alankari in the KG basin, 7 km (4.3 mi) from the coast of Andhra Pradesh state; and GSS104NAA#1 in the Western Offshore basin, 90 km (56 mi) from the Gujarat state coast.
The board has approved a feasibility report on improving recovery from the B-173A oil and gas field off western India, which was developed in 1994. ONGC's plans call for an additional, bridge-linked wellhead platform and drilling of three new wells.
Asia/Pacific
Premier Oil has issued an EPCI contract for the Anoa Phase 4 development in the Indonesian sector of the Natuna Sea. The project, which should be completed next year, will develop a further 200 bcf by increasing the existing Anoa complex's compression capacity. Premier also expects government sanction for development of the Pelikan and Naga gas fields by mid-March, with a planned start-up in 2014.
Santos has started gas production from the Wortel project in the Sampang PSC off eastern Java. Facilities include an unmanned wellhead platform connected to two gas wells, with gas exported through a 10-km (6.2-mi) pipeline to the existing process complex at Oyong.
•••
Shell and Petronas have signed two new PSCs for offshore enhanced oil recovery projects. This will involve development of six oil fields in the Baram Delta off Sarawak and three oil fields in the North Sabah development area offshore Sabah. Both licenses run through 2040.
•••
TNK-BP have started drilling their first well at the Lan Do gas field offshore Vietnam. Production from Lan Do's two vertical subsea wells will head 28 km (17 mi) west to the Lan Tay platform in block 06.1 via a 12-in. (30.5-cm) flowline. Start-up is due late this year.
Australia
INPEX and Total have launched the $34-billion Ichthys LNG project off northwest Australia. This involves development of 3 Bboe of gas and condensate from the Ichthys field in 260 m (853 ft) water depth. An offshore central processing facility (CPF1) will provide gas treatment, and a 335-m (1,100-ft) long floating processing, storage and offloading unit (FPSO2) will receive the produced condensate. The two installations will be among the largest in the world, according to Total.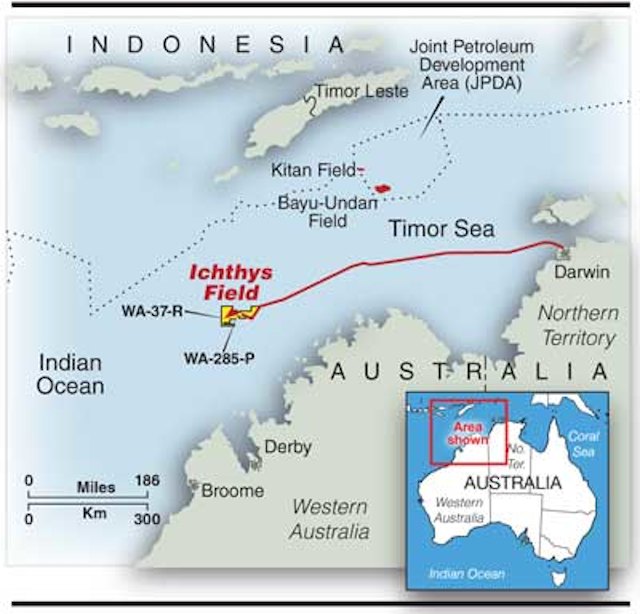 Ichthys is the latest LNG mega-project off NW Australia.
SBM will provide the turret and mooring system for the FPSO, with installation scheduled for mid-2015. McDermott has the $2-billion infield SURF contract – much of its 16,000 metric tons of subsea structures will be manufactured in Batam Island, Indonesia. McDermott and Heerema will jointly install the subsea facilities. Among the other main contracts, GE Oil & Gas is supplying subsea hardware, gas turbines and compressors (total value around $1 billion); Saipem will install the 889-km (552-mi), 42-in. (1.07-m) diameter pipeline taking supplies fromCPF1 to a new processing plant in Darwin, using the vessels Castorone and Semac 1.
Two LNG trains will be built at the Darwin site, each capable of producing 4.2 million metric tons per year of LNG, much of this contracted to Taiwanese and Japanese buyers. At peak, Ichthys will also generate 1.6 million metric tons per year of LPG and 100,000 b/d of condensate.
More Offshore Issue Articles
Offshore Articles Archives
View Oil and Gas Articles on PennEnergy.com